Backend
Psychedelic Halloween Party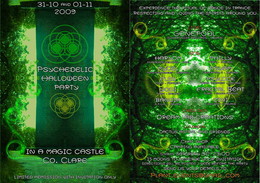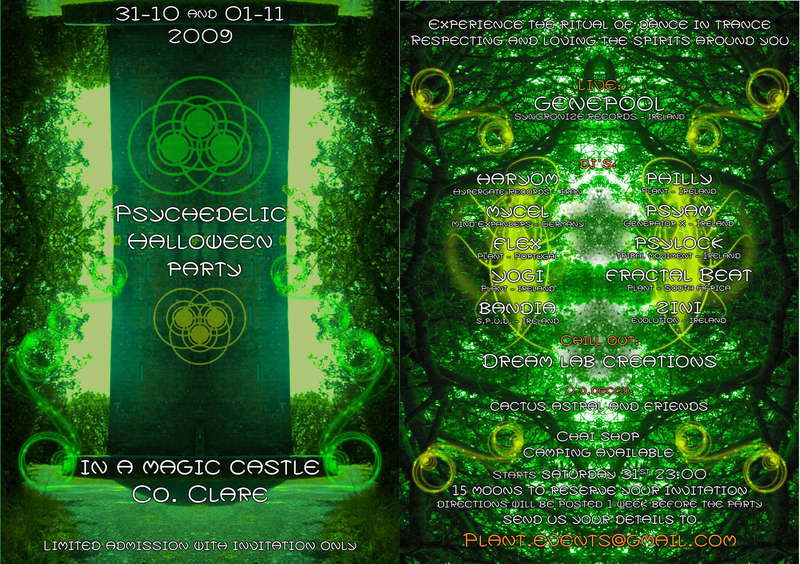 Live
Line Up
Genepool (Syncronize Records) - Ireland
Haryom (Hypergate Records) - Iran

Mycel (Mind Expanders) - Germany

Flex (Plant) - Portugal

Yogi (Plant) - Ireland

Philly (Plant) - Ireland

Psyam (Generator X) - Ireland

Psylock (Tribal Moviment) - Ireland

Fractal Beat (Plant) - South Africa

Bandia (S.P.U.D.) - Ireland

Zini (Evolution) - Ireland

AjnaSoul (Druids Circle) - Ireland


________________
Deco
Cactus Astral and Friends
Info
Dear friend
We are planning a Halloween party in a private castle in Co. Clare for the 31st October and 1st of November.
The party will be organized by invitation only, with limit of 100 people.
To organize the party we need to have 80% of the invitations confirmed by the 1st October
and will be a charge of 15€ to cover expenses for the 2 days.
There will be two areas, Psytrance and chill out.
Food and hot drinks available.
The castle have camping facilities.
To confirm your invitation could you email your details to
plant.events@gmail.com
please.
Light Smile Dance
psytrance.ie
[psytrance.ie]
Entry fee
Entry fee
Dear friends we reach all the invitations available
thanks so much for all your support

Just to remind if you bring friends make sure they have confirmed the invitation,
we don't want the party to be overcrowded so only people with invitation will have access.

Light Smile Dance
Organizer
Organizer
Plant and Friends