Backend
Psychedelic Gaff 4th Birthday - Masked Ball w/ Hydra-E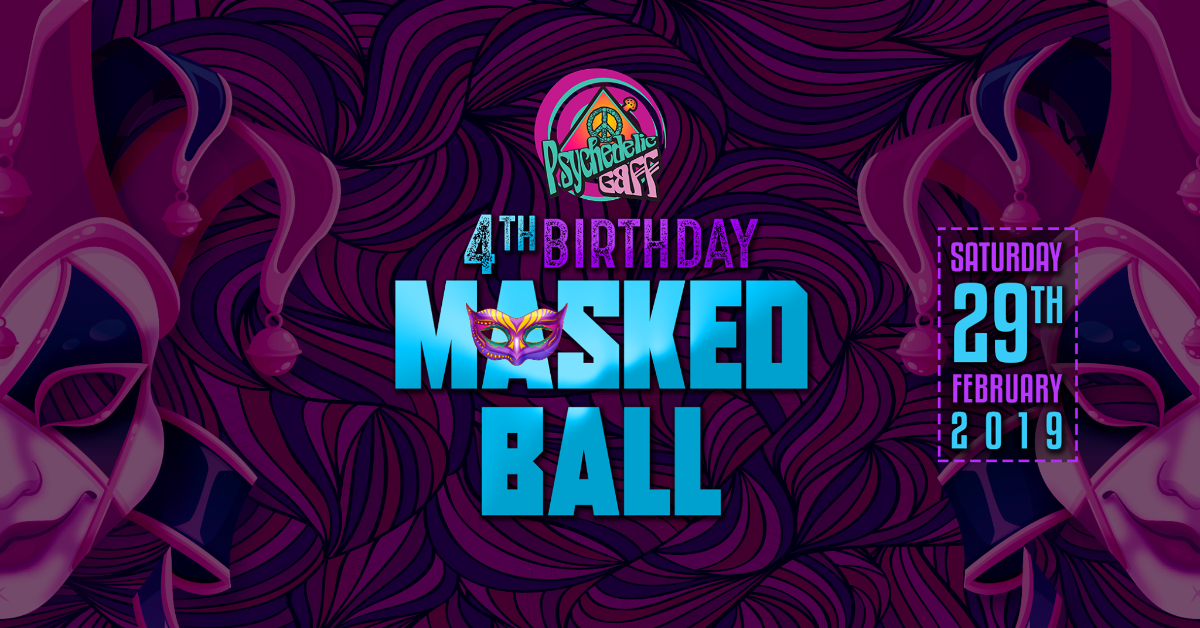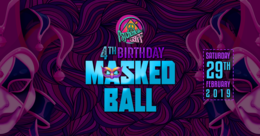 Line Up
In February Psychedelic Gaff celebrates 4 years organizing parties in Dublin 😃 4 years of beautiful smiles and killer psychedelic music! We would like to thanks everyone who has supported us along the way and we hope to keep doing it for many years! 💚
This night will be even more special because we are celebrating it on leap-day, what better than a day that only happens every 4 years to celebrate our 4th birthday!! 😆 Who knows when we will have another Psychedelic Gaff on a leap-day?! Maybe in 20 years time hehe
As the party happens few days after the famous 'Carnival' in Brazil we decided to use the Masked Ball theme! 🎭 Let's use our creativity to make some funny crazy mask 🤪 orrr find that one hidden deep in your wardrobe!
⬛◼◾▪ LINE UP ▪◾◼⬛
▪ LIVE ▪
🎭 HYDRA-E (Reversible Records) - PRT
🎧
soundcloud
▪ DJs ▪
🎭 Misneach (Galactic Groove Records)
🎧
soundcloud
🎭 Multicopy (Overground Records)
🎧
soundcloud
🎭 Octahedron (Oggy Psy Club)
🎧
soundcloud
🎭 JuliosMap (Psychedelic Gaff/Oggy Psy Club)
🎧
soundcloud
◼◾▪ LOCATION ▪◾◼
The Sound House
Doors open at 9pm
Over 18's (ID required)
◼◾▪ TICKETS ▪◾◼
Link:
[eventbrite.ie]
Early Bird: 11€ + Ticket fee
General Admission: 13€ + Ticket fee
At the door: 15€ all night
▪ DECORATION by Fractal SOUL Décor
▪ FUNKTION-ONE Sound System
▪ DIGITAL ART/DESIGN by DP - Graphic Designer & Guitarist
▪ PHOTO by HAT SHOT media
____________________________________________________
▪ ABOUT THE DJS ▪
🎭 HYDRA-E
Sérgio Leitão it's the name behind Hydra-E, a twilight forest psytrance live act.
Hydra-e started his contact with music while he was still very young through his family, witch already had some good musicians. Later he started developing his taste for electronic music. Sérgio was a dj for several years (rock, metal, and trance) while he was doing Hydra-E on the background. Until it couldn't be hidden anymore.
Hydra-E became the result of all the years listening to psytrance and all different sororities you can get inside it. The project started in 2016 after many years working.
FB:
[facebook.com]
SC:
[click here]
🎭 MISNEACH
In a futuristic reality, where acid machines and aliens fight for the galaxy. Misneach, the last beacon of hope, engaging many intergalactic battles but yet never defeated. Fighting with its sonic rolling bass, spicey atmospheric atmos and twisted laser beams no mere boring off-beat will dare to cross its path.
FB:
[facebook.com]
SC:
[click here]
🎭 OCTAHEDRON
The ground zero of consciousness is the connection to the cosmos.
Going deeper and deeper into oneself is also to go further and further out into the universe.
Morphing into a new state of being. The eternal nature of the mind is shattered, beaming over fractal holographic universes.
Taking a serious engineering approach to multidimensional connection, Octahedron promises to carry you to deep space through transcendental melodies.
Spiraling into parallel realities the combination of powerful bass lines and high tech sounds, will drive us into a true psychedelic journey.
His influences come from cutting edge psychedelic artists, making the perfect tone for any multiverse existence.
He has played with major names worldwide such as Whiptongue, Brainiac, Hypnocoustics and many more.
SC:
[click here]
🎭 JULIOSMAP
Julio began his contact with electronic music in 2006 when he attended to a dj course in his hometown São Bernardo do Campo (Brazil). For a few years varied his style between Electro, Minimal and Techno, when he also organized his first party called "Astech", back in 2008. But in 2011 after his first festival dedicated to the psytrance culture he fell in love with the people and the music and began to explore the fastest BPM's in his mixes.
With his untiring search for new songs, he has a characteristic style exploring psytrance and its variations, playing without rules and making his mixes a moment where he can enjoy doing what he loves to do.
Based in Dublin since 2014, few years later he started to organize the indoor party "Psychedelic Gaff" trying to bring what he experienced in different festivals to the parties, has already brought many artists to play in Ireland!
Along this time he had the opportunity to play in some festivals as Universo Paralello (Brazil), S.U.N. Festival (Hungary), Solar Seeds Transylvania (Romania), Alien Vibrations (Ireland), Sundown Gathering (Ireland), Fuinneamh (Ireland) and Audio Garden (Ireland).
FB:
[facebook.com]
SC:
[click here]
IG:
[instagram.com]
YT:
[youtube.com]
🎭 MULTICOPY
More infos soon!
SC:
[click here]
Location
The Sound House (inside The Wiley Fox)
28 Eden Quay - Dublin 1 - Dublin/Ireland
Entry
Entry
◼◾▪ TICKETS ▪◾◼
Link:
[eventbrite.ie]
Early Bird: 11€ + Ticket fee
General Admission: 13€ + Ticket fee
At the door: 15€ all night