Psychedelic Gaff #18 Alien Abduction w/ Diksha & Synkronic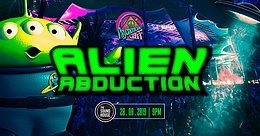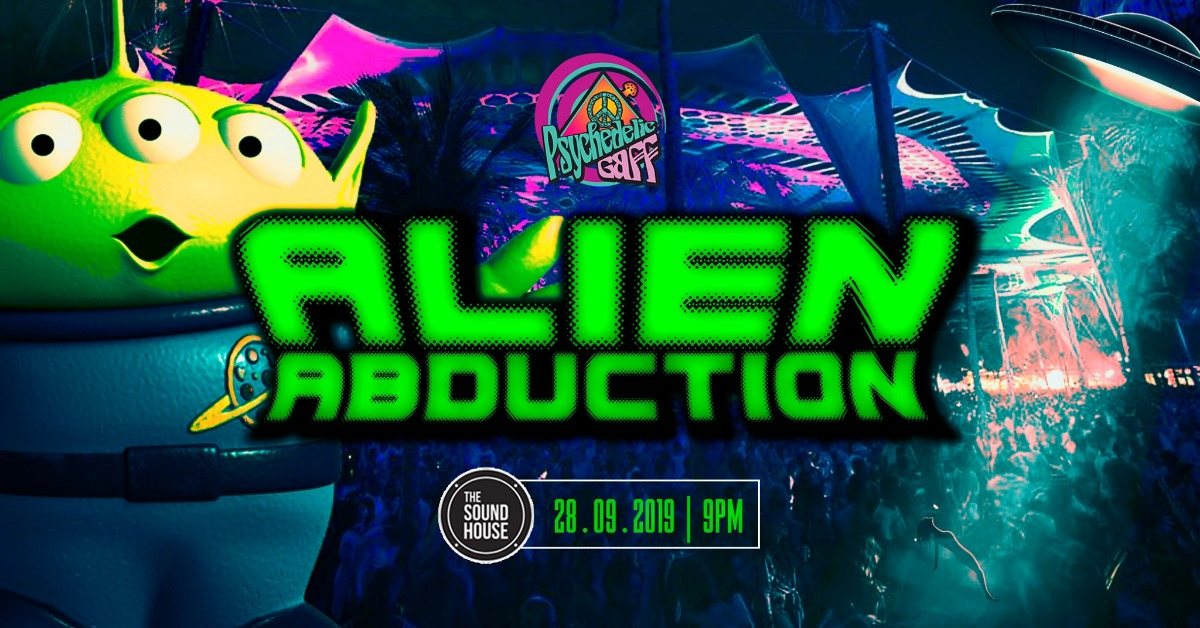 Line Up
Psychedelic Gaff is getting 18 parties old and is finally an adult! 🎉 Now is time to enroll in a pilot course and get a license for spaceships!
Who knows after get the license Psychedelic Gaff will be able to drive its spaceship to other corners of this world 😬 we love to dream and make dreams come true! 💭🤞
But who will be able to give such a course?! 🤔 The cutest aliens in this galaxy the Aliens from Toy Story 👽 coming this month from Pizza Planet for the first lesson of the course with the subject "Alien Abduction".
And to help this special occasion we will have our guests Diksha and Synkronic for the first time in Ireland to hypnotize the dance floor as the abduction takes place. 🛸
"To Infinity... and Beyond!"
▪ ▪▪ ▪▪▪ LINE UP ▪▪▪ ▪▪ ▪
▪ LIVE ▪
👽 DIKSHA (Sangoma Records) - BRA
🎧
soundcloud
👽 SYNKRONIC (Looney Moon Records) - BRA
🎧
soundcloud
▪ DJs ▪
👽 Digital Specie (Galactic Groove Records)
🎧
soundcloud
👽 Organic Joy (Galactic Groove Records)
🎧
soundcloud
👽 JuliosMap (Psychedelic Gaff/Oggy Psy Club)
🎧
soundcloud
▪ Drum & Bass SMOKING AREA/TERRACE powered by Initial djs ▪
WAH -
soundcloud
🎧
DEGREE -
soundcloud
🎧
JMC -
soundcloud
🎧
▪ ▪▪ LOCATION ▪▪ ▪
The Sound House
Doors open at 9pm
Over 18's (ID required)
▪ ▪▪ TICKETS ▪▪ ▪
Link:
[eventbrite.ie]
Early Bird: 12€ + Ticket fee
General Admission: 14€ + Ticket fee
At the door: 15€ all night
▪ DECORATION by Fractal SOUL Décor
▪ FUNKTION-ONE Sound System
▪ DIGITAL ART/DESIGN by DP - Graphic Designer & Guitarist
____________________________________________________
▪ ABOUT THE DJS ▪
👽 DIKSHA
DIKSHA is the awakening of consciousness to a state of unity. It is a transformative energy that allows understanding and deepening of yourself, with others and with life. It is able to activate brain areas that promote the change of feelings and emotions, and amplify the perception. DIKSHA LIVE came to bring a new meanings to psychedelic music and transmit sound frequencies through the AWAKENING, and UNDERSTANDING the CONNECTION to the paths of knowledge and evolution.
FB:
[facebook.com]
SC:
[click here]
IG:
[instagram.com]
YT:
[youtube.com]
[sangomarecords.com]
/
👽 SYNKRONIC
The synchronicity is a meaningful coincidence between mental and physical events. Are phenomena such as thoughts, numbers, and intuitions that arise from the unconscious and that leads us to reflect and seek an understanding of the coincident events. Chance or not, can be considered delusions of someone who feeds a supernatural expectation of existence, but can also be a glimpse of a brilliant mind far ahead of his time.
Synkronic is the manifestation of these puzzling phenomena transformed into a sound frequency that allows induce understanding and awakening consciousness. The project of the Brazilian Diksha is another bet of the renowned Looney Moon Records.
FB:
[facebook.com]
SC:
[click here]
IG:
[instagram.com]
YT:
[youtube.com]
[looney-moon.com]
👽 DIGITAL SPECIE
Born into a musical family Nigel had been a lover of all types of music from a very young age.
He started learning how to play guitar at the young age of 4 when he got a guitar as a present from his parents.
From there on he tried his hand at several different instruments but always going back to guitar especially in his teenage years when he fell in love with heavy metal, punk, grunge and hard rock.
Not long after he was introduced to the sounds of electronic music and was instantly hooked.
In the summer of 1997 he went to a summer solstice free party with some friends & new from there on he wanted to learn how to mix so began building his vinyl collection, everything from goa & psytrance to techno, hard house, acid techno and acid trance and eventually bought his first set of technics 1210, spending every free hour and min he could every day learning how to master the art of mixing, eventually progressing on to playing regular dj slots for a number of free party crews around Ireland.
In 2008 he was booked to play his first big club event for Audioheadz promotions and was instantly offered his first residency slot.
Since then he has been involved in the running and promotion of 3 mixed genre club events , held residency slots with Audioheadz, Underground Muzik, Shockabuku (& Rumours Club where he also managed all the club bookings) and now with his own record label Galactic Groove Records & his techno brand "Metronome" and has played for a number of big promotion nights up & down the country such as Galactic Groove, Subsystem, Earth Star, Sundown Gathering, Life Festival, Project Soy-Trance, Be Sound, Energy Collective, Pt Connection, SPUD, Townlands Carnival, Full Moon Psytrance Irl., Alien Vibrations, Hotbox Gathering, Underground Vibes, Equinox, Oblivion, Hard Breed, Planet Love, Headliners, Elevate, Naughty South & Shockabuku to name a few & has played alongside some of the biggest names in the psytrance, techno & hard dance scene such as Ajja, Avalon, Parasense, EVP, Reality Grid, Gaspard, Illegal Machines, Psymmetrix, Sensient, Chris Liberator, Aaron Liberator, Mark EG, Fernanda Martines, Candy Cox, Eto & Gab, Du`Art, Ritzi Lee & many more.
He has released several tracks under his hard dance alias "Nigel NRG" on labels such as Boshed Hard, Renewable NRG, Digital Razor, CDR Hard, Boxed Digital, Digital Damage,
Alien Technology and has had tracks selected for re release on VA compilations with LW Recordings.
Concentrating on his psytrance project "Digital Specie" & label "Galactic Groove Records" over the last few years has seen him play at some of the biggest dance festivals in the country & abroad, some highlights so far were playing on the psytrance stage a LIFE FESTIVAL 2014 & 2015 & Townlands Carnival 2015 where he played the closing set of the festival on the Digital FleaPit Stage where Galactic Groove Records and several of its acts were invited to perform as a label showcase.
FB :
[facebook.com]
SC:
[click here]
MC:
[click here]
IG:
[instagram.com]
👽 ORGANIC JOY
Brazilian artist based in Ireland, has attended more than 10 years of psytrance parties and have been playing in the biggest psytrance festivals/clubs in Ireland for the last few years. Co-founder of the Psynonymous parties, started DJing in 2014 progressive psytrance and has now shifted to a more energetic Twilight/Night Full on under the Irish label Galactic Groove Records.
FB:
[facebook.com]
SC:
[click here]
IG:
[instagram.com]
👽 JULIOSMAP
Julio began his contact with electronic music in 2006 when he attended to a dj course in his hometown São Bernardo do Campo (Brazil). For a few years varied his style between Electro, Minimal and Techno, when he also organized his first party called "Astech", back in 2008. But in 2011 after his first festival dedicated to the psytrance culture he fell in love with the people and the music and began to explore the fastest BPM's in his mixes.
With his untiring search for new songs, he has a characteristic style exploring psytrance and its variations, playing without rules and making his mixes a moment where he can enjoy doing what he loves to do.
Based in Dublin since 2014, few years later he started to organize the indoor party "Psychedelic Gaff" trying to bring what he experienced in different festivals to the parties, has already brought many artists to play in Ireland, some of them for the first time!
During this time he had the opportunity to play in festivals around Europe as S.U.N. Festival (Hungary), Solar Seeds Transylvania (Romania), Alien Vibrations (Ireland), Sundown Gathering (Ireland), Fuinneamh (Ireland) and Audio Garden (Ireland).
FB:
[facebook.com]
SC:
[click here]
IG:
[instagram.com]
YT:
[youtube.com]
Location
The Sound House (inside The Wiley Fox)
28 Eden Quay - Dublin 1 - Dublin/Ireland
Entry fee
Entry fee
▪ ▪▪ TICKETS ▪▪ ▪
Link:
[eventbrite.ie]
Early Bird: 12€ + Ticket fee
General Admission: 14€ + Ticket fee
At the door: 15€ all night