Backend
Psychedelic Gaff #12 The Dark Power of Women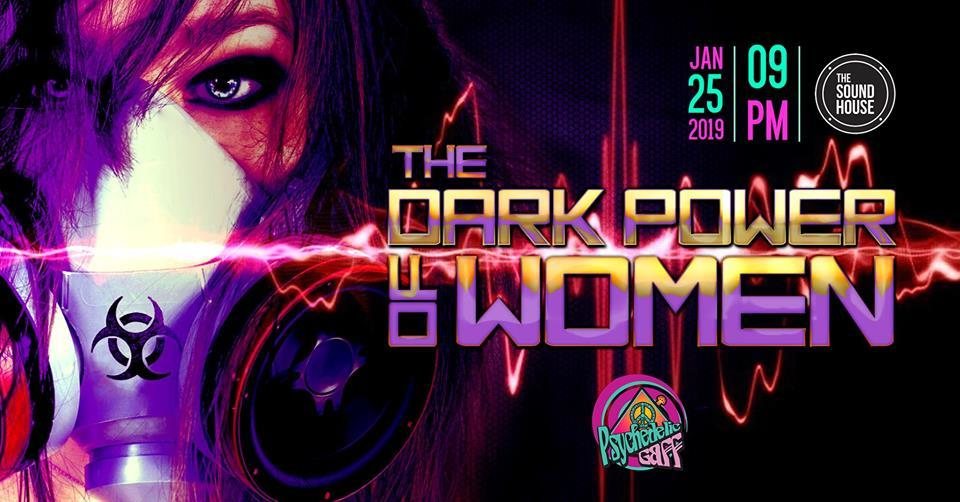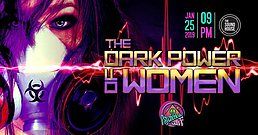 Line Up
For our first party in 2019 we decided to dedicate to the female power! The Dark Power of Women is coming for its second edition after the success of the first one in 2016.
Keeping the tradition the ladies will be the only ones in control of the music for the night with fast BPMs that wont let you stand still! 💃🕺
♀
🔴🔴🔴🔴 LINE UP 🔴🔴🔴🔴
🔸 Djane Naima (Sangoma Records) - AUT *** 1st time in Ireland
soundcloud
🔸 Bandia Vs Anunitu (SPUD / Shunyata records) - IRL / FIN
[click here]
soundcloud
🔸 Estera (Overground Records) - POL
soundcloud
🔸 Shakti Djane (Oggy Club) - BRA
soundcloud
🔸 Noisy Bew (Psylicious) - HRV
soundcloud
_____________________________________________________
🔴 LOCATION
📌 The Sound House
Doors open at 9pm
Over 18's (ID required)
🔴 TICKETS
Link:
[residentadvisor.net]
Early Bird: 10€ + Ticket fee (only 30 available)
1st Release: 12€ + Ticket fee
2nd Release: 14€ + Ticket fee
At the door: 15€ all night long
🔴 DECORATION by Fractal SOUL Décor
🔴 FUNKTION-ONE Sound System
🔴 UV FACE PAINTING
🔴 ARTISTIC INTERVENTIONS
🔴 PSYCHEDELIC SHOP
* Contact us if you want to be part of our Psychedelic Shop
🔴 DIGITAL ART/DESIGN by DP - Graphic Designer & Guitarist
🔴 PHOTO by Gustavo Bandeira
____________________________________________________
🔴 MORE ABOUT THE DJS 🔴
🔸 NAIMA (1st time in Ireland)
Sarah Naima grew up in an old hippi environment and extraordinary musical family, these love and sensitivity for the music came quite early in her life.
Already at the age of 6 she started playing keyboard and since then her passion for music grew steady.
In the year 1996 she came in touch with electronic music for the first time.
Since then she has been following many different styles in the electronic scene with big enthusiasm until she made the experience of a Psychedelic- Trance Party in the year 2003.
She was instantly hooked with this scene and she fell deeply in love with the music, the energy and all these inspiring, magical places and people surrounding her.
Naima started her journey as a DJ seriously 2009, in her sets she symbolize psychedelic sounds, mystical & powerful deep tunes for colourful nights or energetic mornings.
The style and the kind of music she chooses for her Sets depends on the atmosphere and energy around but also on the setting and at which time she plays.
During the last years Naima grew as an international DJ,and she has performed on various international Parties and some of the best Festivals all around the world like Ozora Festival - Hungary, Hadra Trance Festival - France, Experience - Thailand, Midnightsun Festival - Norway, MoDem Festival - Croatia, Psy FI Festival - Netherlands, Antaris, Freqs of Nature, Waldfrieden,VuuV - Festival - Germany, Blackmoon Festival -Italy, Solstice Festival - Netherlands, Transahara - Marocco, One Love - Switzerland, Kosmos Festival - Finnland, Yaga Gathering - Lithuania, Galaxy Evolution Festival - India, Belantara - Malaysia, Spiritual Ritual Festival- Nepal.
So far she played in:
Australia, Austria,Brazil, Belgium, Canada,Croatia, Czech Republic, Denmark, Finland,France,Germany, Greece, Hungary, India, Italy,Mexico,Malaysia,Malta,Macedonia,Nepal,UK; Netherlands, Norway, Lithuania Portugal, Poland, Romania, Russia,United Emirates,Spain,Sweden,Switzerland,Slowenia, Slovakia,Thailand, Turkey.
Naima is signed as a Label - DJ for Sangoma Records.
[sangomarecords.com]
[click here]
[facebook.com]
[instagram.com]
🔸 ESTERA
Estera is involved in underground scene on a molecular level for thousands of years. She fell in love with harmonic mixing which she uses to guide you through myriads of sound in a musical way, creating experience that covers broad frequency spectrum. Estera enjoy bit of headroom and natural dynamics. Her sets are groovy and heavy if necessary and they leave nice after taste.
[click here]
🔸 SHAKTI DJANE
Fernanda D'Avila aka SHAKTI, has become involved with electronic music since 2006 and in a short time she got an interest in showing a psychedelic vision of her own.
Surfing and flying along its promising vibration channeling you towards the pure state of being.
Blending strength with lightness, a compelling force that drives us through the nature of itself, synthesizing in just one form known as SHAKTI (energy).
This duality is gonna carry you through the layers of the energy field, echoing over multidimensional universes.
Even though she is known as a performer who transcends reality, she promises to make every being deeply moved by her music.
She has played with big names known worldwide such as Brainiac, Hypnocoustics, Laughing Buddha, Hypogeo, Burn in Noise and many more.
[click here]
[facebook.com]
[instagram.com]
🔸 NOISY BEW
Noisy Bew is djane, promoter and organizer. Her dedication to deep, dark, progressive and psychedelic music brought her on the founder place of Psylicious - project which main concern is to promote progressive/tech/minimal sounds from the dark side of the moon of psychedelic music blended with visual art.
Croatia is her home where she played on festivals and parties, promoting her urge and dedication to progressive sounds. Wright now, Dublin is new step for Noisy Bew and Psylicious where she continues to be involved in developing psytrance scene. Also, Noisy Bew promotes Mo:Dem festival as an ambassador for Ireland.
[click here]
🔸 ANUNITU
Anunitu comes from the northern forests of Finland and has been part of the psychedelic scene since the Goa parties in the nineties. After years of exploring the sounds of Goa and psy, she started playing at psychedelic parties in 2010 and is a label DJ with Shunyata Records. She is also one of the founding members of the Fluorohive psychedelic collective, organising immersive psychedelic parties on the Emerald Isle.
Her main style is deep haunting forest psy, creating energetic journeys, warping minds and twisting the senses, and if the time is right she does on occasion whip out the oldschool Goa records for analogue madness. So join the ride and go wild on the dancefloor.
[click here]
🔸 BANDIA
More info soon
[click here]
____________________________________________________
About Psychedelic Gaff:
Psychedelic Gaff was born in order to bring the best producers and djs of psytrance world to Dublin, creating a unique atmosphere!
We believe that with a good dose of psychedelia, power sound system and good vibes we will make a unique experience for everyone to enjoy!
Location
The Sound House (inside The Wiley Fox)
28 Eden Quay - Dublin 1 - Dublin/Ireland
Entry
Entry
Link:
[residentadvisor.net]
Early Bird: 10€ + Ticket fee (only 30 available)
1st Release: 12€ + Ticket fee
2nd Release: 14€ + Ticket fee
At the door: 15€ all night long