Psychedelic Gaff #11 SushiDeLic with Dj Hatta and Dj Yuya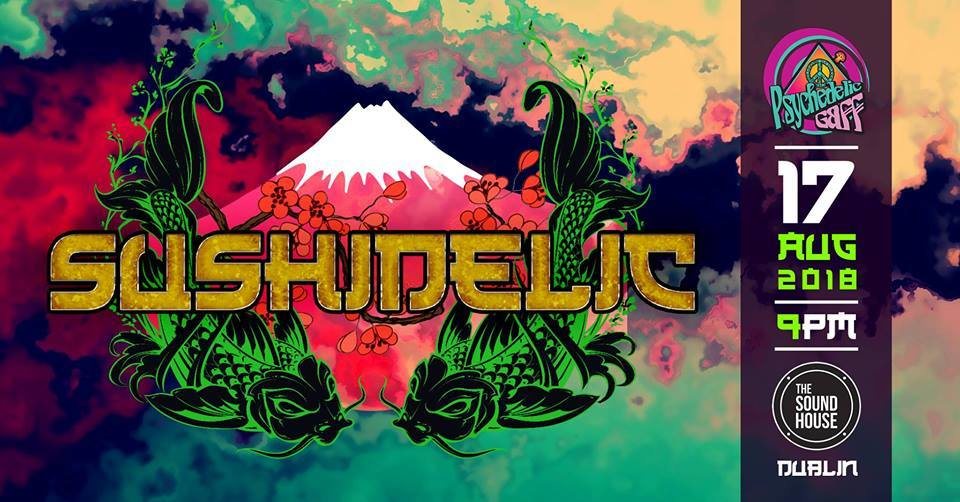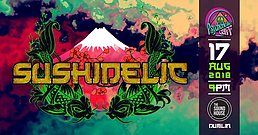 Line Up
Psychedelic Gaff is back after a small break bringing the oriental power to Dublin! From the land of the rising Sun, Hatta and Yuya will give us a taste of how psytrance it's done over there!
Let's celebrate this beautiful summer before it ends 🌞
Welcome to SushiDeLic!!!
日本 ❤
🔶🔶🔶🔶 LINE UP 🔶🔶🔶🔶
◾ Dj Hatta (Grasshopper Rec) - JPN
soundcloud
◾ Yuya (Antu Rec) - JPN
soundcloud
◾ The Adults Want Psytrance (Independent) - BRA
soundcloud
◾ Aquatone (Mindfreak Records) - BRA
soundcloud
◾ JuliosMap (Psychedelic Gaff/Oggy Psy Club) - BRA
soundcloud
_____________________________________________________
🔶 LOCATION
The Sound House
Doors open at 9pm
Over 18's (ID required)
🔶 PRE-SALES TICKETS
Link:
[residentadvisor.net]
Super Early Birds: 10€ + Ticket fee (limited)
Early Birds: 12€ + Ticket fee
At the door: 15€ all night long
🔶 DECORATION by Fractal SOUL Décor
🔶 UV FACE PAINTING
🔶 PSYCHEDELIC SHOP
* Contact us if you want to be part of our Psychedelic Shop
🔶 DIGITAL ART/DESIGN by DP - Graphic Designer & Guitaristarist
🔶 PHOTO by Gustavo Bandeira
_____________________________________________________
More about Dj Hatta:
Hatta started to play DJ in '96 as he was impressed by the festival called "RAINBOW 2000″. In 1999, 2000, he was invited to play at LX new year count down festival in Thailand. In 2002, he collaborated with Solstice Music to release Outback Eclipse Festival memorial compilation CD from the major records company.Hatta is known as the best distributor for domestic labels(Light Music, Fineplay Records) and Arcadia Records and many labels, contributing his great work for Japanese music market. In 2007, Hatta became A&R for Madskippers which is DJ-Tsuyoshi's label, in the same year he joined the Wakyo Inc to take care of distribution side for Wakyo Inc. In 2008, Hatta set up his own label called "Grasshopper Records" busy doing his online mix at top radio station every week. He has played as DJ in Brasil, Mexico, UK, USA, France, Italy, Croatia, Hungary, Poland, Germany,
Swiss, Israel, China, Taiwan, Korea, Thailand, Australia, Goa, until now. His compiled CD V.A./Round of night Vol 1, 2 and 3 is selling on records shop /digital dl store.
[click here]
[grasshopper-records.com]
[facebook.com]
__________
More about Yuya:
Dj Yuya from Japan started his Dj career in 2007. Then in 2009, became a resident Dj of the psy crew Overdrive in Tokyo, which is well known as one of the the leading underground parties in the scene.
In 2011, having defined his own dj style, he promoted his own party and crew called "Foresite". After recognizing his sense and passion, Antu records picked him up as one of their label dj`s.
In Japan, Yuya has a reputation as being a " next generation dj " who with his powerful and rumbling dj sets, always creates a deep connection with his crowd.
[click here]
__________
More about The Adults Want Psytrance:
The Adults Want Psytrance (TAWP, a.k.a. Animistic) is a progressive psytrance producer and DJ who has on the psychedelic music culture a way of life.
His presentations always brings brain melting combinations of creamy psychedelia with fat powerful basslines & ass kicking dry drops. Afternoons filled with groovy & melodic progressive vibes turns into faster straight forward nights during his transition sets.
Since settled in Ireland, has been a frequent name on the biggest psytrance parties & festivals and had been sharing the decks with guys such Sensient, Avalon, Captain Hook, GMS, 1200mics, Zeamoon, 28 Live, Kularis, Otezuka, Hyper Frequencies, Pedro Squee, Subsaharan & many more.
[click here]
__________
More about Aquatone:
The producer and DJ Denis Lins AKA Aquatone it's a MindFreak Records Artist from Brazil that has played all-around Brazil at the best Psytrance Festivals and Parties, Started DJing in early 2012, with such great progression began to produce his own music in 2013, His first release only came in 2017 with the single Aquatone- Our lifes. Denis Aimed to Produce the best music and achieve the maximum quality before releasing tracks. Well experienced producer who played in parties and festivals Such as:
Festival Alternativo do Kranti(BRA), Boikot Festival(BRA), Keeping the roots Festival(BRA), Psytisfaction(BRA), Mindfreak(BRA), Terra Em Transe Festival(BRA),Ressonar Festival(BRA), Om Kara ( Nepal), Psycheground ( NYC- US), Respect Gatherings ( NYC -US ) Dynamic psytrance( Boston, USA) and lot more .
Aquatone has a unique Psychedelic style involving synthetizers and acid basslines, Long stories and Long sweeps, Providing the maximun of the psychedelic trance state.
[click here]
soundcloud
_____________________________________________________
About Psychedelic Gaff:
Psychedelic Gaff was born in order to bring the best producers and djs of psytrance world to Dublin, creating a unique atmosphere!
We believe that with a good dose of psychedelia, power sound system and good vibes we will make a unique experience for everyone to enjoy!
Location
Location
The Sound House (inside The Wiley Fox)
28 Eden Quay - Dublin 1 - Dublin/Ireland
Entry
Entry
PRE-SALES TICKETS
Link:
[residentadvisor.net]
Super Early Birds: 10€ + Ticket fee (limited)
Early Birds: 12€ + Ticket fee
At the door: 15€ all night long