Backend
Psychedelic Fridays #3 / Winzerfest Special Edition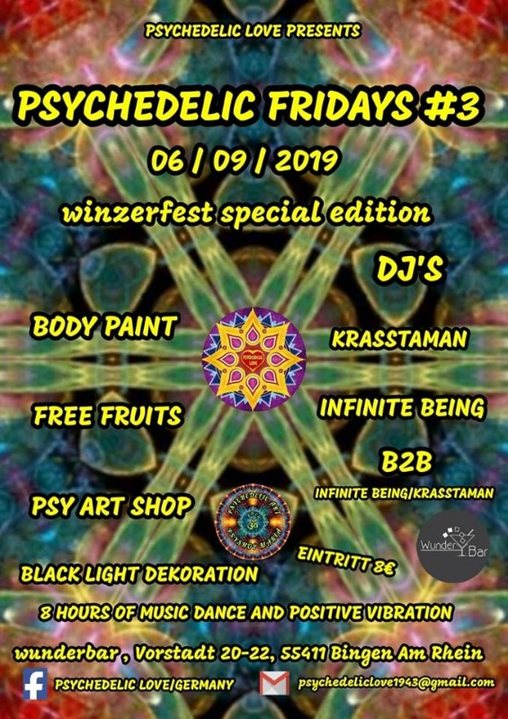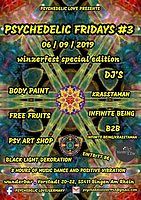 Deco
Deco
Psychedelic love deko team
Info
PSYCHEDELIC FRIDAYS #3
ॐ Freitag, den 6. September trafen wir uns zu einem weiteren psychedelischen Ritual in der schönen Stadt Bingen am Rhein.
Diesmal mit der sonderedition winzerfest ❤
8 Stunden psychadellische Musik und positive Vibrationen.
ॐ❤ॐ ॐ❤ॐ ॐ❤ॐ ॐ❤ॐ ॐ❤ॐ ॐ❤ॐ
ॐ❤ॐ- WE ARE ONE -ॐ❤ॐ
ॐ❤ॐ- wir werden auch haben. -ॐ❤ॐ
Bar * Cocktailbar Wunderbar
Pizzeria * Pizza Point
Psy art shop * PsyshopMaria
ॐ Wir werden frei haben. ॐ
Free Fruits
Uv Body paint
Free hugs
Eintritt - 8 EUR
Offene Türen 22.00 Uhr
Event 23:00 bis 7:00
ॐ❤ॐ- öffentliche Verkehrsmittel -ॐ❤ॐ
Die Bushaltestelle befindet sich vor dem Club
Der Bahnhof und die Taxis sind 3 Minuten vom Club entfernt.
Für diejenigen, die mit dem Auto oder Wohnwagen anreisen, ist es kein Problem, in der Nähe des Clubs zu parken.
Please respect the place and everyone present at the event.
ॐॐ Facebook page ॐॐ
[facebook.com]
ॐॐ Psychedelic Love events in Bingen and Mainz ॐॐ
[facebook.com]
ॐॐ Psychedelic Love ॐ international group ॐॐ
[facebook.com]
Bitte respektieren Sie den Ort und alle Anwesenden.
See you on the dance floor
ॐॐ PEACE AND LOVE ॐॐ
..PSYCHEDELIC LOVE..
Location
Location
Wunderbar Vorstadt 20-22, 55411 Bingen am Rhein
Organizer
Organizer
Psychedelic Love