Backend
Psychedelic Fridays #15 / ZOOMORFOS live First time in Germany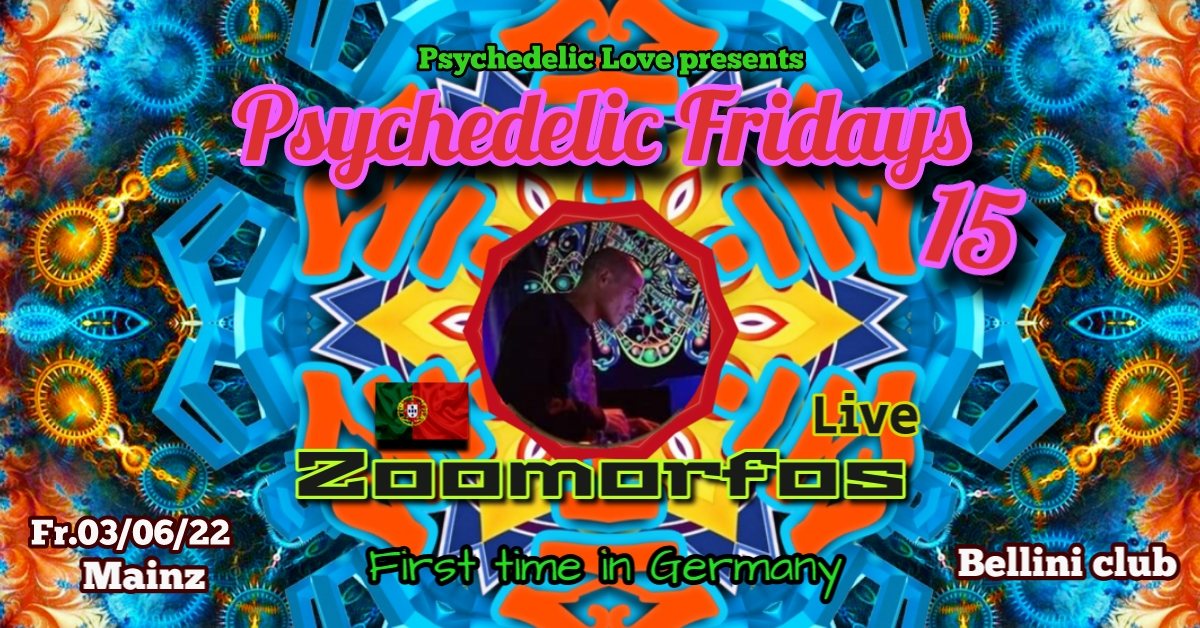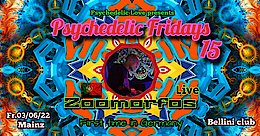 Line Up
Lineup ॐ
ZOOMORFOS live 🇵🇹
first time in Germany
Psychedelic Psyforest
Zoomorfos is a musical project by Fábio Gomes From Portugal.
The first contact whit psychedelic music was in 1996 since that time he was always connected to psytrance going to many parties and was growing the taste for the dark side of psychedelic music in 2012 the project of Zoomorfos was born What can you expect Deep and Tripy Twisted and Psychedelic
The Rest Is History
Facebook page
[facebook.com]
Soundcloud
soundcloud
TAKTTRAUMA
soundcloud
[facebook.com]
KHOMATICA
soundcloud
[facebook.com]
Acid Monkey
[facebook.com]
[hearthis.at]
Info
Deco ॐ
DecoRausch
[facebook.com]
Visuals ॐ
PixelVision
[facebook.com]
PSYSHOP
PSYSHOPMARIA ॐ
[facebook.com]
WE OFFER YOU FOR FREE ॐ
Fresh Fruits
OPEN DOOR - 21:30
EVENT - 22:00 - 06:00
TICKETS AT THE DOOR / 15€
ॐ TRAVEL ॐ
Anfahrt via S-Bahn (S8), der Bahnhof Mainz Nord ist nur 2 Min. Fußweg entfernt,
Für Autofahrer sind ausreichend Parkplätze vorhanden.
BELLINI CLUB
Rheinallee 159
55120 Mainz
ॐ Facebook page ॐ
[facebook.com]
Instagram
[instagram.com]
WhatsApp
01782936282
---GROUP---
ॐ Psychedelic Love events in Bingen and Mainz ॐ
[facebook.com]
---GROUP---
ॐ Psychedelic Love ॐ international group ॐ
[facebook.com]
ॐ WE ARE ONE ॐ
PSYCHEDELIC LOVE
Location
Location
Mainz Rheinallee 159 Bellini Club
Organizer
Organizer
PSYCHEDELIC LOVE