Psychedelic Experience Vol 1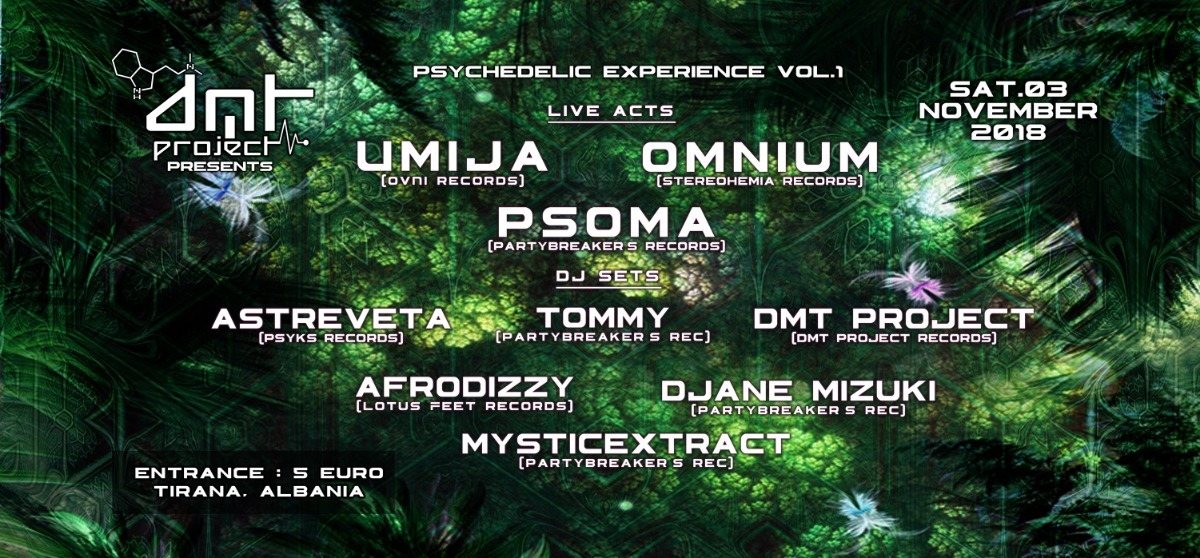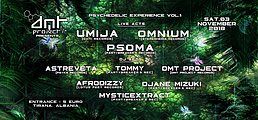 Line Up
DMT PROJECT RECORDS
Pressent
Line Up
03/11/2018

Umija - (OVNI Records) LIVE ACT (Greece)

Psoma - (PartyBreaker's Records) LIVE ACT (Macedonia)

Omnium - (StereoHemia Records) LIVE ACT (Macedonia)

DMT Project (DMT Project Records) (Albania)

Djane Mizuki - (Partybreaker's rec) (Macedonia)

Tommy - (Partybreaker's rec) (Macedonia)

Astreveta aka Tevuz (Psyks Records) (Kosovo)

Afrodizzy (Lotus Feet Records) (Kosovo)

MysticExtract (Partybreaker's rec) (Macedonia)
Deco
Deco
Lunar Decos & DMT Project
Info
Dear Alien of Planet Earth !!!

After one Magical summer the ( DMT CREW )
have start the work and we are getting ready
for the Winter to come,and we are coming with it too !!!
After some hard work we come back for the winter seasson
to suprize you all with some crazy vibe and amazing music quality !!!
With 9 different artist and 3 different styles of live act .

Dont miss our Crazy Magic Line up !!!
That will be waiting you on 3 of November,
for one crazy night and rythm !!!
Come and bring your friends !!!
See ya on the dance floor !!!

FREE CAMPING ZONE

SOUND SYSTEM
25.000 WATT Volume: ▁ ▂ ▃ ▄ ▅ ▆ █ 100 %

DECORATION
DMT Project & Dream Garden

VISUALS
DMT Project & Lunar Deco

WORKSHOP

FOOD & DRINKS

#ProjectDMT #PsychedelicExperience #Volume1

More info about the event will be released in the future days !!!
Location
Location
The party location will be in the just few min outside the capital of Albania,Tirana !
Organizer
Organizer
DMT Project Records