Psychedelic Experience Open Air Festival 2019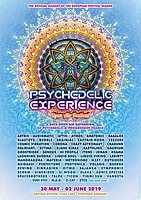 Info
☾ The official kickoff of the european festival season ❂ ☾ ✹
Tickets:
[psyexperience-festival.com]
Official Trailer 2019:
SOON
Official Aftermovie 2018:
youtu
Info:
[psyexperience-festival.com]
☾ ❂ •°•° •°•° ❂ ☾ ✹ •°•° •°•° •°•° ❂ ☾
SHOPS / Stall registration
Es wird wieder tolle Verkaufsstände auf der Psychedelic Experience geben. Falls Du mit Deinem Stand auch kommen möchtest, kannst Du Dich hier anmelden. Mit einer Shopbuchung akzeptierst Du die AGB des Psychedelic Experience Festivals.
[psyexperience-festival.com]
We have beautiful shops at Psychedelic Experience Festival. If you like to organise a stall you can apply here. With a shop booking you accept the terms and conditions of Psychedelic Experience Festival.
[psyexperience-festival.com]
☾ ❂ •°•° •°•° ❂ ☾ ✹ •°•° •°•° •°•° ❂ ☾
FEATURES
4 days & 3 nights
Camping 29th May 8pm - 04th June 8am
Europaeischekinderhilfe.de
10 visuals
Psyclean.com
Fireworks
Uv-Bodypainting
Workshops
Lasershow
Projection
Free Camping
Chill-Area
Video Animations
Shop Market
Fire-Performance
Showers
360-degrees laser show
Seifenblasen Zirkus
Soundsystem by L Acoustics
☾ ❂ •°•° •°•° ❂ ☾ ✹ •°•° •°•° •°•° ❂ ☾
INFO
Psychedelic Experience Festival 2019: Ecstatic summer trance of sound, vision and magic
The gate opens. Let the dance through space and time begin! The multidimensional rapture of sound and vision starts. The heartbeat rises. Everything becomes possible. At the Psychedelic Festival from the 30th of May to the 2nd of June, thousands of freaks get on a journey into a fantastic world of perfect sounds and magic moments.
Everyone is welcome to dive together with international top artists for more than 70 hours into infectious rhythms – and to become united on the dancefloor. Feeling pure life, laughing and loving.
Open your eyes: World class lighting and decoration teams will take brightly coloured dreams into a new reality. Follow your fantasy. Walk on the way of your wishes. Experience yourself. Sun, moon, light and shadow will accompany freaks of more than 50 nations to introduce the psychedelic summer on the festival grounds in Ruthen.
Already from Thursday on, the main stage is waiting to get conquered. So, in 2019, there will be again an extra day to indulge into the festival fever. Next year, the psychedelic journey starts in Ruthen a few days later as usual. This reaction to the changed dates of another festival in the same region makes it possible for everyone to celebrate on both events in a relaxed way.
Four days long without a break, the guests can peacefully meet and merge with the magic of the movement. The Chill Area Ambient Garden takes the travellers into phases of relaxation in between. Jumping into the cold water of a nearby bathing lake helps to regain energy. And the international market area invites not only to culinary walks around the world. Vendors also offer jewellery and clothes –chosen and made with love.
One thing is guaranteed in the ecstatic summer trance of sound and vision: A lack of sleep. That's why we suggest you to plan your holidays early enough! And because the Psychedelic Experience Festival is located within the Mecklenburg Lake District with its 2033 lakes set in a picturesque scenery full of good sports facilities, it can be an attractive option to stay a few days in the area after the festival
We are looking forward to celebrate a colourful, exiting, creative Psychedelic Experience Festival with all of you!
☾
Psychedelic Experience Festival 2019: Ein Sommer-Rausch aus Sound, Vision und Magie
Das Tor zum Tanz durch Raum und Zeit öffnet sich: Der multidimensionale Rausch aus Klang und Vision setzt ein. Der Herzschlag steigt. Alles wird möglich. Für tausende Freaks startet vom 30. Mai bis zum 2.Juni auf dem Psychedelic Experience Festival eine Reise in eine bunte fantastische Welt aus satten Sounds und magischen Momenten.
Jeder ist eingeladen, gemeinsam mit top Artists aus der ganzen Welt mehr als 70 Stunden lang in mitreißende Rhythmen einzutauchen –und auf dem Dancefloor eins zu werden. Lebendig, lachend und liebend.
Augen auf: Die Licht- und Deko-Teams der Extraklasse holen strahlend bunte Träume in eine neue Realität. Folgt Eurer Fantasie. Wandelt auf den Wegen Eurer Wünsche. Erlebt Euch selbst. Bei Sonne und Mond, Licht und Schatten werden Freaks aus bis zu 50 Ländern auf diese Weise gemeinsam auf dem Festivalgelände in Ruthen den psychedelischen Sommer einleiten.
Bereits von Donnerstag an wartet die Main Stage darauf, erobert zu werden. Somit gibt es auch in 2019 einen extra Tag, um sich dem Festivalfieber hinzugeben. In diesem Jahr startet die psychedelische Reise in Ruthen als Reaktion auf die Terminverlegung eines anderen Festivals ein paar Tage später als gewohnt. So kann auf beiden Events entspannt und ausgeruht gefeiert werden.
Vier Tage lang nonstop verschmelzen die Besucher des Psychedelic Experience Festivals mit dem Zauber der Bewegung im ausgelassenen friedlichen Miteinander. Für Augenblicke der Ruhe holt die Chill-Area Ambient Garden die Reisenden in Entspannungsphasen. Auch ein Sprung ins klare Wasser des Badesees nahe der Festival-Location gibt neue Energie.
Die internationale Shopmeile lädt nicht nur zum kulinarischen Trip um die Welt. Neben einem vielfältigen Speisen- und Getränkeangebot präsentieren auch Händler auch Schmuck und Kleidung – mit Liebe ausgesucht und gefertigt.
Eins bleibt im Rausch aus Klang und Vision auch 2019 garantiert: Schlafmangel! Ein Tipp von uns deshalb: Plant Euren Urlaub rechtzeitig und lasst Euch gern auf einen entspannten Ausklang des Psychedelic Experience Festivals mitten in der Mecklenburgischen Seenplatte mit ihren 2033 Seenvor malerischer Kulisse und mit diversen Sport- und Erholungsangeboten ein.
Wir freuen uns auf ein farbenfrohes, spannendes, kreatives Psychedelic Experience Festival mit Euch allen!
☾ ❂ •°•° •°•° ❂ ☾ ✹ •°•° •°•° •°•° ❂ ☾
ANREISE MIT DEM BUS
Eine schnelle und günstige Busfahrt bietet GoaExpress Hamburg allen Festivalgängern, die sich bereits während der Hinfahrt mit freundlichen Leuten, guter Musik und einigen Überraschungen im Bus perfekt auf das Festival einstimmen möchten.
GoaExpress Bustour ab Kiel, Lübeck, Hamburg, Berlin
HINFAHRTEN:
► BERLIN: Do 12 Uhr & Fr 16 Uhr
► ROSTOCK: Do 12 Uhr
► HAMBURG: Mi 17 Uhr, Do 11 Uhr, 16 Uhr & Fr 17 Uhr
► FLENSBURG: Do 09 Uhr, Fr 12:30 Uhr
► KIEL: Mi 14 Uhr, Do 10:30 Uhr & Fr 14 Uhr
► LÜBECK: Mi 15:30 Uhr, Do 12 Uhr & Fr 15:30 Uhr
► BREMEN: Do 09 Uhr & Fr 15:00 Uhr
RÜCKFAHRTEN:
► Sonntag, 19 Uhr nach Rostock, Berlin,
► Sonntag, 20 Uhr nach Hamburg, Lübeck, Kiel, Flensburg, Bremen
Die Treffpunkte in den Städten findest du hier:
►
[meinfestivalbus.de]
Infos & Buchung:
► Bustickets:
[bit.ly]
► FB:
[facebook.com]
TRANSPORT BY BUS
A comfortable and entertaining shuttle service offers GoaExpress Hamburg​ to all festival guests who already like to join an entertaining bus ride with good music, lovely people and some surprises on the way to the festival.
GoaExpress Bustour Kiel, Lübeck, Hamburg and Berlin
departure:
► BERLIN: Do 12 Uhr & Fr 16 Uhr
► ROSTOCK: Do 12 Uhr
► HAMBURG: Mi 17 Uhr, Do 11 Uhr, 16 Uhr & Fr 17 Uhr
► FLENSBURG: Do 09 Uhr, Fr 12:30 Uhr
► KIEL: Mi 14 Uhr, Do 10:30 Uhr & Fr 14 Uhr
► LÜBECK: Mi 15:30 Uhr, Do 12 Uhr & Fr 15:30 Uhr
► BREMEN: Do 09 Uhr & Fr 15:00 Uhr
trip home:
► So, 19 Uhr nach Rostock, Berlin,
► So, 20 Uhr nach Hamburg, Lübeck, Kiel, Flensburg, Bremen
Bus meeting points in the cities :
►
[meinfestivalbus.de]
Info & booking:
► Bustickets:
[bit.ly]
► FB:
[facebook.com]
☾ ❂ •°•° •°•° ❂ ☾ ✹ •°•° •°•° •°•° ❂ ☾
ANREISE MIT DER BAHN
Wenn ihr mit der Bahn anreist, heißt eure Station Parchim. Von dort aus geht es mit dem Shuttle Service direkt zur Festival Location. Plant 10 Minuten Fahrtzeit ein.
Den Shuttle Service erreicht ihr auch mobil: +491723269385
Infos zur Anreise mit der Bahn gibt es hier:
[db.de]
GETTING THERE BY TRAIN
If you travel to the festival by train, get off the train at Parchim station. You can take the shuttle service to the festival grounds. The ride will take around 10 minutes.
You can call the shuttle service: +491723269385
Find information about traveling by train:
[db.de]
☾ ❂ •°•° •°•° ❂ ☾ ✹ •°•° •°•° •°•° ❂ ☾
[psyexperience-festival.com]
Location
☾ ❂ •°•° •°•° ❂ ☾ ✹ •°•° •°•° •°•° ❂ ☾

LOCATION

Obstbau in 19386 Lübz - Ruthen, Mecklenburg-Vorpommern, North Germany

☾ ❂ •°•° •°•° ❂ ☾ ✹ •°•° •°•° •°•° ❂ ☾
Entry fee
TICKETS
-> X-rated <-
Earlybird Ticket Phase 1 is available until end of October 2018 for 75€ + 5€ waste deposit at the gate
Earlybird Ticket Phase 2 is available till end of December 2018 for 85€ + 5€ waste deposit at the gate
Earlybird Ticket Phase 3 is available till end of April 2019 for 95€ + 5€ waste deposit at the gate
Latebird Ticket Phase 4 available end of May 2019 for 105€ + 5€ waste deposit at the gate
LINK -
[psyexperience-festival.com]
At the Gate:
Wednesday 08pm - 120€ + 5€ waste deposit
Friday 8pm - 90€ + 5€ waste deposit
Saturday 8pm - 60€ + 5€ waste deposit
Sunday 10am - 30€
-> Ab 18 Jahre <-
Das "Earlybird-Ticket" Phase 1 ist erhältlich bis ende October 2018 für 75€ + 5€ Müllpfand an der Kasse
Das "Earlybird-Ticket" Phase 2 ist erhältlich bis ende Dezember 2018 für 85€ + 5€ Müllpfand an der Kasse
Das "Earlybird-Ticket" Phase 3 ist erhältlich bis ende April 2019 für 95€ + 5€ Müllpfand an der Kasse
Das "Latebird-Ticket" Phase 4 ist erhältlich bis ende Mai 2019 für 105€ + 5€ Müllpfand an der Kasse
LINK -
[psyexperience-festival.com]
Abendkasse:
Mittwoch 20Uhr - 120€ + 5€ Müllpfand
Freitag 20Uhr - 90€ + 5€ Müllpfand
Samstag 20Uhr - 60€ + 5€ Müllpfand
Sonntag 10Uhr - 30€
☾ ❂ •°•° •°•° ❂ ☾ ✹ •°•° •°•° •°•° ❂ ☾
Organizer
Organizer
SOLAR TECH EVENT / Psy Exp Team
Added

7y 1m

· Update

4y 2d

·

/ 195
More events from SOLAR TECH EVENT