Backend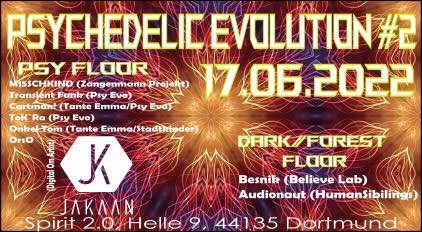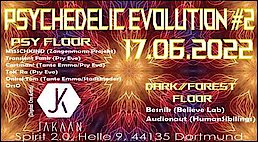 Line Up
***PSY STAGE***

*JAKAAN*
*M15CHK1ND*
*TRANSIENT FUNK"
*CARTMAN*
*TOK'RA*
*ONKEL TOM*
*OrsO*

***DARK STAGE***

*BESNIK*
*AUDIONAUT*
*Suprise Guest*
Info
🥳🎧🎶⭐🎶🎧🥳🎧🎶🥳⭐🎶🎧🥳
...nach der Party ist vor der Party!!!
....und wir setzen noch einen drauf!
Klar - was sonst!?
Nach dem wirklich fetten Debüt im Traditionsclub Spirit 2.0 im Herzen von Dortmund, machen wir genau so weiter, wie wir aufgehört haben!
Diesmal in den Kategorien Psy, Forest und Dark!
Jakaan kommt aus Amsterdam und wird Euch ordentlich was um die Ohren ballern.
Feel welcome and be prepared.....
Freut Euch auf einige Specials und Surprises der X-tra-Klasse!
Fruits & Candy 4 free!
Eintritt ab 18!
P.L.U.R.!!!
Location
Location
Dortmund,Helle 9
Spirit 2.0
Organizer
Organizer
Thomas Krasowski & Martin Parkitny,Christopher Dortmund (Psy Evo Crew)