Backend
Psychedelic Carnival 2019 (6th Edition)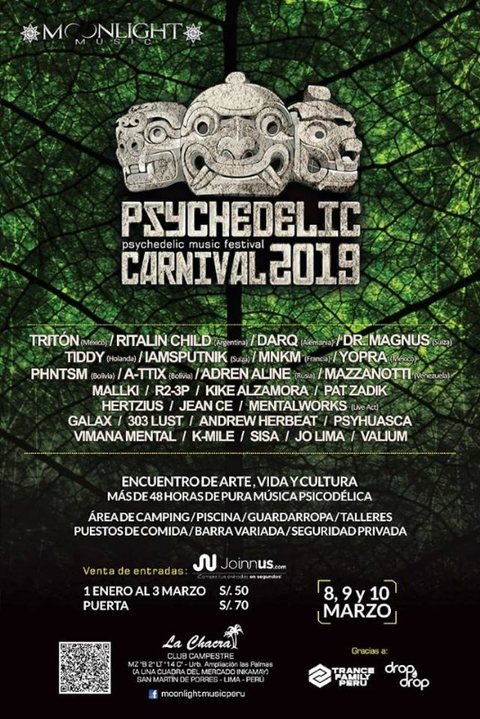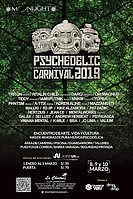 Line Up
*TRITON (Z-PLANE REC.) MEXICO
*DARQ (MONKEY BUSINESS REC.) ALEMANIA
*RITALIN CHILD (PADANG REC.) ARGENTINA
*DR. MAGNUS (DIGITAL PSIONICS) SUIZA
*MNKM (VOIE ALTERNATIVE) FRANCIA
*IAMSPUTNIK (PROGVISION REC.) SUIZA
*TIDDY (DREAM SIMULATION) HOLANDA
*PHNTSM - BOLIVIA
*YOPRA (9TH WAVE STUDIO) MEXICO
*A-TTIX (JUAYHU REC./HANUMAN REC.) BOLIVIA
*ADREN ALINE (TRILOBITE MUSIC) RUSSIA
*MALLKI (PADANG REC.- ARKANA)
*R2-3P (CLARO OSCURO RECORDS)
*KIKE ALZAMORA (MOONLIGHT MUSIC)
*PAT ZADIK (MOONLIGHT MUSIC)
*HERTZIUS (MOONLIGHT MUSIC)
*JEAN CE (MOONLIGHT MUSIC)
*MENTALWORKS (LIVE ACT)
*GALAX (MOONLIGHT MUSIC)
*303 LUST
*ANDREW HERBEAT (TFP BOOKINGS)
*VIMANA MENTAL
*MAZZANOTTI - VENEZUELA
*K-MILE
*SISA
*JO LIMA
*VALIUM
mas por confirmar
Info
ॐॐॐॐॐॐॐॐॐॐॐॐॐॐॐॐॐॐॐ
Moonlight Music presenta:
//// PSYCHEDELIC CARNIVAL 2019////
Art, Music & Psychedelic Culture Festival
Nos vamos por la 6ta edición de Psychedelic Carnival, eso son más de 6 años trabajando con mucho esfuerzo para hacer crecer la escena psicodélica en lima perú.
Nada de esto hubiera sido posible si no fuera por ustedes, por eso queremos agradecerles de corazón por compartir momentos tan geniales con nosotros, por todas sus vibras y linda energía que nos han regalado y por todo lo que han bailado y aún van a bailar con nosotros.
Gracias Tribu, Gracias Familia
ॐॐॐॐॐॐॐॐॐॐॐॐॐॐॐॐॐॐॐ
::: Encuentro de arte, vida, cultura y música :::
Creamos Psychedelic Carnival con la finalidad de transmitir una evolución de conciencia alternativa, de compartir experiencias con personas de todo el mundo y materializar una visión positiva para el futuro.
Somos una comunidad unida y nos honra celebrar esta reunión intercultural en donde disfrutaremos de momentos mágicos al aire libre, danzando descalzos sobre pasto fresco, unificándonos con la pachamama y toda su energía, escuchando la música que nos une en armonía con la naturaleza y las demás personas que nos rodean.
Psytrance no es cualquier género, es la raíz, es la esencia de la música electrónica, y a través de ello difundimos conciencia ambiental y la unión entre los seres humanos y la naturaleza…
///////////////////////////////////////////////////////////////////////////////////
::: Meeting of art, life, culture and music :::
We create Psychedelic Carnival in order to transmit an evolution of alternative consciousness, to share experiences with people around the world and realize a positive vision for the future.
We are a close-knit community and we are honored to celebrate this intercultural meeting where we will enjoy magical moments outdoors, dancing barefoot on fresh grass, becoming one with the Pachamama and all her energy, listening to music that unites us in harmony with nature and other people around us.
Psytrance is not any musical genre, is the root, is the essence of electronic music, and through it we spread environmental awareness and the bond between humans and nature ...
ॐॐॐॐॐॐॐॐॐॐॐॐॐॐॐॐॐॐॐ
Más de 48 horas de pura música psicodélica / Over 48 hours of pure psychedelic music
ॐॐॐॐॐॐॐॐॐॐॐॐॐॐॐॐॐॐॐ
En el festival contarás con... / At the festival you will have...
* Escenario principal/ Main stage
* Zona de campamento/ Camping area
* Piscina/ Swimming pool
* Puestos de comida/ Food stands
* Show de visuales/ Visual Show
* Show de laser/ Laser Show
* Decoración y arte psicodelico/ Decoration and psychedelic art
* Guardarropa/ Checkroom
* Barra / Bar
* Seguridad/ Security
ॐॐॐॐॐॐॐॐॐॐॐॐॐॐॐॐॐॐॐ
Video Links from psychedelic carnival 2018:
[facebook.com]
Location
La Chacra
Mz "B 2" Lt "14 C" - Urb. Ampliación las Palmas - San Martin de Porres
(A la espalda del mercado Inkamay dela Av. Paramonga)
Google Maps Link:
[com.co]
Video Link from the Location:
[facebook.com]
[facebook.com]
Entry
Preventa Enero - Marzo 50 soles,
compra online:
[joinnus.com]
Puerta 70 soles
Este año tenemos como país invitado a Mexico.
Presentando en puerta tu pasaporte mexicano eres exonerado del pago de la entrada.
No se permite el ingreso de bebidas alcohólicas (no es un evento corcho libre)
////////////////////////////////////////////////////////////////////////////////////////////
Presale January - March 50 soles
online shopping:
[joinnus.com]
Door 70 soles
This year we have Mexico as our guest country.
Presenting your Mexican passport at door is exempt from payment of the ticket.
It is not allowed to enter with alcoholic beverages
Organizer
Organizer
Moonlight Music & Drop by Drop