Psychedelic Birthday Party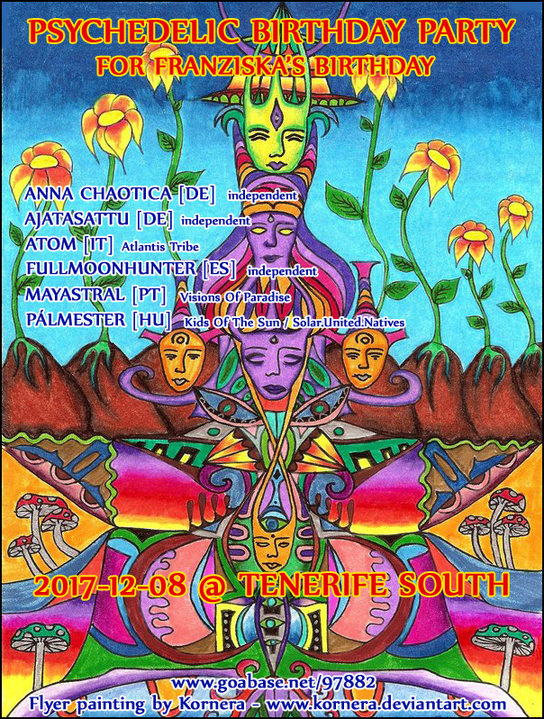 Line Up
Line Up
18-20 Pálmester [HU] - Kids Of The Sun / Solar.United.Natives (tribal trance set)
20-22 AnnaChaotica [DE] - independent (progressive set)
22-00 Ajatasattu [DE] - independent (progressive & psytrance set)
00-02 FullMoonHunter [ES] - independent (psytrance set)
02-04 Pálmester [HU] - Kids Of The Sun / Solar.United.Natives (goatrance set)
04-06 Atom [IT] - Atlantis Tribe (psytrance set)
06-08 Mayastral [PT] - Visions Of Paradise (fullon & morning & psytrance set)
08-10 Pálmester [HU] - Kids Of The Sun / Solar.United.Natives (psytrance set)
10-12 Pálmester [HU] - Kids Of The Sun / Solar.United.Natives (progressive set)
Deco
Deco
Kids Of The Sun & Volunteers
Info
[ENGLISH]
One-night-long, rainbow-based, free psychedelic party, birthday celebration. We will not making bar. Please don't bring alcohol for sell! Bring your foods and drinks. Don't forget your drinking water. Please take your rubbish away!
Atresania (handcraft things), bodypaint, uv shop are welcome
We will make food, coffe, tee, chai for donation.
Helping hand and minds are welcome!
[ESPANOL]
Una fiesta psicodélica libre, basada en el arco iris y de una noche de duración, celebración de cumpleaños. No vamos a hacer bar. Por favor, no traiga alcohol para vender! Traiga sus alimentos y bebidas. No se olvide de su agua potable. Por favor, llevate tu basura!
Atresania, bodypaint, uv tienda bienvenida
Haremos la comida, café, té, chai para la donación.
Ayudar a las manos y las mentes son bienvenidos!
Flyer drawing by Kornera /
[deviantart.com]
-
[facebook.com]
Location
Location
Tenerife South, Granadilla Industrial Zona, Barranco Charcón, close to the entrance of ITER.
TF-1 highway, exit 51 (Zona Industrial de Granadilla - Accesso 'B'), go down to the direction to the beach, at the second roundabout turn right to the ITER. Before the entrance of ITER, turn left to the dirt road to the beach.
Map:
[google.es]
Tenerife Sur, Zona Industrial de Granadilla, Barranco Charcón, cecra de entrada de ITER.
Autopista TF-1, salida 51 (Zona Industrial de Granadilla - Accesso 'B'), bajar a la dirección de la playa, en la segunda rotonda gire a la derecha al ITER. Antes de la entrada del ITER, gire a la izquierda hacia el camino de tierra hasta la playa.
Mapa:
[google.es]
Entry fee
Entry fee
Free / Gratuita
Organizer
Organizer
Kids Of The Sun