PSYBRAINS Presents :<<The Sound You Need After Xms Event>>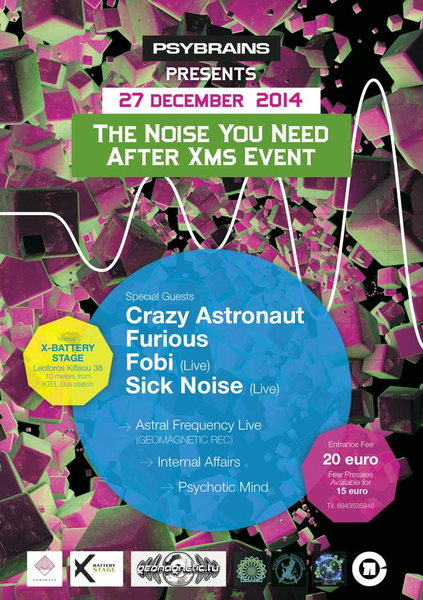 Line Up
Crazy Astronaut Live Act. (Russia)
(how2make records)
->
soundcloud
->
[facebook.com]
Furious (Russian Darkpsy) Live Act. (Russia)
(how2make/OSOM Music)
->
[facebook.com]
Fobi- Darko Velkovski (FYROM)
2hours Special live P.A.
(GREEN WIZARDS / PSYCANA RECORDS )
->
[facebook.com]
Sick Noise Live 1:30h (Serbia)
(Free Radical Records)
->
[facebook.com]
Astral Frequency Live Act. (Hellas)
(Geomagnetic Rec)
->
soundcloud
Psychotic Mind Dj Set
[facebook.com]
Internal Affairs DJ Set.
[facebook.com]
Special Decoration from
PsyUnity Decoration
[facebook.com]
Special Lazer
Lights Show
By PSYBRAINS Lab
[facebook.com]
Entrance Fee : 20euro
Propoliseis uparxoun diathesimes ton 15euro
Kratiseis sta til:
6941681228 C.U
6943535946 C.U
6984448664 WHATS UP
6999914803 Q
6980411333 WHATS UP
No illegal substances will be tolerated, respect the hospitality of the venue and help us to protect our scene.
Management reserves right to refuse admission. Age Limit 18
200 Τυχερα Εισητηρια θα ειναι διαθεσημα μετα την εκδηλωση στις 14 Νοεμβρη στο X-Battery stage me Sick Noise/Shouton/Aries/ Declaration Of Unity στο οποιο οι Πρωτοι 50 που θα πληρωσουν 13ευρω κ οι Πρωτοι 100 που θα πληρωσουν 15ευρω στην εισοδο αφηνωντας το ονομα τους θα κανουν απευθειας κρατηση για Προπωληση των 15ευρω για την εκδηλωση 27-12-14 Furious/ Crazy Astronaut/ Fobi !
Και μετα τις 15 Νοεμριου θα δωθουν αλλα 50 τυχερα εισητηρια!!!
Deco
Deco
PsyUnity Decorations
Info
200 Tuxera eusitiria tha einai diathesima meta tin ekdilwsi stis 14 Noemvri X-Battery stage me Sick Noise/Shouton/Aries/ Declaration Of Unity sto opoio oi protoi 50 pou tha plirosoun 13euro k oi 100 prwtoi pou tha plirosoun me 15euro stin eisodo afinontas to onoma tous tha kanoun apeutheias kratisi gia propolisi ton 15 euro gia tin ekdilosi stis 27-12-14 Furious/ Crazy Astronaut/ Fobi !
Kai meta tis 15 noemvriou tha einai diathesima alla 50 tuxera eisitiri!

Few Presales Available for 15euro
Til.6943535946

K oi 200 protoi pou tha plirosoun stin eisodo 20 euro tha exoun
dikaioma kratontas tin apodeiksei na promitheutoun eisitiria propoliseon ton 12 euro gia to epomeno Psybrains Event :

24 Ianouariou Savvato me Kalesmenous

KinDzaDza Special 4 hours Live Performance &

Hyperactive 25 Freak Records 2 hours Live

Residents Djs

Psychotic Mind
Dj Internal Affairs
Location
Location
X-Battery Stage
Leoforos Kifisou 38 deka metra apo to stathmo Ktel Kifisou
Entry fee
Entry fee
Entrance Fee : 20euro
Few Presales Available for 15euro
Til.6943535946