Backend
Psybox The Ritual ॐ Dark Whisper Ogoun Necropsycho + more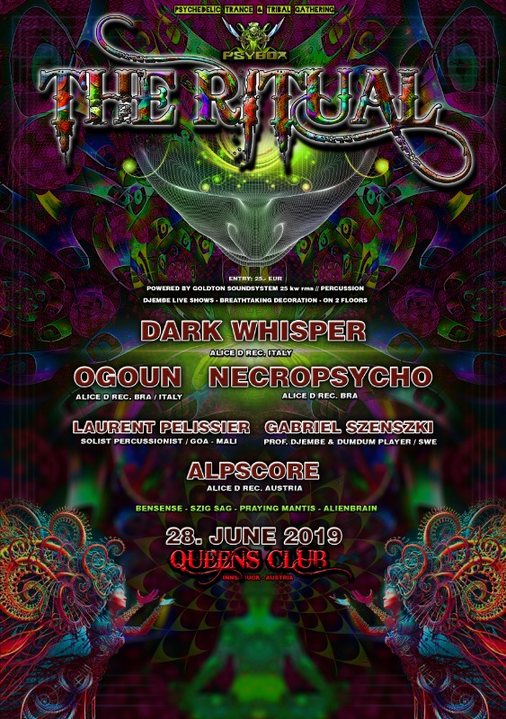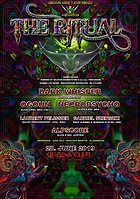 Line Up
˙·٠•●♥ Ƹ̵̡Ӝ̵̨̄Ʒ ♥● THE RITUAL - 2019 ॐ ●♥ Ƹ̵̡Ӝ̵̨̄Ʒ ♥●•٠·˙
Everyone of us knows this feeling of being exaggerated excited for something. To us, this happening here is exactly that very something we are thrilled about!
We have prof. Live percussionist and a prof. Live djembe player - Laurent Pelissier & Gabriel Szenanski - as guests to this altruistic Ritual /i~°~
Dark Whisper, Necropsycho and their furious fusion into the allmighty 'Ogoun' project are promising a trip into darkness and back to light, and Alpscore is aligning this trippy voyage with his dark vibes from the infernal regions of the underworld.
We are pleased to invite all of you wanderers between realms of consciousness in this Matrix.
'Trance-Dance is active meditation' ..and we are bond for delivering you the most awesome set and settings for your very own and personal astral travels.
Much love - PSYBOX 💓💓💓
╭━━┳━━┳━━┳━━┳━━┳━━┳━━┳━━╮
╰━━┻━━┻━━┻━━┻━━┻━━┻━━┻━━╯
☬ Psychedelic Trance & Tribal Gathering ☬ - on 2 Floors!
★ Music Styles: ★
NEW AGE PSYCHEDELIC █ DARK █ HI - TECH
DARK PROGRESSIVE █ PSYCHEDELIC
╭━━┳━━┳━━┳━━┳━━┳━━┳━━┳━━╮
╰━━┻━━┻━━┻━━┻━━┻━━┻━━┻━━╯
★★★ MASTERS OF CEREMONY ★★★
Main Act *live
► DARK WHISPER - AliceD Records / Italy
soundcloud
► NECROPSYCHO - AliceD Records / Brazil
soundcloud
► OGOUN - AliceD Recrods / Italy & Brazil
soundcloud
► ALPSCORE - AliceD Recrods / Austria
soundcloud
+++ New Album Presentation +++
[bandcamp.com]
+++ SPECIAL HYPNOTIC DRUM SHOW INTRO
& LIVE IN CONCERT WITH OGOUN PERCUSSION SHOW+++
► LAURENT PELISSIER - Solist Percussionist / Goa - Mali
Biography:
Laurent Pelissier Solist Percussionist specialised in West African
rythems and also in experimental psychedelic & hypnotic drumming.
Living, playing, teaching and studying in Mali and Goa, India for the last 20 Years
► GABRIEL SZENASZKI - Prof. Djembe & Dumdum / Sweden
Biography:
Prof. Djembe and Dumdum Player & Teacher, specialised in rhythms from Guinea, West Africa. Performing with a dance troop, for the last 20 years mostly in Sweden & Hungary
Support
► PRAYING MANTIS - Psybox Music / Austria
soundcloud
► BENSENSE - Psybox Music / Austria
soundcloud
► SZIG SAG - Psybox Music / Austria
soundcloud
► ALIENBRAIN - Psybox Music / Austria
soundcloud
╭━━┳━━┳━━┳━━┳━━┳━━┳━━┳━━╮
╰━━┻━━┻━━┻━━┻━━┻━━┻━━┻━━╯
POWERED BY
► GOLDTON SOUNDSYSTEM 25 kw r.m.s.
► PSYBOX MUSIC
► ALICE D RECORDS
LOCATION:
Queens Club
Amraserstr. 6
6020 Innsbruck
A U S T R I A
╱╱╱╭╮
╱╱╭╯╰╮
╭━┻╮╭╋━━┳╮╱╭╮
┃━━┫┃┃╭╮┃┃╱┃┃
┣━━┃╰┫╭╮┃╰━╯┃
╰━━┻━┻╯╰┻━╮╭
╱╱╱╱╱╱╱╱╭━╯┃
╱╱╱╱╱╱╱╱╰━━╯
╱╭╮╱╱╱╱╱╱╱╱╱╱╱╭╮
╭╯╰╮╱╱╱╱╱╱╱╱╱╱┃┃
╰╮╭╋╮╭┳━╮╭━━┳━╯┃
╱┃┃┃┃┃┃╭╮┫┃━┫╭╮┃
╱┃╰┫╰╯┃┃┃┃┃━┫╰╯┃
╱╰━┻━━┻╯╰┻━━┻━━╯