Psybox - Psychedelic Awakening with Outsiders & Earthling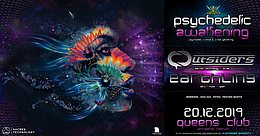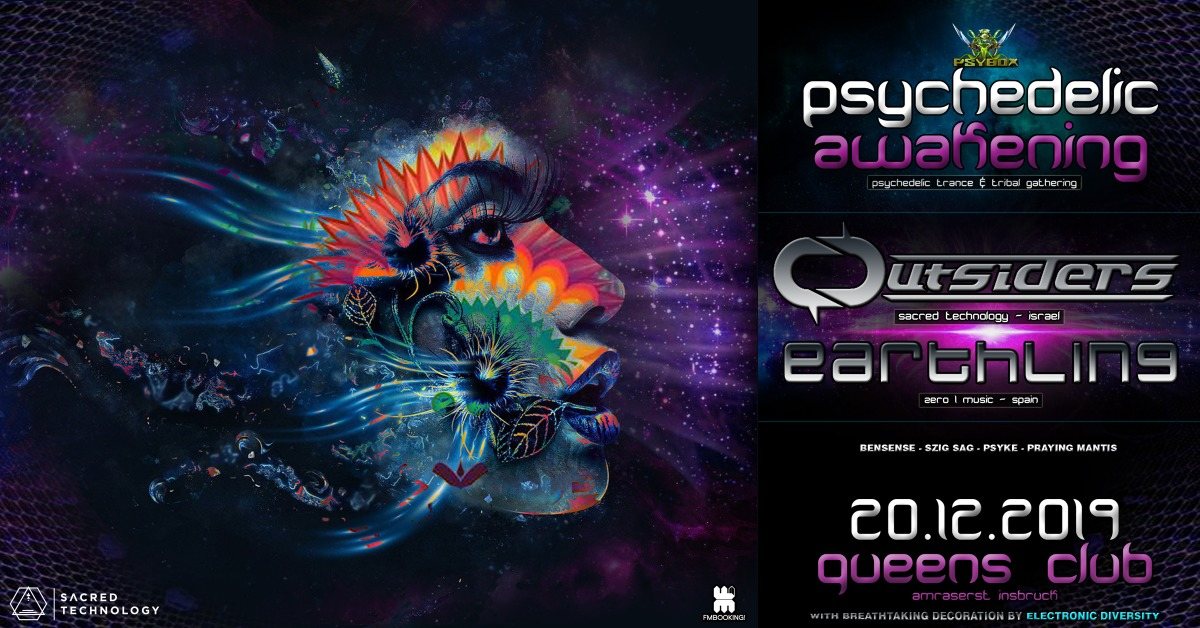 Line Up
٠•●♥ Ƹ̵̡Ӝ̵̨̄Ʒ ♥● PSYCHEDELIC AWAKENING ●♥ Ƹ̵̡Ӝ̵̨̄Ʒ ♥●•٠·˙
☬ Psychedelic Trance & Tribal Gathering ☬
╭━━┳━━┳━━┳━━┳━━┳━━┳━━┳━━╮
╰━━┻━━┻━━┻━━┻━━┻━━┻━━┻━━╯
"Spirituality is not a trend or a lifestyle.
It's a state of beeing"
Welcome to a new healing chapter in the PSYBOX universe /i~°~
Our psychedelic playground is an adventures realm for truthseekers, mindbenders, psychics and anyone else who's ready to get deeper into the rabbit hole.
We are aiming to open up the portal of true awarness in alchemical understanding of our existence by dancing and tuning into the frequencies channeld
by the grand masters of the psychedelic trance-dance scene.
We offer you nothing but the gate to your true self - dance to transform.
This is our misson and we are your providers of the hyperspace.
PSYBOX - Psychedelic Awakening
╭━━┳━━┳━━┳━━┳━━┳━━┳━━┳━━╮
╰━━┻━━┻━━┻━━┻━━┻━━┻━━┻━━╯
★ Music Styles: ★
PROGRESSIVE PSYTRANCE █ PSYTRANCE
╭━━┳━━┳━━┳━━┳━━┳━━┳━━┳━━╮
╰━━┻━━┻━━┻━━┻━━┻━━┻━━┻━━╯
BREATHTAKING DECORATION by
♥ electronic diversity ♥ expect massive decoration in all the club!
╭━━┳━━┳━━┳━━┳━━┳━━┳━━┳━━╮
╰━━┻━━┻━━┻━━┻━━┻━━┻━━┻━━╯
★★★ MASTERS OF CEREMONY ★★★
*live
► OUTSIDERS - Sacred Technology - Israel
[facebook.com]
soundcloud
Outsiders is the exciting project of two significant producers based in sunny Israel - Haim Lev & Guy Malka.
The Outsiders name has been fast developing and their releases have been backed and supported by an impressive number of international covering pretty much of the the top international circuit.Outsiders have released a bundle of successful original releases and a bountiful collaboration & remix tracks from the likes of Tristan, Symbolic, Laughing Buddha, Avalon, Electric Universe, Rinkadink, Burn In Noise, to name few.
The Outsiders sound is always evolving and is highly influenced by the duos global interactions.
► EARTHLING - Zero1 Music - Spain
[facebook.com]
soundcloud
Earthling is the solo project of DJ Celli. Psychedelic blast-off music to lose your marbles to. Celli's other projects include: Everblast, Soundaholix, Vatos Locos, and Third Ear Audio
Ibiza based Celli has been partying and producing in the Psychedelic trance scene since its beginnings in the early 90's.
Celli rocks dancefloors, bringing his unique psychedelic sound to the far reaches of the planet... His Earthling LIVE shows showcase his best music and always unreleased cutting edge tracks as well
╭━━┳━━┳━━┳━━┳━━┳━━┳━━┳━━╮
╰━━┻━━┻━━┻━━┻━━┻━━┻━━┻━━╯
Supported by
► PSYKE - Ruhestörung / Austria
soundcloud
► BENSENSE - Psybox Music / Austria
soundcloud
► SZIG SAG - Psybox Music / Austria
soundcloud
► PRAYING MANTIS - Psybox Music / Austria
soundcloud
╭━━┳━━┳━━┳━━┳━━┳━━┳━━┳━━╮
╰━━┻━━┻━━┻━━┻━━┻━━┻━━┻━━╯
POWERED BY
► GOLDTON SOUNDSYSTEM 25 kw r.m.s.
► PSYBOX MUSIC
► SACRED TECHNOLOGY
► ZERO1 MUSIC
LOCATION:
Queens Club
Amraserstr. 6
6020 Innsbruck
A U S T R I A
╱╱╱╭╮
╱╱╭╯╰╮
╭━┻╮╭╋━━┳╮╱╭╮
┃━━┫┃┃╭╮┃┃╱┃┃
┣━━┃╰┫╭╮┃╰━╯┃
╰━━┻━┻╯╰┻━╮╭
╱╱╱╱╱╱╱╱╭━╯┃
╱╱╱╱╱╱╱╱╰━━╯
╱╭╮╱╱╱╱╱╱╱╱╱╱╱╭╮
╭╯╰╮╱╱╱╱╱╱╱╱╱╱┃┃
╰╮╭╋╮╭┳━╮╭━━┳━╯┃
╱┃┃┃┃┃┃╭╮┫┃━┫╭╮┃
╱┃╰┫╰╯┃┃┃┃┃━┫╰╯┃
╱╰━┻━━┻╯╰┻━━┻━━╯