Psybox - Progressive Awakening with RANJI *live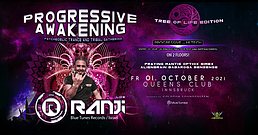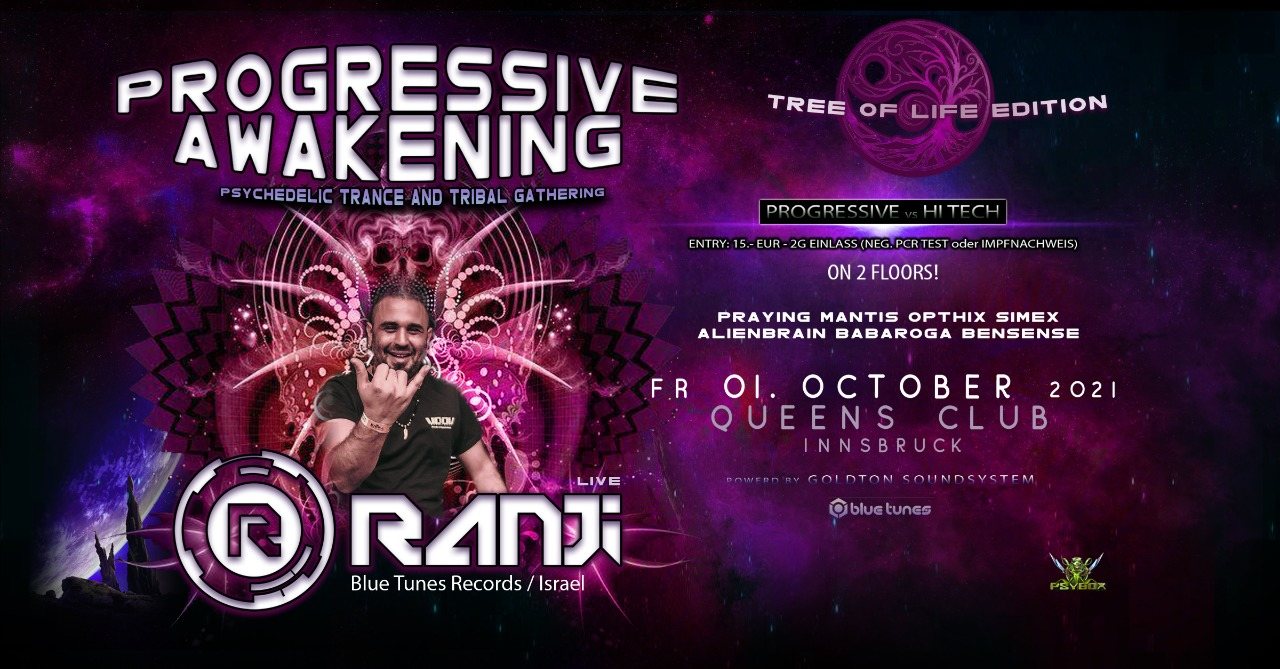 Line Up
☬ Psychedelic Trance & Tribal Gathering ☬
- FR 01. October 2021 - 21:00 - 04:00
● Progressive & Hi Tech on 2 Floors!
Powered by GOLDTON SOUNDSYSTEM
The Tree of Life is without a doubt a mighty symbol in many ancient cultures and among nowadays new age circles. All Life is interconnected. A forest is made up of a large number of individual trees. The branches of each one link together just like their roots are doing too. Like this, they join their life force to provide a home for thousands of different species of the plant and the animal kingdom.
This is what music does too. It connects people from different areas and cultures and nourishes their soul and their mind in an infinitely loving way of understanding.
We believe in the sacred healing power of frequencies and we want to create a spot for like-minded people searching for a blissful moment in the infinite hyperspace of love and attraction.
For this special occasion, we invited one of the worlds leading Progressive Trance Producers - digital shaman of the new age - to connect us under the spirit of the Tree of Life.
Let's celebrate together Life & Culture and share beautiful moments of bliss and ecstasy, surrounded by the beautiful and hypnotic rhythms of this magical night. ॐ
╭━━┳━━┳━━┳━━┳━━┳━━┳━━┳━━╮
╰━━┻━━┻━━┻━━┻━━┻━━┻━━┻━━╯
★★★ MASTERS OF CEREMONY ★★★
*live & dj set
► RANJI - Blue Tunes Records. - Israel
soundcloud
[facebook.com]
[spotify.com]
supported by
► SIMEX
► OPTHIX
► PRAYING MANTIS
► ALIENBRAIN
► BENSENSE
► BABAROGA
╭━━┳━━┳━━┳━━┳━━┳━━┳━━┳━━╮
╰━━┻━━┻━━┻━━┻━━┻━━┻━━┻━━╯
➡️ Einlass nur mit 3G Regel
- Einlass nur mit neg. PCR Test
vollständiger Impfnachweis oder Genesen (Absonderungs oder Genesungsbesscheid)
➡️ TICKETS:
15.- EUR Abendkasse
(Gates öffnen 21:00 Uhr)
WICHGTIGE INFO:
➡️ Es ist dringend notwendig das die Gäste welche zu unseren Veranstaltungen im Queens Club kommen sich an folgende REGELN halten:
- Rund um das Ischia Gebäude und den Parkplätzen(!) darf man sich absolut NICHT AUFHALTEN da PRIVATGRUND! Das ist sehr wichtig da von den Grundstücksbesitzern so verlangt wird und wir Probleme in Zukunft vermeiden möchten! Somit bitten wir unsere Gäste sich nur im Queens Club bzw. direkt davor aufhalten!
- Man NICHT auf dem Radweg vor dem Club sitzt oder anderweitig verweilt!
- Absolut keine Getränke draußen außerhalb des Clubs konsumiert! (Auch nicht selbst mitgebrachte!!)
- Ab 03:00 Uhr ONE WAY akzeptiert und sich daran haltet!
Bitte nehmt diese Regeln ernst und haltet euch daran, teilt die Information mit euren Freunden die den Club ebenso besuchen und unterstützt uns dabei, das wir auch in Zukunft im Queens Club unsere Veranstaltungen ohne Probleme durchführen können!
Vielen Dank!
LOCATION:
Queens Club
Amraserstr. 6
6020 Innsbruck
A U S T R I A
╭━━┳━━┳━━┳━━┳━━┳━━┳━━┳━━╮
╰━━┻━━┻━━┻━━┻━━┻━━┻━━┻━━╯
BOOooo ❤️ oooOOM & see you on the Dancefloor!
╱╱╱╭╮
╱╱╭╯╰╮
╭━┻╮╭╋━━┳╮╱╭╮
┃━━┫┃┃╭╮┃┃╱┃┃
┣━━┃╰┫╭╮┃╰━╯┃
╰━━┻━┻╯╰┻━╮╭
╱╱╱╱╱╱╱╱╭━╯┃
╱╱╱╱╱╱╱╱╰━━╯
╱╭╮╱╱╱╱╱╱╱╱╱╱╱╭╮
╭╯╰╮╱╱╱╱╱╱╱╱╱╱┃┃
╰╮╭╋╮╭┳━╮╭━━┳━╯┃
╱┃┃┃┃┃┃╭╮┫┃━┫╭╮┃
╱┃╰┫╰╯┃┃┃┃┃━┫╰╯┃
╱╰━┻━━┻╯╰┻━━┻━━╯
Location
Queens Club
Amraserstr. 6
6020 Innsbruck