Psybox pres. The Journey with Captain Hook - 3 Hours Set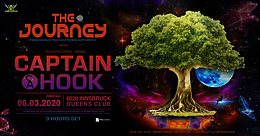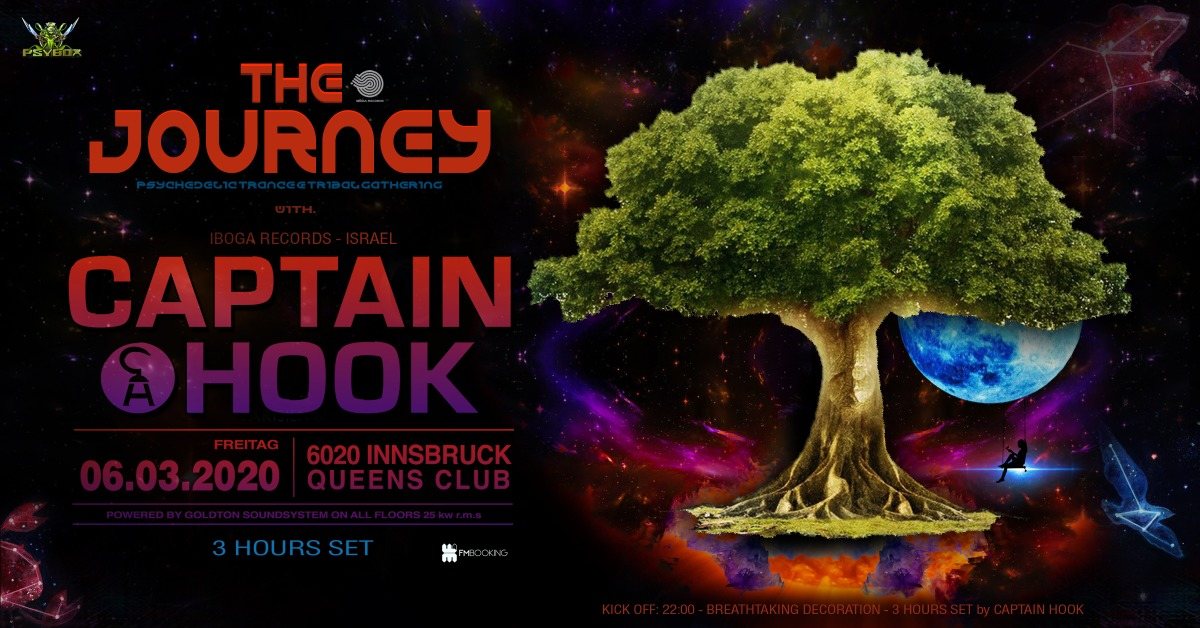 Line Up
٠•●♥ Ƹ̵̡Ӝ̵̨̄Ʒ - THE JOURNEY - Ƹ̵̡Ӝ̵̨̄Ʒ ♥●•٠·˙
☬ Psychedelic Trance & Tribal Gathering ☬ on 2 Floors
FREE TICKETS:
-> Poste #CaptainHook ins Event und markiereeinen #Freund
╭━━┳━━┳━━┳━━┳━━┳━━┳━━┳━━╮
╰━━┻━━┻━━┻━━┻━━┻━━┻━━┻━━╯
★ Music Styles: ★
PROGRESSIVE TRANCE █ PSYTRANCE █ FOREST
╭━━┳━━┳━━┳━━┳━━┳━━┳━━┳━━╮
╰━━┻━━┻━━┻━━┻━━┻━━┻━━┻━━╯
★★★ MASTERS OF CEREMONY ★★★
*International Main Act
► CAPTAIN HOOK - Iboga Records / Israel
[facebook.com]
[youtube.com]
soundcloud
+++ 3 Hours Set +++
Captain Hook is one of the top artists, musicians and producers in the Psychedelic & Progressive Trance scene. Traveling a diverse musical path, Reshef Harari has always achieved success guided by the frequencies. From the early days of DJing with vinyl, through the successful collaborative project Quantize, the visit to Technoland as Sheff with releases at top labels, and finally as Captain Hook, the project that took the world by a storm. Always following his unique vision he keeps innovating and never stagnating. With four top selling albums at Iboga Records, countless singles and compilation releases. Collaborating with the best electronic music producers, Captain Hook has been playing in every conceivable festival, party and venue around the world.
With his latest album - 'Origin' - released on November 2018, Captain Hook reinvented his sound yet again, going back to his origins and blending modern and vintage approaches of creating and producing Trance music. The album was released digitally, on CD and on a triple vinyl with a powerful audio-visual concept. It's a full experience, a true journey into a deep hypnotic trance, The 'Origin' experience is being embraced globally by dancefloors and music lovers as a fresh breeze in the forest of Psychedelic Trance and beyond.
╭━━┳━━┳━━┳━━┳━━┳━━┳━━┳━━╮
╰━━┻━━┻━━┻━━┻━━┻━━┻━━┻━━╯
Supported by
► BENSENSE - Psybox Music / Austria
soundcloud
► SZIG SAG - Psybox Music / Austria
soundcloud
► ALIENBRAIN - Psybox Music / Austria
soundcloud
► PRAYING MANTIS - Psybox Music / Austria
soundcloud
► more tba. soon (stay tuned)
╭━━┳━━┳━━┳━━┳━━┳━━┳━━┳━━╮
╰━━┻━━┻━━┻━━┻━━┻━━┻━━┻━━╯
POWERED BY
► GOLDTON SOUNDSYSTEM 25 kw r.m.s.
► PSYBOX MUSIC
► IBOGA RECORDS
► FM BOOKING
INFOS:
We want to celebrate Life & Culture together with you, for the love of music and good vibrations. Therefore we want to speak up for a DRUG FREE experience and motivate you to enjoy the love for the moment in a clear state of mind so that you eventually experience the pure bliss which is only possible when you stay true to yourself without using any substances. We want you to trigger your pure essence to get you connected to the one and only NOW, the true nature of our existence ૐ
NO DRUGS!
ONLY GOOD VIBES!
COME WITH A SMILE ツ
LOCATION:
Queens Club
Amraserstr. 6
6020 Innsbruck
A U S T R I A
╱╱╱╭╮
╱╱╭╯╰╮
╭━┻╮╭╋━━┳╮╱╭╮
┃━━┫┃┃╭╮┃┃╱┃┃
┣━━┃╰┫╭╮┃╰━╯┃
╰━━┻━┻╯╰┻━╮╭
╱╱╱╱╱╱╱╱╭━╯┃
╱╱╱╱╱╱╱╱╰━━╯
╱╭╮╱╱╱╱╱╱╱╱╱╱╱╭╮
╭╯╰╮╱╱╱╱╱╱╱╱╱╱┃┃
╰╮╭╋╮╭┳━╮╭━━┳━╯┃
╱┃┃┃┃┃┃╭╮┫┃━┫╭╮┃
╱┃╰┫╰╯┃┃┃┃┃━┫╰╯┃
╱╰━┻━━┻╯╰┻━━┻━━╯