Backend
Psybox pres. Shperica Festival Pre Event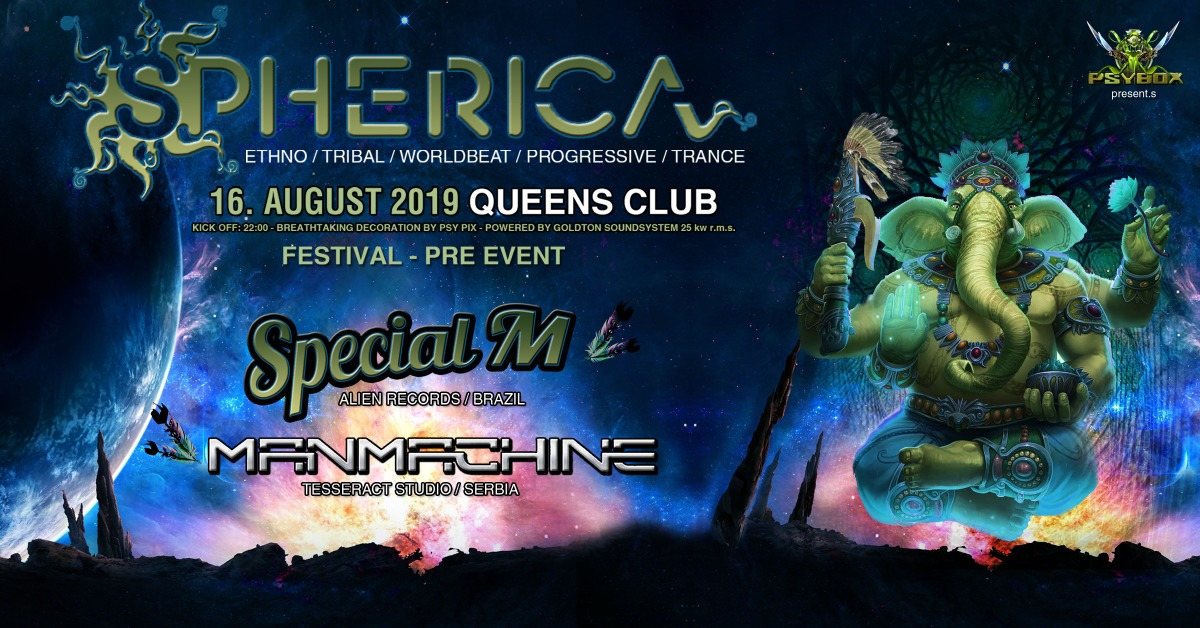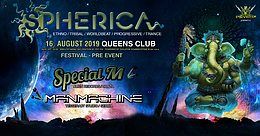 Line Up
˙·٠•●♥ Ƹ̵̡Ӝ̵̨̄Ʒ ♥● SUMMER SPECIAL ●♥ Ƹ̵̡Ӝ̵̨̄Ʒ ♥●•٠·˙
- SPHERICA FESTIVAL - 2019 PRE EVENT -
Das Spherica Festival erblickt das Licht der Welt! Von 30.August bis 01.September 2019 am Festivalgelände Wiesen!
Spherica vereint elektronische Sounds, Live Bands, akustische Instrumente und Musik-Elemente aus der ganzen Welt zu einer einmaligen Fusion. Tribal und Ethno Electronica trifft auf Worldbeat, Psytrance, Progressive Psy und Trance. Mystische Klänge längst vergessener Zeiten treffen auf futuristische Sounds und aktuelle Strömungen. Das Ergebnis ist eine unbeschreibliche elektro-akustische Mischung! Bei Spherica verbinden sich aber nicht nur verschiedene musikalische Strömungen, sondern auch unterschiedliche Kulturen und Menschen zu einem Gathering der Generationen.
Alle Infos zum Spherica Festival findet ihr auf der
Eventpage - Spherica Festival - 2019 :
[facebook.com]
╭━━┳━━┳━━┳━━┳━━┳━━┳━━┳━━╮
╰━━┻━━┻━━┻━━┻━━┻━━┻━━┻━━╯
Dearest people of our beloved PSYBOX experience 🙏
Our summer break is lovely and we enjoy the time we needed to get new input, creativity and basic all day life 💓
However, we are coming back to you to share some joyful announcement. In nearly two and a half weeks we want to welcome you for a spontaneous summer special club edition by PSYBOX
SPECIAL M & MANMACHINE will be here to celebrate with us the SPHERICA FESTIVAL -PRE EVENT and we are honourd to host this oustanding evening
We want to celebrate Life & Culture together with you, for the love of music and good vibrations. Therefore we want to speak up for a DRUG FREE experience and motivate you to enjoy the love for the moment in a clear state of mind so that you eventually experience the pure bliss which is only possible when you stay true to yourself without using any substances. We want you to trigger your pure essence to get you connected to the one and only NOW, the true nature of our existence ૐ
☬ Psychedelic Trance & Tribal Gathering ☬ - on 2 Floors!
★ Music Styles: ★
FUTURE PROG █ PROGRESSIVE TRANCE
PSYTRANCE █ DARK █ HI - TECH
╭━━┳━━┳━━┳━━┳━━┳━━┳━━┳━━╮
╰━━┻━━┻━━┻━━┻━━┻━━┻━━┻━━╯
★★★ MASTERS OF CEREMONY ★★★
Intern. Main Act *live
► SPECIAL M - Alien Records / Brazil
[facebook.com]
soundcloud
► MANMACHINE - Tesseract Studio / Serbia
[facebook.com]
soundcloud
Support
► SIMEX - Prog Vision Rec. / Austria
[facebook.com]
soundcloud
► PRAYING MANTIS - Psybox Music / Austria
soundcloud
► PSYKE - Ruhestörung / Austria
soundcloud
► OPTHIX - Beat Progression / Austria
soundcloud
► BENSENSE - Psybox Music / Austria
soundcloud
► SZIG SAG - Psybox Music / Austria
soundcloud
► IBEX - Psybox Music / Let it Prog - Austria
soundcloud
► OUIJA - Psybox Music / Austria
soundcloud
► TUTTO & GASS - Psybox Music / Austria
soundcloud
╭━━┳━━┳━━┳━━┳━━┳━━┳━━┳━━╮
╰━━┻━━┻━━┻━━┻━━┻━━┻━━┻━━╯
POWERED BY
► GOLDTON SOUNDSYSTEM 25 kw r.m.s.
► PSYBOX MUSIC
► ALIEN RECORDS
► TESSERACT STUDIOS
LOCATION:
Queens Club
Amraserstr. 6
6020 Innsbruck
A U S T R I A
ENTRY: 25.-
NO DRUGS!
0 TOLLERANCE POLITICS!
WE DO NOT TOLLARATE ANY ABUSE!
╱╱╱╭╮
╱╱╭╯╰╮
╭━┻╮╭╋━━┳╮╱╭╮
┃━━┫┃┃╭╮┃┃╱┃┃
┣━━┃╰┫╭╮┃╰━╯┃
╰━━┻━┻╯╰┻━╮╭
╱╱╱╱╱╱╱╱╭━╯┃
╱╱╱╱╱╱╱╱╰━━╯
╱╭╮╱╱╱╱╱╱╱╱╱╱╱╭╮
╭╯╰╮╱╱╱╱╱╱╱╱╱╱┃┃
╰╮╭╋╮╭┳━╮╭━━┳━╯┃
╱┃┃┃┃┃┃╭╮┫┃━┫╭╮┃
╱┃╰┫╰╯┃┃┃┃┃━┫╰╯┃
╱╰━┻━━┻╯╰┻━━┻━━╯