Psybox pres. Purple Hayes *live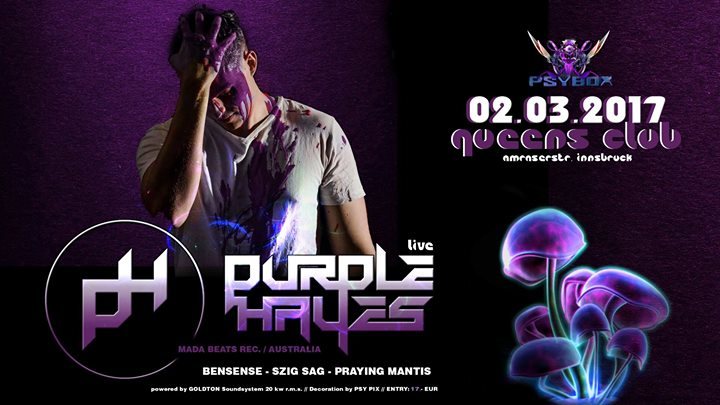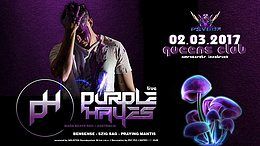 Line Up
٠•●♥ Ƹ̵̡Ӝ̵̨̄Ʒ ♥● PSYBOX ●♥ Ƹ̵̡Ӝ̵̨̄Ʒ ♥●•٠·˙
☬ Progressive Trance all night long ☬
╭━━┳━━┳━━┳━━┳━━┳━━┳━━┳━━╮
╰━━┻━━┻━━┻━━┻━━┻━━┻━━┻━━╯
★ Music Style: ★
PROGRESSIVE TRANCE
╭━━┳━━┳━━┳━━┳━━┳━━┳━━┳━━╮
╰━━┻━━┻━━┻━━┻━━┻━━┻━━┻━━╯
★★★ MASTERS OF CEREMONY ★★★
*live
► PURPLE HAYES - MadaBeats Rec. / Australia
[facebook.com]
soundcloud
+++ First Time in Austria +++
Psytrance connoisseurs, bassline fanatics and lovers of music unfamiliar, dance on a floor hazed with dust, because purple is the new black.
Purple Hayes is Australia's dark horse of progressive trance. A unique fusion of cheeky perks, darkened drive and inspired experimentalism has placed Purple Hayes on the biggest relevant labels globally: Spin Twist, Prog On Syndicate, TesseracT, Airglow, MadaBeats, with a stacked year of releases ahead.
Purple Hayes is strongly establishing his status by forging a fresh twist on the global psytrance scene, collaborating with the world's most current names including Durs, Talpa, Jacob, Dreamvibes and Audiophonic.
Iincompatibly slick and boisterous live performances have seen Purple Hayes take on some of the most respected stages in the world including Splendour In The Grass, Earth Frequency, Subsonic Music Festival, all the way to Mexico's Eclipse and Rounders festivals.
╭━━┳━━┳━━┳━━┳━━┳━━┳━━┳━━╮
╰━━┻━━┻━━┻━━┻━━┻━━┻━━┻━━╯
Supported by
► BENSENSE - Psybox Music / Austria
soundcloud
► SZIG SAG - Psybox Music / Austria
soundcloud
► PRAYING MANTIS - Psybox Music / Austria
soundcloud
╭━━┳━━┳━━┳━━┳━━┳━━┳━━┳━━╮
╰━━┻━━┻━━┻━━┻━━┻━━┻━━┻━━╯
POWERD BY
► GOLDTON SOUNDSYSTEM 20 kw r.m.s.
DECORATION BY
► Psy-Pix
ENTRY:
15.- EUR
LOCATION:
Queens Club
Amraserstr. 6
6020 Innsbruck
╱╱╱╭╮
╱╱╭╯╰╮
╭━┻╮╭╋━━┳╮╱╭╮
┃━━┫┃┃╭╮┃┃╱┃┃
┣━━┃╰┫╭╮┃╰━╯┃
╰━━┻━┻╯╰┻━╮╭
╱╱╱╱╱╱╱╱╭━╯┃
╱╱╱╱╱╱╱╱╰━━╯
╱╭╮╱╱╱╱╱╱╱╱╱╱╱╭╮
╭╯╰╮╱╱╱╱╱╱╱╱╱╱┃┃
╰╮╭╋╮╭┳━╮╭━━┳━╯┃
╱┃┃┃┃┃┃╭╮┫┃━┫╭╮┃
╱┃╰┫╰╯┃┃┃┃┃━┫╰╯┃
╱╰━┻━━┻╯╰┻━━┻━━╯
Location
Location
Psybox Jungle Visions
Amraserstraße 6
6020 Innsbruck
Organizer
Organizer
Psybox Jungle Visions