Backend
Psybox pres. Psykovsky - 8 Hours Ritual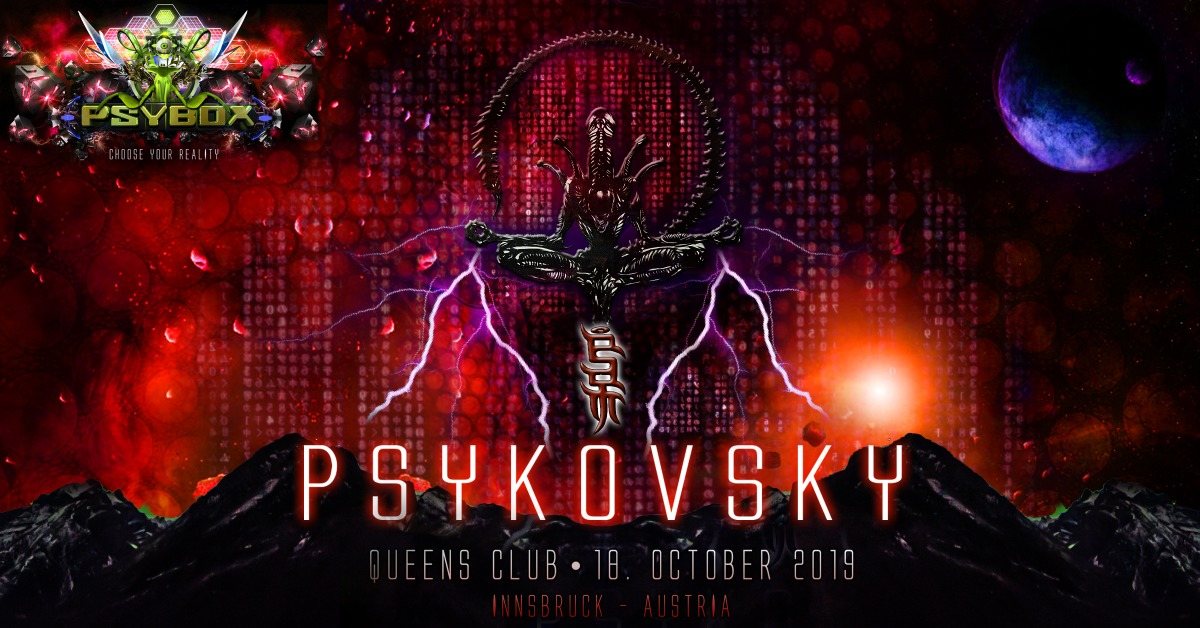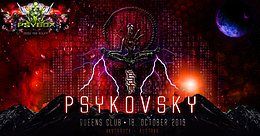 Line Up
˙·٠•●♥ Ƹ̵̡Ӝ̵̨̄Ʒ ♥● PSYKOVKSY - 8 HOURS RITUAL ●♥ Ƹ̵̡Ӝ̵̨̄Ʒ ♥●•٠·˙
Ladies & Gentlemen, dear extraordinary people of the PSYBOX universe. Some superheroes of the Psy-Worlds are out there, lurking for anomalies,
fulfilling their purpose - to look after the intergalactic balance. They travel from Hot-Spot to Hot-Spot, delivering their superpowers in form of
transforming and healing frequencies. One of these supernatural beings is for sure also one of the most influential and most charismatic ones.
He inspired so many to to walk its way and to learn this magical manufactured work of summoning frequencies from the eternal source.
This entity is now manifesting after many years in our dimension - the vortex of PSYBOX universe.
We are super stoked and more than honoured to present you an exceptional and the only one 8 hours ritual for Europe this year
- with the one and only PSYKOVSKY - the human form of this more dimensional and obscure entity of the outworlds.
'Aligning chakras since almost a decade'
PSYBOX - Choose your reality
╭━━┳━━┳━━┳━━┳━━┳━━┳━━┳━━╮
╰━━┻━━┻━━┻━━┻━━┻━━┻━━┻━━╯
Info:
We want to celebrate Life & Culture together with you, for the love of music and good vibrations. Therefore we want to speak up for a DRUG FREE experience and motivate you to enjoy the love for the moment in a clear state of mind so that you eventually experience the pure bliss which is only possible when you stay true to yourself without using any substances. We want you to trigger your pure essence to get you connected to the one and only NOW, the true nature of our existence ૐ
☬ Psychedelic Trance & Tribal Gathering ☬
╭━━┳━━┳━━┳━━┳━━┳━━┳━━┳━━╮
╰━━┻━━┻━━┻━━┻━━┻━━┻━━┻━━╯
★★★ MASTERS OF CEREMONY ★★★
Intern. Main Act
► PSYKOVSKY
(Osom Music / RUS)
[bandcamp.com]
soundcloud
[facebook.com]
+++ 8 HOURS SET +++
more Infos soon! stay tuned..
╭━━┳━━┳━━┳━━┳━━┳━━┳━━┳━━╮
╰━━┻━━┻━━┻━━┻━━┻━━┻━━┻━━╯
POWERED BY
► GOLDTON SOUNDSYSTEM 25 kw r.m.s.
► PSYBOX MUSIC
► OSOM MUSIC
LOCATION:
Queens Club
Amraserstr. 6
6020 Innsbruck
A U S T R I A
DECORATION:
OUTSTANDING DECO SETUP
(stay tuned for more Infos)
ENTRY: 20.- EUR
NO DRUGS!
ONLY GOOD VIBES!
COME WITH A SMILE!
╱╱╱╭╮
╱╱╭╯╰╮
╭━┻╮╭╋━━┳╮╱╭╮
┃━━┫┃┃╭╮┃┃╱┃┃
┣━━┃╰┫╭╮┃╰━╯┃
╰━━┻━┻╯╰┻━╮╭
╱╱╱╱╱╱╱╱╭━╯┃
╱╱╱╱╱╱╱╱╰━━╯
╱╭╮╱╱╱╱╱╱╱╱╱╱╱╭╮
╭╯╰╮╱╱╱╱╱╱╱╱╱╱┃┃
╰╮╭╋╮╭┳━╮╭━━┳━╯┃
╱┃┃┃┃┃┃╭╮┫┃━┫╭╮┃
╱┃╰┫╰╯┃┃┃┃┃━┫╰╯┃
╱╰━┻━━┻╯╰┻━━┻━━╯