Backend
Psybox pres. Love & Thunder with BLISS *live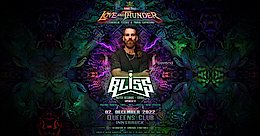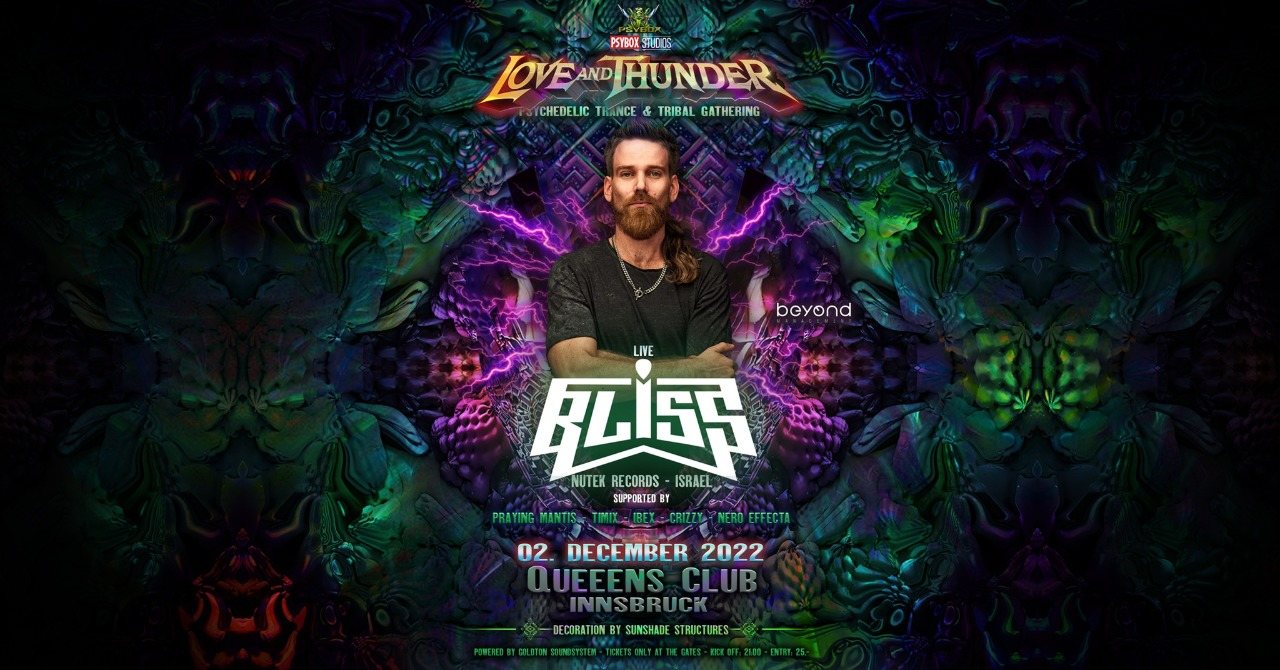 Line Up
☬ Psychedelic Trance & Tribal Gathering ☬
Powered by GOLDTON SOUNDSYSTEM
- TICKETS ONLY AT THE GATES -
Kickoff: 21:00 Uhr // Freitag 02.12.22
╭━━┳━━┳━━┳━━┳━━┳━━┳━━┳━━╮
╰━━┻━━┻━━┻━━┻━━┻━━┻━━┻━━╯
Love, Psychedelics, and Good Vibes
Psybox Events has continuously brought together music lovers from all around the world to experience the uniting and transformational powers of Psychedelic Trance. The global pandemic has been a time of hardship and challenge for everyone, but it has also been an opportunity to press pause on our busy lives and reconnect with what truly matters. As we move into 2023, let's commit to creating more good vibes in the world by coming together in love and dancing our worries away. Looking for a feeling of community and togetherness? Look no further than your local Psychedelic Trance party. At these events, you'll find people of all ages and walks of life coming together to dance, connect, and let loose. The music is designed to take you on a journey, and the atmosphere is one of love and acceptance. Whether you're new to the scene or a seasoned raver, you'll feel right at home at a Psychedelic Trance party.
So what are you waiting for? Get out there and start exploring the wonderful world of Psychedelic Trance with BLISS live @ Queens Club IBK 😘❤️
★★★ MASTERS OF CEREMONY ★★★
*live
► BLISS - Nutek Records / Israel
[youtube.com]
[facebook.com]
soundcloud
Supported by
► IBEX
► TIMIX
► CRIZZY
► NERO EFFECTA
► PRAYING MANTIS
► DECORATION BY SUNSHADE STRUCTURES
Check out Instagram for more Infos:
>>>
[instagram.com]
<<<
╭━━┳━━┳━━┳━━┳━━┳━━┳━━┳━━╮
╰━━┻━━┻━━┻━━┻━━┻━━┻━━┻━━╯
LOCATION:
Queens Club
Amraserstr. 6
6020 Innsbruck
A U S T R I A
╭━━┳━━┳━━┳━━┳━━┳━━┳━━┳━━╮
╰━━┻━━┻━━┻━━┻━━┻━━┻━━┻━━╯
BOOooo ❤️ oooOOM & see you on the Dancefloor!
╱╱╱╭╮
╱╱╭╯╰╮
╭━┻╮╭╋━━┳╮╱╭╮
┃━━┫┃┃╭╮┃┃╱┃┃
┣━━┃╰┫╭╮┃╰━╯┃
╰━━┻━┻╯╰┻━╮╭
╱╱╱╱╱╱╱╱╭━╯┃
╱╱╱╱╱╱╱╱╰━━╯
╱╭╮╱╱╱╱╱╱╱╱╱╱╱╭╮
╭╯╰╮╱╱╱╱╱╱╱╱╱╱┃┃
╰╮╭╋╮╭┳━╮╭━━┳━╯┃
╱┃┃┃┃┃┃╭╮┫┃━┫╭╮┃
╱┃╰┫╰╯┃┃┃┃┃━┫╰╯┃
╱╰━┻━━┻╯╰┻━━┻━━╯
Location
Queens Club
Amraserstraße 6
6020 Innsbruck
Added

13d 14h

· Update

7d 16h

·

/ 270