Backend
PSYBOX pres. HIGHWHISPER (Worldpremier) Dark Whisper & Highko New Project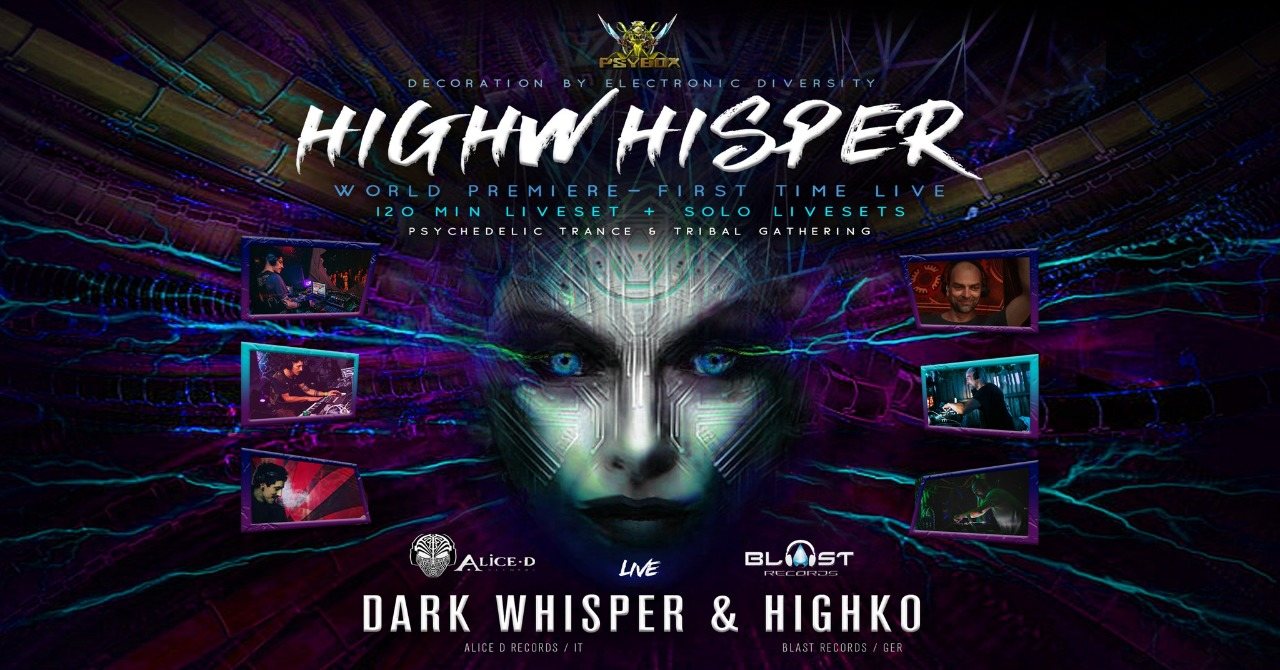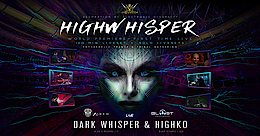 Line Up
☬ Psychedelic Trance & Tribal Gathering ☬
● Dark / Experimental / Hi Tech + Progressive Trance on 2nd Stage
Powered by GOLDTON SOUNDSYSTEM
╭━━┳━━┳━━┳━━┳━━┳━━┳━━┳━━╮
╰━━┻━━┻━━┻━━┻━━┻━━┻━━┻━━╯
Dear Passengers, lean back and put your seat belts on, the Spaceship Number 1803 HIGHWHISPER is
Ready to take off. Here we have the World-premier by our two pilots Dark Whisper And Higko – A New Project that will not only take you to another planet but to another Dimension. ready to get blasted!
★★★ MASTERS OF CEREMONY ★★★
*live
► HIGHWHISPER (AliceD Rec. / Blast Rec. / IT - GER)
(Brandnew Project by Highko & Dark Whisper)
► HIGHKO (Blast Rec. / Germany)
soundcloud
► DARK WHISPER (AliceD Rec. / Italy)
soundcloud
*dj set´s
► PRAYING MANTIS (Psybox Music / AUT)
soundcloud
► TIMIX (Upward Records / AUT)
soundcloud
► IBEX (Let it Prog. / AUT)
soundcloud.com/ibex4prog
► SOL (Psybox Music / AUT)
+
MINDBENDING DECORATION by Electronic Diversity
[facebook.com]
╭━━┳━━┳━━┳━━┳━━┳━━┳━━┳━━╮
╰━━┻━━┻━━┻━━┻━━┻━━┻━━┻━━╯
Info: ALLE Covidmaßnahmen sind in Österreich gefallen, somit gibt es keine 3G / 2G oder Impfpflicht mehr um in den Club kommen zu dürfen!
╭━━┳━━┳━━┳━━┳━━┳━━┳━━┳━━╮
╰━━┻━━┻━━┻━━┻━━┻━━┻━━┻━━╯
WICHGTIGE INFO:
➡️ Es ist dringend notwendig das die Gäste welche zu unseren Veranstaltungen im Queens Club kommen sich an folgende REGELN halten:
- Rund um das Ischia Gebäude und den Parkplätzen(!) darf man sich absolut NICHT AUFHALTEN da PRIVATGRUND! Das ist sehr wichtig da von den Grundstücksbesitzern so verlangt wird und wir Probleme in Zukunft vermeiden möchten! Somit bitten wir unsere Gäste sich nur im Queens Club bzw. direkt davor aufhalten!
- Man NICHT auf dem Radweg vor dem Club sitzt oder anderweitig verweilt!
- Absolut keine Getränke draußen außerhalb des Clubs konsumiert! (Auch nicht selbst mitgebrachte!!)
- Ab 03:00 Uhr ONE WAY akzeptiert und sich daran haltet!
Bitte nehmt diese Regeln ernst und haltet euch daran, teilt die Information mit euren Freunden die den Club ebenso besuchen und unterstützt uns dabei, das wir auch in Zukunft im Queens Club unsere Veranstaltungen ohne Probleme durchführen können!
Vielen Dank!
LOCATION:
Queens Club
Amraserstr. 6
6020 Innsbruck
A U S T R I A
╭━━┳━━┳━━┳━━┳━━┳━━┳━━┳━━╮
╰━━┻━━┻━━┻━━┻━━┻━━┻━━┻━━╯
BOOooo ❤️ oooOOM & see you on the Dancefloor!
╱╱╱╭╮
╱╱╭╯╰╮
╭━┻╮╭╋━━┳╮╱╭╮
┃━━┫┃┃╭╮┃┃╱┃┃
┣━━┃╰┫╭╮┃╰━╯┃
╰━━┻━┻╯╰┻━╮╭
╱╱╱╱╱╱╱╱╭━╯┃
╱╱╱╱╱╱╱╱╰━━╯
╱╭╮╱╱╱╱╱╱╱╱╱╱╱╭╮
╭╯╰╮╱╱╱╱╱╱╱╱╱╱┃┃
╰╮╭╋╮╭┳━╮╭━━┳━╯┃
╱┃┃┃┃┃┃╭╮┫┃━┫╭╮┃
╱┃╰┫╰╯┃┃┃┃┃━┫╰╯┃
╱╰━┻━━┻╯╰┻━━┻━━╯
Location
Location
Amraserstr. 6
6020 Innsbruck