Backend
Psybox pres. Dreamvibes & Kopophobia - Future Prog vs Hi Tech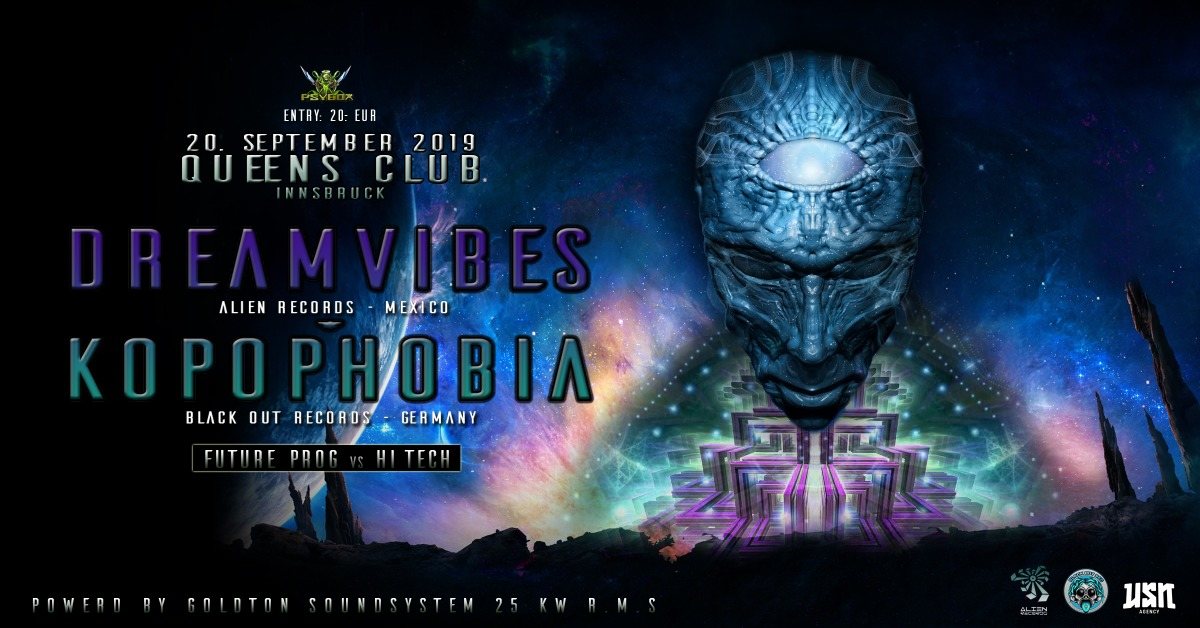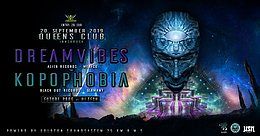 Line Up
˙·٠•●♥ Ƹ̵̡Ӝ̵̨̄Ʒ ♥● FUTURE PROG vs HI TECH ●♥ Ƹ̵̡Ӝ̵̨̄Ʒ ♥●•٠·˙
This is the night of the Titans! We are pairing two entities of different worlds but from the same dimension! Here is the extraterestrial encounter of the hyped
house of Future Progs' Alien Rec. versus the renowned house of Hi-Tech by Black Out Rec. Enter this realm of prestigious battle, in honour to both powers.
We are ready to rummmbllleeeee!
The Future is Now! At leasts it's a often quoted phrase in different contexts about something advanced of any nature.
Well, this outstanding contemporay artists which we chose for this tremendeous new chapter in our PSYBOX universe, are owning this phrase in every meaning of it!
Welcome, dear PSYBOX audience, for a night full of Alien Rec. Future Prog and Black Out Rec. Hi-Tech clash of the titans. (>‿◠)✌
We are dancing, we are stomping. Like a blizzard we are romping. From the surface to the core, we are many we get more! ☜(ˆ▿ˆc)
╭━━┳━━┳━━┳━━┳━━┳━━┳━━┳━━╮
╰━━┻━━┻━━┻━━┻━━┻━━┻━━┻━━╯
Info:
We want to celebrate Life & Culture together with you, for the love of music and good vibrations. Therefore we want to speak up for a DRUG FREE experience and motivate you to enjoy the love for the moment in a clear state of mind so that you eventually experience the pure bliss which is only possible when you stay true to yourself without using any substances. We want you to trigger your pure essence to get you connected to the one and only NOW, the true nature of our existence ૐ
☬ Psychedelic Trance & Tribal Gathering ☬
★ Music Styles: ★
FUTURE PROG █ HI TECH
╭━━┳━━┳━━┳━━┳━━┳━━┳━━┳━━╮
╰━━┻━━┻━━┻━━┻━━┻━━┻━━┻━━╯
★★★ MASTERS OF CEREMONY ★★★
Intern. Main Act´s
► DREAMVIBES - Alien Records - Mexico
[facebook.com]
soundcloud
youtube
+++ First Time in Austria
► KOPOPHOBIA - Black Out Records - Germany
[facebook.com]
soundcloud
Support
► PRAYING MANTIS - Psybox Music / Austria
soundcloud
► BENSENSE - Psybox Music / Austria
soundcloud
► SZIG SAG - Psybox Music / Austria
soundcloud
more Infos soon! stay tuned..
╭━━┳━━┳━━┳━━┳━━┳━━┳━━┳━━╮
╰━━┻━━┻━━┻━━┻━━┻━━┻━━┻━━╯
POWERED BY
► GOLDTON SOUNDSYSTEM 25 kw r.m.s.
► PSYBOX MUSIC
► ALIEN RECORDS
► BLACK OUT RECORDS
► USN AGENCY
LOCATION:
Queens Club
Amraserstr. 6
6020 Innsbruck
A U S T R I A
ENTRY: 20.- EUR
NO DRUGS!
ONLY GOOD VIBES!
COME WITH A SMILE!
╱╱╱╭╮
╱╱╭╯╰╮
╭━┻╮╭╋━━┳╮╱╭╮
┃━━┫┃┃╭╮┃┃╱┃┃
┣━━┃╰┫╭╮┃╰━╯┃
╰━━┻━┻╯╰┻━╮╭
╱╱╱╱╱╱╱╱╭━╯┃
╱╱╱╱╱╱╱╱╰━━╯
╱╭╮╱╱╱╱╱╱╱╱╱╱╱╭╮
╭╯╰╮╱╱╱╱╱╱╱╱╱╱┃┃
╰╮╭╋╮╭┳━╮╭━━┳━╯┃
╱┃┃┃┃┃┃╭╮┫┃━┫╭╮┃
╱┃╰┫╰╯┃┃┃┃┃━┫╰╯┃
╱╰━┻━━┻╯╰┻━━┻━━╯