Backend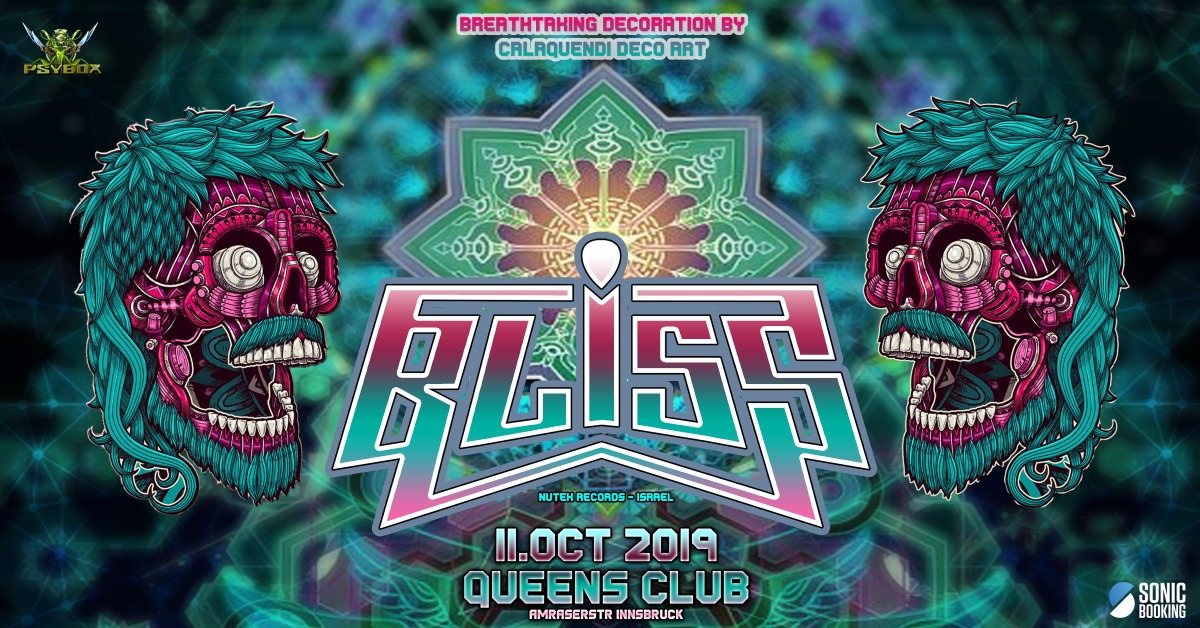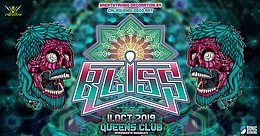 Line Up
˙·٠•●♥ Ƹ̵̡Ӝ̵̨̄Ʒ ♥● PSYBOX pres. BLISS *live ●♥ Ƹ̵̡Ӝ̵̨̄Ʒ ♥●•٠·˙
Dear PSYBOX lovers, ravers and truth seekers. It's time again for a night full of magical vibes, stomping people, smiling faces and a premium delivery of top notch sound experiences.
Every now and then a superstar is born, and to speak so about this exceptional artist is more than accurate to say. There's no big festival on this planet with out this outstanding entertainer to perform on.
Ladies & Gentlemen, we are honoured to present you the psytrance superstar BLISS at our hall of fames. (>‿◠)✌
We're gonna rock big time with this exclusive West Austria show and you are invited to be part of this spectacular audio & visual retreat and entertainment for mind, body and soul.
But that's just the peak of the iceberg. Our intergalactic support lineup is worth a show at its own, but here we are packed with the whole bundle waiting for you to be explored.
Welcome to the world of leading and sophisticated psytrance experience delivered through love, passion & nearly a decade of practical knowledge.
PSYBOX - We create emotions & memories ☜(ˆ▿ˆc)
╭━━┳━━┳━━┳━━┳━━┳━━┳━━┳━━╮
╰━━┻━━┻━━┻━━┻━━┻━━┻━━┻━━╯
☬ Psychedelic Trance & Tribal Gathering ☬ - on 2 Floors!
★ Music Styles: ★
PROGRESSIVE TRANCE █ PSYTRANCE
FOREST █ HI - TECH
╭━━┳━━┳━━┳━━┳━━┳━━┳━━┳━━╮
╰━━┻━━┻━━┻━━┻━━┻━━┻━━┻━━╯
★★★ MASTERS OF CEREMONY ★★★
█▀▀▄ █░░ ░▀░ █▀▀ █▀▀
█▀▀▄ █░░ ▀█▀ ▀▀█ ▀▀█
▀▀▀░ ▀▀▀ ▀▀▀ ▀▀▀ ▀▀▀
NUTEK RECORDS - ISRAEL
[facebook.com]
soundcloud
[youtube.com]
★★★ SUPPORT LINEUP ★★★
► SIMEX - Prog Vision Rec. / Austria
[facebook.com]
soundcloud
► OPTHIX - Beat Progression / Austria
soundcloud
► PRAYING MANTIS - Psybox Music / Austria
soundcloud
► BENSENSE - Psybox Music / Austria
soundcloud
► SZIG SAG - Psybox Music / Austria
soundcloud
► ALIENBRAIN - Psybox Music / Austria
soundcloud
╭━━┳━━┳━━┳━━┳━━┳━━┳━━┳━━╮
╰━━┻━━┻━━┻━━┻━━┻━━┻━━┻━━╯
POWERED BY
► GOLDTON SOUNDSYSTEM 25 kw r.m.s.
► PSYBOX MUSIC
► NUTEK RECORDS
► PROG VISION RECORDS
LOCATION:
Queens Club
Amraserstr. 6
6020 Innsbruck
A U S T R I A
IMPORTANT INFO:
We want to celebrate Life & Culture together with you, for the love of music and good vibrations. Therefore we want to speak up for a DRUG FREE experience and motivate you to enjoy the love for the moment in a clear state of mind so that you eventually experience the pure bliss which is only possible when you stay true to yourself without using any substances. We want you to trigger your pure essence to get you connected to the one and only NOW, the true nature of our existence ૐ
NO DRUGS!
ONLY GOOD VIBES!
COME WITH A SMILE!
╱╱╱╭╮
╱╱╭╯╰╮
╭━┻╮╭╋━━┳╮╱╭╮
┃━━┫┃┃╭╮┃┃╱┃┃
┣━━┃╰┫╭╮┃╰━╯┃
╰━━┻━┻╯╰┻━╮╭
╱╱╱╱╱╱╱╱╭━╯┃
╱╱╱╱╱╱╱╱╰━━╯
╱╭╮╱╱╱╱╱╱╱╱╱╱╱╭╮
╭╯╰╮╱╱╱╱╱╱╱╱╱╱┃┃
╰╮╭╋╮╭┳━╮╭━━┳━╯┃
╱┃┃┃┃┃┃╭╮┫┃━┫╭╮┃
╱┃╰┫╰╯┃┃┃┃┃━┫╰╯┃
╱╰━┻━━┻╯╰┻━━┻━━╯