Backend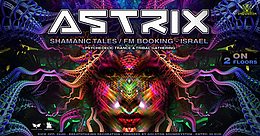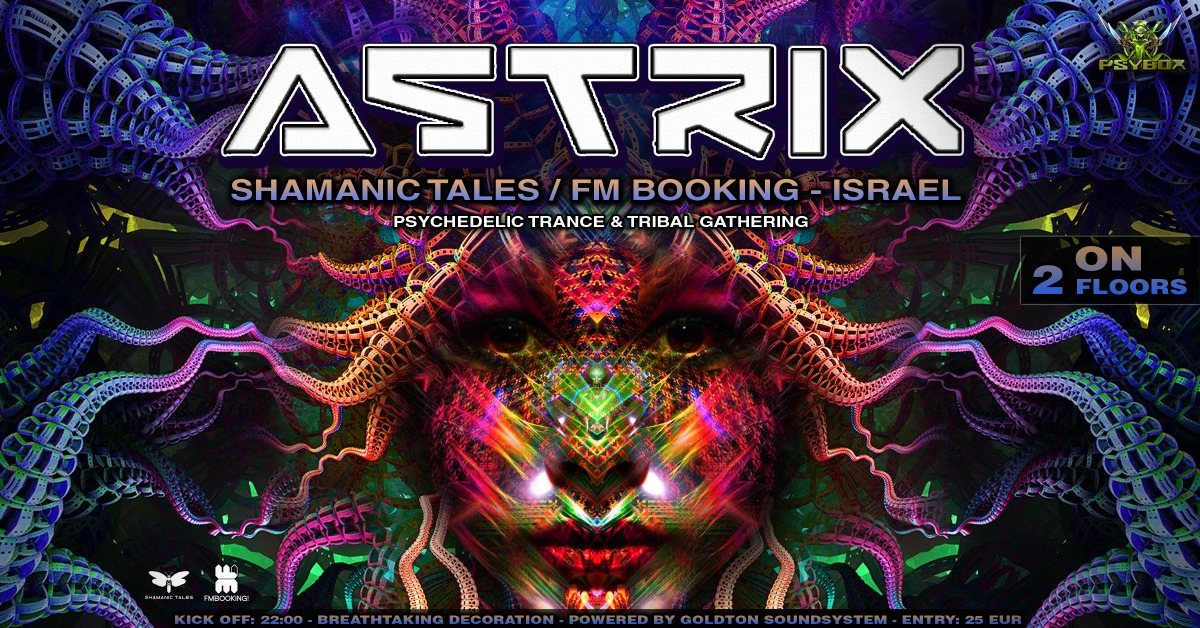 Line Up
٠•●♥ Ƹ̵̡Ӝ̵̨̄Ʒ ♥● ASTRIX - Live @ Queens ●♥ Ƹ̵̡Ӝ̵̨̄Ʒ ♥●•٠·˙
☬ Psychedelic Trance & Tribal Gathering ☬
FREE TICKET Gewinnspiel:
► Poste #Astrix ins Event und markiere einen #Freund
╭━━┳━━┳━━┳━━┳━━┳━━┳━━┳━━╮
╰━━┻━━┻━━┻━━┻━━┻━━┻━━┻━━╯
★ Music Styles: ★
PROGRESSIVE TRANCE █ PSYTRANCE
FOREST █ HI TECH - on 2 FLoors!
╭━━┳━━┳━━┳━━┳━━┳━━┳━━┳━━╮
╰━━┻━━┻━━┻━━┻━━┻━━┻━━┻━━╯
★★★ MASTERS OF CEREMONY ★★★
*live
► ASTRIX - Shamanic Tales / Fm Booking - Israel
[facebook.com]
soundcloud
[youtube.com]
Astrix is a unique phenomenon in the trance world, a leading DJ & producer, who came from the underground psychedelic scene, have been performing in the biggest festivals and venues, reached # 18 on the DJ Mag poll, and yet, chose to always stay true to the underground trance movement.
Avi Shmailov has been dividing his life for more than a decade between constant studio work and non-stop touring around the globe. With more than 15 years of releasing music and more than a 1000 concerts all over the world, he continues to bring his musical message of psychedelic emotional uplifting trance to the leading festivals and happenings around the globe.
Devoted to his art and a true perfectionist, Astrix is known for his massive hypnotic explosive sets on the dancefloor and for his precise detailed production in the studio. Both always laced with tons of feel and musicality. His music has been topping the charts, his albums are considered milestones and his fanbase, which is already over a million on facebook, increases daily.
We are happy to invite you to join us for this magical event with an outstanding artist, mindbending decoration, a state of the art soundsystem and to share the frequencies of peace, love, unity & respect. ॐ
╭━━┳━━┳━━┳━━┳━━┳━━┳━━┳━━╮
╰━━┻━━┻━━┻━━┻━━┻━━┻━━┻━━╯
Supported by
► BABOON - StompfMaschin / Sarnarschourt Rec / Italy
[facebook.com]
► BENSENSE - Psybox Music / Austria
soundcloud
► SZIG SAG - Psybox Music / Austria
soundcloud
► ALIENBRAIN - Psybox Music / Austria
soundcloud
► PRAYING MANTIS - Psybox Music / Austria
soundcloud
► DJ CONTEST -> shorturl.at/frAF3
- more Lineup Updates soon -
╭━━┳━━┳━━┳━━┳━━┳━━┳━━┳━━╮
╰━━┻━━┻━━┻━━┻━━┻━━┻━━┻━━╯
BREATHTAKING DECORATION by
>>> Psy-Pix Simon Psy-Pix Hafele <<<
╭━━┳━━┳━━┳━━┳━━┳━━┳━━┳━━╮
╰━━┻━━┻━━┻━━┻━━┻━━┻━━┻━━╯
POWERD BY
► GOLDTON SOUNDSYSTEM 25 kw r.m.s.
► PSYBOX MUSIC
► SHAMANIC TALES
► FM BOOKING
► STOMPFMASCHIN
EVENT RECOMMENDATION:
Psybox - Psychedelic Awakening with Outsiders & Earthling
LOCATION:
Queens Club
Amraserstr. 6
6020 Innsbruck
A U S T R I A
╱╱╱╭╮
╱╱╭╯╰╮
╭━┻╮╭╋━━┳╮╱╭╮
┃━━┫┃┃╭╮┃┃╱┃┃
┣━━┃╰┫╭╮┃╰━╯┃
╰━━┻━┻╯╰┻━╮╭
╱╱╱╱╱╱╱╱╭━╯┃
╱╱╱╱╱╱╱╱╰━━╯
╱╭╮╱╱╱╱╱╱╱╱╱╱╱╭╮
╭╯╰╮╱╱╱╱╱╱╱╱╱╱┃┃
╰╮╭╋╮╭┳━╮╭━━┳━╯┃
╱┃┃┃┃┃┃╭╮┫┃━┫╭╮┃
╱┃╰┫╰╯┃┃┃┃┃━┫╰╯┃
╱╰━┻━━┻╯╰┻━━┻━━╯