PSYBOX pres. A Christmas Story with KINDZADZA *live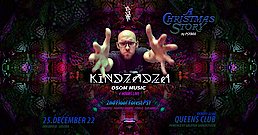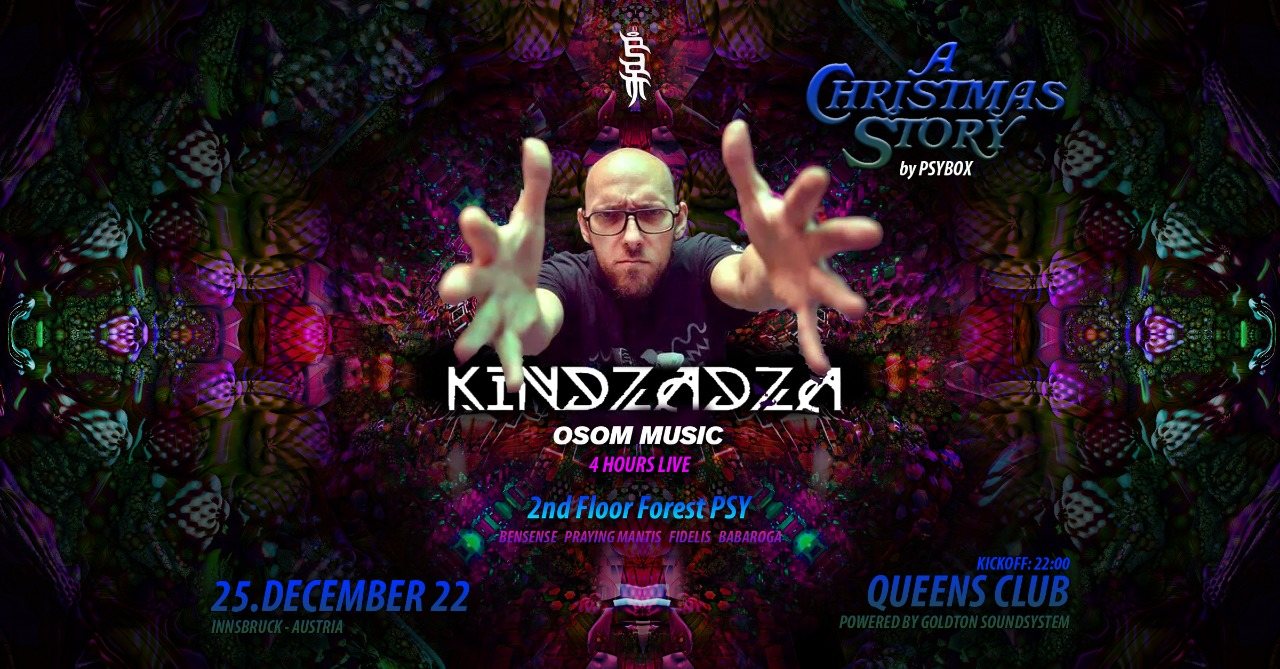 Line Up
☬ Psychedelic Trance & Tribal Gathering ☬
Powered by GOLDTON SOUNDSYSTEM
- TICKETS ONLY AT THE GATES -
Kickoff: 22:00 Uhr // Sonntag (!) 25.12.22
on 2 Floors - (2nd Floor Forest Psy)
╭━━┳━━┳━━┳━━┳━━┳━━┳━━┳━━╮
╰━━┻━━┻━━┻━━┻━━┻━━┻━━┻━━╯
Leider müssen wir Psykovsky auf ein anderes Mal verschieben, da aufgrund der Russlandsanktionen er leider kein Visum für die Europa Tour bekommen hat!
Aber wir haben einen mehr als würdigen Ersatz aus dem Hause Osom und zwar 4 Stunden LIVE mit KINDZADZA, damit steht den Feierlichkeiten zu Weihnachten nichts mehr im Weg ; )
Unfortunately we have to postpone Psykovsky to another time, because due to the Russian sanctions he unfortunately didn't get a visa for the European tour!
But we have a more than worthy replacement from Osom: 4 hours LIVE with KINDZADZA
Psychedelic trance in the heart of the Austrian Alps
Kindzadza´s Christmas Story at Psybox:
An unforgettable psychedelic trance experience 😇
This will be a night to remember! We are happy to invite you for one more psychedelic night! Kindzadza is one of the leading psytrance artists with a career spanning over a decade.
Now Kindzadza is returning to Austria for a special Christmas Show at the Queens Club. The party will start at 10pm and go through until 4 am - giving you plenty of time to celebrate the festive season with your friends and family. So, if you're looking for a psychedelic trance party to remember this Christmas, look no further than Kindzadza @ Queens ❤️
★★★ MASTERS OF CEREMONY ★★★
*live - 4 Hours Set
► KINDZADZA - Osom Music / RUS
[facebook.com]
soundcloud
Supported by
► PRAYING MANTIS
► BENSENSE
► FIDELIS
► BABAROGA
2nd Floor / Forest Psytrance
╭━━┳━━┳━━┳━━┳━━┳━━┳━━┳━━╮
╰━━┻━━┻━━┻━━┻━━┻━━┻━━┻━━╯
LOCATION:
Queens Club
Amraserstr. 6
6020 Innsbruck
A U S T R I A
╭━━┳━━┳━━┳━━┳━━┳━━┳━━┳━━╮
╰━━┻━━┻━━┻━━┻━━┻━━┻━━┻━━╯
BOOooo ❤️ oooOOM & see you on the Dancefloor!
╱╱╱╭╮
╱╱╭╯╰╮
╭━┻╮╭╋━━┳╮╱╭╮
┃━━┫┃┃╭╮┃┃╱┃┃
┣━━┃╰┫╭╮┃╰━╯┃
╰━━┻━┻╯╰┻━╮╭
╱╱╱╱╱╱╱╱╭━╯┃
╱╱╱╱╱╱╱╱╰━━╯
╱╭╮╱╱╱╱╱╱╱╱╱╱╱╭╮
╭╯╰╮╱╱╱╱╱╱╱╱╱╱┃┃
╰╮╭╋╮╭┳━╮╭━━┳━╯┃
╱┃┃┃┃┃┃╭╮┫┃━┫╭╮┃
╱┃╰┫╰╯┃┃┃┃┃━┫╰╯┃
╱╰━┻━━┻╯╰┻━━┻━━╯
Location
Queens Club
Amraserstraße 6
6020 Innsbruck