Backend
Psybient.org 7 Years anniversary Online Streaming Sessions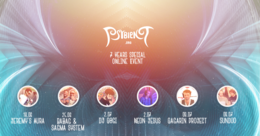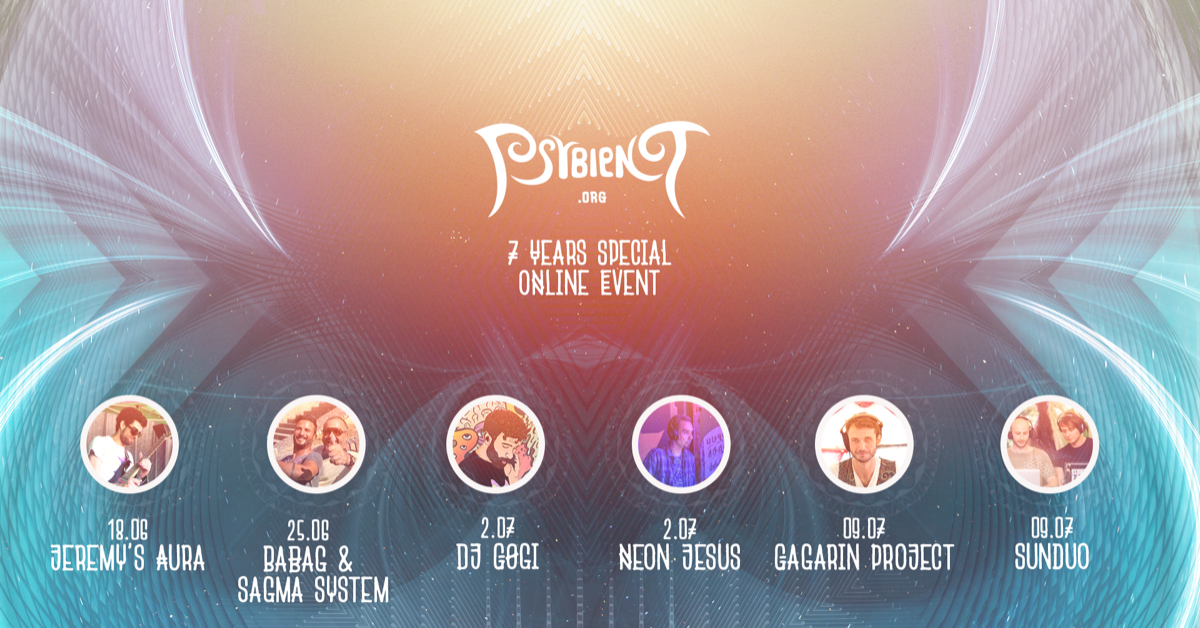 Info
In honor of Psybient.org 7th birthday In partnership with artists, festivals, record labels and online communities we are hosting a weekly online event with the renowned masters of psy ambient and downtempo genres and worldwide psybient community and you.
This event will gather together the fans of psychedelic, ambient, psydub and chillout music in all forms and shapes and recreates a friendly and transformative psychedelic festival atmosphere online.
Our mission at psybient.org is to help artists and labels to connect with listeners, and to help listeners discover music and events. For us psybient.org is beyond music. So we encourage everyone to follow their way of heart and share the love with the world.
Connect to the URL to listen to music, chat with us "online" face to face! If you make a psychedelic visionary art and want to show yourself or anything you are doing through the webcam or just chat with like-minded people from around the globe then you'll get all the tools to do that.
ℹ️ LINKS:
Streaming will be held via TWITCH and maybe Youtube / Facebook, please follow to get notifications….
Twitch Stream
[twitch.tv]
Facebook Stream
[facebook.com]
Youtube Stream
[youtube.com]
----------------------------------------------------------------
STICKERS :
As you know we love stickers :) To celebrate 7 years anniversary, we made a new sticker pack that contains 4 different designs printed on super high quality "vinyl" stickers.
Only 100 packs will be available with this designs. (if you don't want some of designs, you can mention this in comments of your order )
Grab one today @ =>
[psybient.org]
----------------------------------------------------------------
PARTNERS :
We would like to thank our partners and friends:
Chill Space, The Psychedelic Muse, Fusion Culture, Gagarin Project, Dauga Spirit, Hadra AlterVision Records, Unite , Iboga Records, Jedi's Chillout, Communauté Francaise ChillOut (Ambient / Downtempo / Psychill en France), La Briche Audio, KEYFRAME, Microcosmos Records, Merkaba Music.
FESTIVALS :
Hadra Trance Festival, Psy-Fi, S.U.N. Festival, Waha Festival, Anthropos Festival, Manadna, Own Spirit Festival, Desert Bass Festival .
----------------------------------------------------------------
TECHNICAL SUPPORT :
Vadim // Dauga Spirit
[facebook.com]
Iurii Gagarin // Gagarin Project
soundcloud
----------------------------------------------------------------
see you soon -
LIVE LOVE CREATE AND SHARE
with Love,
psybient.org team
Entry fee
Entry fee
SUPPORT US :
we are official registered "non for profit" organization declared in France, we rely solely on your donations, if you like what we do and if you like to help us to continue the journey you can donate:
paypal
[paypal.me]
patreon
[patreon.com]
btc 1CnBwVESSYbWfktkWtU5ZGXkL7WpzCLNvg
Organizer
Organizer
Psybient.org & Dauga Spirit
Added

2y 5m

· Update

2y 5m

·