Backend
PsYachTrance with Psy-Mr.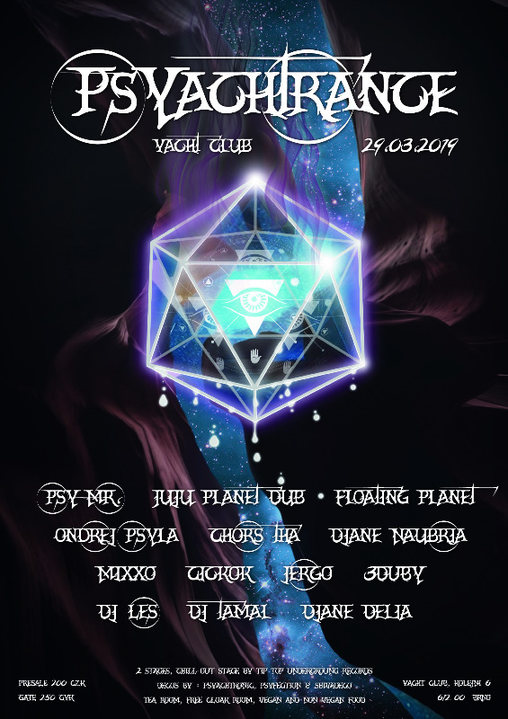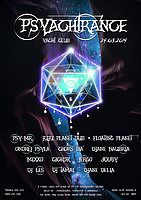 Deco
ૐ~~ૐ~~ૐ~~ૐ~~ૐ~~ૐ~~ૐ~~ૐ~~ૐ~~ૐ~~ૐ~~ૐ~~ૐ~
~~~~~~~~~~~~~~~DECORATIONS~~~~~~~~~~~~~~~
~ૐ~~ૐ~~ૐ~~ૐ~~ૐ~~ૐ~~ૐ~~ૐ~~ૐ~~ૐ~~ૐ~~ૐ~~ૐ~
Decorations will be by: Psytronic squad, Psyfection crew and Shivadeco !
Shivadeco:
-==
[facebook.com]
==-
PsYachTronic squad:
-==
[facebook.com]
==-
Psyfection:
-==
[facebook.com]
==-
Fotky dekorácií:
-==
[facebook.com]
==-
-==
[facebook.com]
==-
Info
~ૐ~~ૐ~~ૐ~~ૐ~~ૐ~~ૐ~~ૐ~~ૐ~~ૐ~~ૐ~~ૐ~~ૐ~~ૐ~
~~~~~~~~~~~FLAG SHIP OFFICERS DETAILS~~~~~~~~~~~
~ૐ~~ૐ~~ૐ~~ૐ~~ૐ~~ૐ~~ૐ~~ૐ~~ૐ~~ૐ~~ૐ~~ૐ~~ૐ~


♪♫♪♫♪♫♪♫♪♫♪♪♫♪♫ Main stage ♪♫♪♫♫♪♫♪♫♪♫♪♫♪♫


.٠••●♪♫ Psy-Mr.♫♪●••٠.

Psy-Mr. is an Italian producer who started his music career as an apprentice Dj for the local radio when he was just 13 y.o. He soon discovered l techno/electronic parties and start spinning in clubs. In 2001 he left that environmnent for goa psytrance music and started playing at many parties in Northern Italy, where the scene was very lively. His passion for music, dance and fun brought him to play to neighbouring Switzerland as well. Playing with renown national and international Live acts since 2007, Psy-Mr started his own project in 2011, raising from humble beginnings to a very sought after project that keeps growing. Since then, Psy-Mr has released tracks with Shamanic Records, Eleusys Rec, Creative Jungle Rec and Dreamproject Records and in 2012 he started a new project with his friend Caveman. In 2013 he presented his new live set and joined Visionary Shamanics Records. Psy- Mr. is constantly working on producing music, both psytrance and downtempo, he just released 2 tracks with Purple Hexagon Records on the new compilation Purple Pixan and a collaboration together with Naan for a downtempo various is on the way,and many other release will come.

.٠••●♪♫ Cickok♫♪●••٠.

Legends say, that he was already born in the speaker. In the beginnings of his career, he was mostly playing tekno, dnb or dubstep. Latter that time, they set up with his friends a crew Nausea Sound System. He was doing mainly the technique and the sound engineer. When he moves to the Brno, he meets a new people who show him a psytrance music style. He liked this new style so much, they decided to set up a crew PsYachTronic. Besides that, thanks to his underground spirit he quickly changed the buttons and switches on amplifier for a mix and faders and started tuning his dj's skills. He is now an outgoing talent in Czech Republic. Only in a few weeks latter, he was the second best DJ selected in the ankety for a play on the Digital Forest festival 2019!, so you gone see him there for sure! He was also made a great show and started a party in polish Silver Lake festival 2018, or the same this year on SunRice festival. Normally, he played mostly on parties in Brno like PsYachTrance or else. Cicko is without doubts a night monster and his dominant style is forest, but he can also play in his sets twilight or night full-on, or even dark psy. You should definitely not lose his forest set!

.٠••●♪♫ Djane Naubria♫♪●••٠.
Her own name is Zdenka Chmelarova, and was born in 1988 in the Slovakia city Poprad. Like a small child, she love music very much and tended to a faster styles. In her 16 years old she had her first contact with a music production. In the same year she began to organise her own dance parties, mostly played house and disco music. Mostly in the Eastern Slovakia region. Like in the 17 years old she started to play at major events. When her pseudonym become aware of famed promoters and managers in Slovakia and Austria, the marking break at her career began. In this moment, the dream was created, the dream, she is firmly decided, and it is to entertain the people with house music.
Djane Trixxi started to appear at the parties with famous Dj´s. In this time she totally succumbed to the music styles like deep house, minimal, minimal techno – techno, tech – house, electro swing, which made her heart more pleased.
She did not resign to the commercial scene, and still regularly appears even today!
She made an interview in the 2011 to a regional radio Radio 9, where she presented her new pseudonym Djany Trixx a.k.a Deep Barbie through her new live set "For My Love".
Like a few one Djane in Slovakia, she played from vinyl. These days she made not only a club and dance parties but also parties for a whole public!

.٠••●♪♫ Mixxo♫♪●••٠.
I meat a psytrance music on an elementary Scholl (when were the gods petty and cruel). That was because I had nothing else in computer…only psy music. It was there from my elder siblings. And I liked it from the beginning, and this passion is still in me! I infected some of my friends with this passion and I started to play for them, and that was the begging of ma carrier. After some time we decided to founded a crew PsYachTronic, and we still doing it all! Organize, playing, decorating and everything you gonna need! Because I, or we, still love it very much! I mostly and likely play fullon psytrance but I liked very much all of the psytracnce styles!
.٠••●♪♫ Ondrej Psyla♫♪●••٠.
Ondřej Valenta aka Ondrej Psyla is dj and label manager Mystical Waves Records.
He has been organizing psytrance parties since then and his DJ career began 3 years later in 2004. He started as a member of Trancedelic crew, became a founding member of Mystical Waves crew in 2004 and has been a substantial part of this group until today.
His sets range from 140 bpm (melodic psy trance) through 145 bpm (mornig full-on trance) to 152bpm (night psytrance).
He lives and works in Prague.




♪♫♪♫♪♫♪♫♪♫♪♪♫♪♫ Chill out stage ♪♫♪♫♫♪♫♪♫♪♫♪♫♪♫


.٠••●♪♫Juju Planet Dub♫♪●••٠.

Jozef Hnidzik known by artistic name JUJU PLANET DUB originally comes from Slovakian city Piestany. He is a music producer and at the same time a musician. His music career goes back to 2000 when he started playing at psychedelic trance parties in chill out stages in Slovakia. Later on from the year 2004 he began to create his own music under the name JUJU PLANET DUB. In 2007 he produced TIP TOP UNDERGROUND SOUND which is a mixture of diverse ethno folklore and electro dub. In TIP TOP UNDERGROUND SOUND different musicians perform however some of the instruments are recorded by Jozef himself. At the moment JUJU PLANET DUB with the project TIP TOP UNDERGROUND SOUND are expanding on music production and exploring unique music instruments such as sitar. Jozefs music is defined as a great adventure around the world which is full of diverse folklore rhythm with oriental tunes that are colored by psychedelic dub sounds. It is a mixture of Dub and ethno dance rhythms full of energy, life and revolutionary thoughts.
Location
Here you get the fb fan page!
[facebook.com]
and here is the club on map, for sure! ;)
[goo.gl]
And here is the way ho to get from Main Station in Brno
[dopice.sk]
or
[dopice.sk]
and go to Kolejni 6 by walk what is 10 minutes
Entry
Entry on the spaceship will be:
Presale === 200 CZE (8 €) !
Ticket on the spot === 250 CZE (10 €) !
Presale:
Send 200 CZK / 8€ to:
Account: 115-8871660297 / 0100
IBAN: CZ820 1000 0011 5887 1660 297
Variable symbol: 4466
Note for recipient: Your email
BIC / SWIFT code: KOMBCZPP XXX
After received payment we send to you a confirmation email.
At the Entrance tell your email.
For questions, claims or other issues:
psytronicsquad@gmail.com
Organizer
Organizer
PsYachTronic squad!