PsYachTrance - Blisargon Demogorgon & Psyalaska crew Sail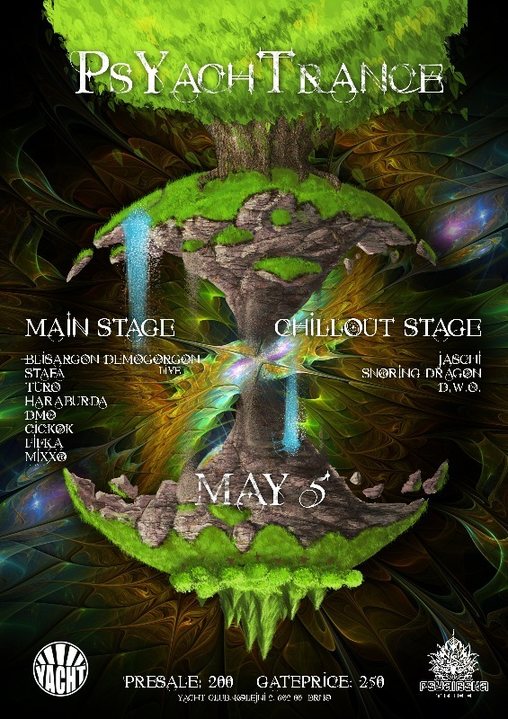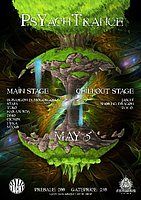 Deco
~ૐ~~ૐ~~ૐ~~ૐ~~ૐ~~ૐ~~ૐ~~ૐ~~ૐ~~ૐ~~ૐ~~ૐ~~ૐ~
~~~~~~~~~~~~~~~DECORATIONS~~~~~~~~~~~~~~~
~ૐ~~ૐ~~ૐ~~ૐ~~ૐ~~ૐ~~ૐ~~ૐ~~ૐ~~ૐ~~ૐ~~ૐ~~ૐ~
Decorations will be by: Psytronic squad, Psyalaska crew and Shivadeco !
Shivadeco:
-==
[facebook.com]
==-
Psytronic squad:
-==
[facebook.com]
==-
Psyalaska:
-==
[facebook.com]
==-
Some old decorations by Psyalasky, which you gonna see!
-==
[blogspot.cz]
==-
Info
ENG
And again is here your favourite space sail, the PsYachTrance! This time we prepared for you a really great captain, master of his craft, the Blisargon Demogorgon!, which will came from far away country called Macedonia, from his capital Skopje!! For assist him, we call one of the best Slovakia crew, Psyalaska, which will came in nearly complete squad! On the main stage you can expect from this crew Dj´s Turo, Haraburda, Stafa and DMO. On chillout from this crew you can see Jaschi, and he will be supported by guys Snoring Dragon, DWO and Poly_G! There will be a cloak roam available again for FREE! On chillout you can expect of course a tea room with lots of good staffs, not only the teas. Outside will be a grill where will be available vege and non vege food, some place for seat and again will be available hand made T-shirts from our friend!
~ૐ~~ૐ~~ૐ~~ૐ~~ૐ~~ૐ~~ૐ~~ૐ~~ૐ~~ૐ~~ૐ~~ૐ~~ૐ~
~~~~~~~~~~~FLAG SHIP OFFICERS DETAILS~~~~~~~~~~~
~ૐ~~ૐ~~ૐ~~ૐ~~ૐ~~ૐ~~ૐ~~ૐ~~ૐ~~ૐ~~ૐ~~ૐ~~ૐ~
♪♫♪♫♪♫♪♫♪♫♪♪♫♪♫ Main stage ♪♫♪♫♫♪♫♪♫♪♫♪♫♪♫
.٠••●♪♫ Blysargon Demogorgon ♫♪●••٠.
Blisargon Demogorgon real name is Valentino Trenchev and he's from Macedonia, born in the year of 1982 in the capital city Skopje. His perfomance nick as DJ is Montezuma and he got involved within the trance scene at the age of 16. He went on some trance parties but at the age of 18 he started to perform and play at private parties in Skopje. Naturally, after a few years he started to make his own parties as well. Montezuma has performed on parties with big names like Digital Talk, Neuromotor, Hyper Frequencies, Kluster, Azax Syndrom, Miraculix, Shane Gobi, Dark Soho and many others. In the year of 1999 Valentino started to produce his own tracks, and he started out with Fruityloops. Valentino didn't seem to find the right power in order to express what was going on in his mind, and turned his mind to Mod plug tracker, Cubase and finally established a great connection with the combination Logic/Cubase. Valentino's first track got released on Nabi records and also after he released more then 40 tracks in compilations on labels like Stone age, Ketuh, Doof, Alkaloid, Golden dawn, Peak, Kagdila, Acidance, Manic dragon, Hypnotica, Digital Psionics, Bhooteshwara, Plutonic, Killah Tea, Pixan, Shaman Films, Pleiadian, Zaikadelic, Psylife, Divine Balance, Samsara, Goanmantra, Tremors Underground, Mental Mekanix, Evil Knivel, Purple Hexagon, 2to6, Caffix, Blitz Studio, Urban Antidote, Shiva Squad and two albums were released one by Inpsyde media records in 2007 called ''Book of Magic'' and one collaborations album released by Bhooteshwara records in 2010 called ''Ruthless Illusions''. The music that streams out of this project is generally deep night sound and powerful, with a lot of rhytms and loaded with atmospheres.
.٠••●♪♫D.M.O.♫♪●••
D.M.O. called Demo. This name is good known in psytrance scene! He made his fist contact with psytrance in years 1998-99 and in 2005 he played on first party! After that he played on many Slovakian and Czech psytrance parties. He regularly played on parties in Austria and Germany! He also organized many parties! His morning full-on/progressive style is something you really must to hear!
♪♫♪♫♪♫♪♫♪♫♪♪♫♪♫ Chill Out stage ♪♫♪♫♫♪♫♪♫♪♫♪♫♪♫
~ૐ~~ૐ~~ૐ~~ૐ~~ૐ~~ૐ~~ૐ~~ૐ~~ૐ~~ૐ~~ૐ~~ૐ~~ૐ~
~~~~~~~~~~~~~~~PSYALASKA CREW~~~~~~~~~~~~~~~
~ૐ~~ૐ~~ૐ~~ૐ~~ૐ~~ૐ~~ૐ~~ૐ~~ૐ~~ૐ~~ૐ~~ૐ~~ૐ~
Psyalaska is the community of people, who love Psytrance family around the world ,who respect The mother Earth, with love peace and natural thinking of life. Party organizers ,DJS, Producers and Deco team founded in 2001. (official text)
One of the biggest and the best psytrance crew from Slovakia, which is also the longest continuing working crew in this country! This guys started making psytrance scene, when most of the people was watching or listening to Deca & Eso(which is really old czecho-slovakia TV programs). People from this crew dont only organization party, they have also there own decoration team, and you can find psytrance art from them all arround the world, even on the legendary web site Space Tribe!. They are also behind the festival called Chvátimech. About this festival you can here talking legends to this times. The people in crew not only DJ-ing, but they are also producing there own music, and also making CD compilations from different Slovak psytrance artist, not only from they crew. They are the only people who doing this in Slovakia. Some years the are making a great indoors parties called Crystal Code and We are in Space. Both of this parties are situated in beautiful middle-Slovakia mountain nature. And they have also a blasting international line up! Like I say, they have a really beautifull decorations, witch which they are going often behind the borders of Slovakia, classical to Poland, Hungary and Czech Republic. From this crew there musical magic will show Stafa, Turo, Haraburda and D.M.O. on main stage, and on the chillout stage will be showing his skill Jaschi" You can expect a really beautifull decorations and Yach will be like never before !!
-==
[facebook.com]
==-
-==
[bandcamp.com]
==-
-==
[ektoplazm.com]
==-
-==
[spacetribe.com]
==-
~ૐ~~ૐ~~ૐ~~ૐ~~ૐ~~ૐ~~ૐ~~ૐ~~ૐ~~ૐ~~ૐ~~ૐ~~ૐ~
~~~~~~~~~~~~OTHER SHIPMENT INFO~~~~~~~~~~~~~~~
~ૐ~~ૐ~~ૐ~~ૐ~~ૐ~~ૐ~~ૐ~~ૐ~~ૐ~~ૐ~~ૐ~~ૐ~~ૐ~
Upstairs on chillout stage will be not only a tea shop with cold tea and some food also, but you can expect a mattress where you can rest and chill after a long space journey! The chillout stage will be opened to 12 hours in Sunday!
All food will be without meat!
You can also expect a kitchen on Yacht, where you can buy classical inn food like pickled Hermelin cheese, pickled sausage and propably something! We will publish the offer in time! :)
+++++++++++++++++++++++++++++++++++++++++++++++++
CLOAK ROOM WILL BE AVAILABLE FOR FREE
+++++++++++++++++++++++++++++++++++++++++++++++++
**********************************************************
Attention! Dogs on your own responsibility and following past experience NOT recommended!
+++++++++++++++++++++++++++++++++++++++++++++++++++++
Yacht has limited capacity. For this reason we prefer to buy tickets in pre-sale. We hope that it will be a place for everyone.
+++++++++++++++++++++++++++++++++++++++++++++++++++++
Location
►►► Don´t know where is yacht? ◄◄◄
Here you get the fb fan page!
[facebook.com]
and here is the club on map, for sure! ;)
[goo.gl]
And here is the way ho to get from Main Station in Brno
[dopice.sk]
or
[dopice.sk]
and go to Kolejni 6 by walk what is 10 minutes
►►►◄◄◄►►►◄◄◄►►►◄◄◄►►►◄◄◄►►►◄◄◄
Don't be afraid of traveling!
►Vienna – Brno◄ cca 130 KM :
By car cca 1:39
By train cca 1:26 straight or with one transfer
By bus cca 2:20 - cca 16e
►Bratislava – Brno◄ cca 140 KM :
By car cca 1:20
By train cca 1:26 Straight cca 10e
By bus cca 2:00 - cca 6e
►Praha – Brno◄ cca 200 KM :
By car cca 1:50
By train cca 2:30 Straight cca
By bus cca 2:30 - cca 8e
.٠••●♪♫You are all wellcome!♫♪●••٠.
Entry
~ૐ~~ૐ~~ૐ~~ૐ~~ૐ~~ૐ~~ૐ~~ૐ~~ૐ~~ૐ~~ૐ~~ૐ~~ૐ~
~~~~~~~~~~~~~~~~SHIPPING TICKETS~~~~~~~~~~~~~~~~
~ૐ~~ૐ~~ૐ~~ૐ~~ૐ~~ૐ~~ૐ~~ૐ~~ૐ~~ૐ~~ૐ~~ૐ~~ૐ~
Entry on the spaceship will be:
Presale === 200 CZE (8 €) !
Ticket on the spot === 250 CZE (10 €) !
Presale:
Send 200 CZK / 8€ to:
Account: 2132956193/0800
IBAN: CZ82 0800 0000 0021 3295 6193
Variable symbol: 7755
Note for recipient: Your email
After received payment we send to you a confirmation email.
At the Entrance tell your email.
For questions, claims or other issues:
psytronicsquad@gmail.com