Backend
PsYachTrance : Akasha & Psyalaska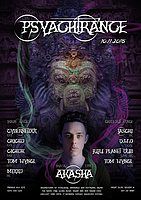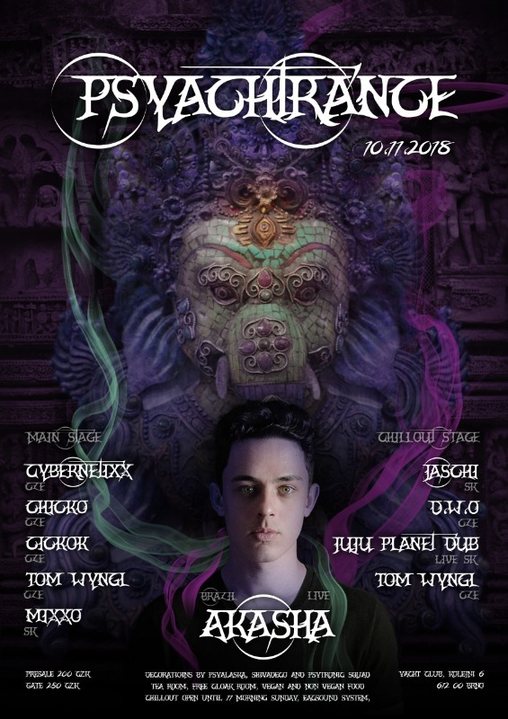 Line Up
~ૐ~~ૐ~~ૐ~~ૐ~~ૐ~~ૐ~~ૐ~~ૐ~~ૐ~~ૐ~~ૐ~~ૐ~~ૐ~
~~~~~~~~~~~~~~~FLAG SHIP OFFICERS~~~~~~~~~~~~~~~
~ૐ~~ૐ~~ૐ~~ૐ~~ૐ~~ૐ~~ૐ~~ૐ~~ૐ~~ૐ~~ૐ~~ૐ~~ૐ~
♪♫♪♫♪♫♪♫♪♫♪♫♪♫♪♫ Main Stage ♪♫♪♫♫♪♫♪♫♪♫♪♫♪♫♪♫
♫Live♫
Akasha { 2Soul Agency / Profound Records } ☯São Paulo – Brazil ☯
-==
soundcloud
==-
-==
[facebook.com]
==-
-==
[youtube.com]
==-
-==
[instagram.com]
==-
♫ Dj´s ♫
Cybernetixx { Silver Lake crew } ☯Czech rep. - Brno☯
-==
[facebook.com]
==-
-==
soundcloud
==-
Chicko { Walachian Tribe } ☯ Czech. Rep. - Zlín ☯
-==
[click here]
==-
-==
[facebook.com]
==-
Mixxo { PsyTronic squad } ☯Czech.Rep./Slovakia - Piešťany☯
-==
soundcloud
==-
Cickok { PsyTronic squad } ☯Czech rep. - Brno☯
-==
[click here]
==-
Tom Wyngl { Batchers Bay Crew } ☯Czech Rep. – Brno☯
-==
soundcloud
==-
-==
[facebook.com]
==-
♪♫♪♫♪♫♪♫♪♫♪♪♫♪♫ Chill out stage ♪♫♪♫♫♪♫♪♫♪♫♪♫♪♫
♫Live♫
Juju Planet Dub { Tip Top Underground rec. } ☯Slovakia – Piešťany☯
-==
soundcloud
==-
-==
[jujuplanetdub.com]
==-
-==
[facebook.com]
==-
-==
[myspace.com]
==-
-==
[bandzone.cz]
==-
♫ Dj´s ♫
DWO { - } ☯Czech rep. - Brno☯
-==
[click here]
==-
-==
[click here]
==-
Tom Wyngl { Batchers Bay Crew } ☯Czech Rep. – Brno☯
-==
[click here]
==-
-==
[facebook.com]
==-
Jaschi { Psyalaska Crew } ☯Slovakia - Bratislava☯
-==
[facebook.com]
==-
-==
[facebook.com]
==-
More info soon but main captain of this sail will be :
.٠••●♪♫ Akasha♫♪●••٠.
Marco Lourenço, known by his stage name Akasha, is a Brazilian musician, DJ and producer, resident in a chaotic metropolis, São Paulo. He has been changing people viewpoint on life with his new approach to music. His goal is to unite people through music, composing about what really matters to him : knowledge and ancient wisdom. Blending Psychedelic Trance with the ancient philosophies such as Hinduism, Buddhism and hermeticism, Marco wants to break through the music barrier and bring singular vibrations to a new era when human beings will feel really connected to each other, not just in a superficial way.When he works for hours searching for new tones,vibes, effects, percussions and kick & bass: his greates desire is to wake every listener upand remind all of them of an almost secret feeling that has always connected us all.
-==
[click here]
==-
-==
[facebook.com]
==-
-==
[youtube.com]
==-
-==
[instagram.com]
==-
.٠••●♪♫ Cickok♫♪●••٠.
Legends say, that he was already born in the speaker. In the beginnings of his career, he was mostly playing tekno, dnb or dubstep. Latter that time, they set up with his friends a crew Nausea Sound System. He was doing mainly the technique and the sound engineer. When he moves to the Brno, he meets a new people who show him a psytrance music style. He liked this new style so much, they decided to set up a crew PsYachTronic. Besides that, thanks to his underground spirit he quickly changed the buttons and switches on amplifier for a mix and faders and started tuning his dj's skills. He is now an outgoing talent in Czech Republic. Only in a few weeks latter, he was the second best DJ selected in the ankety for a play on the Digital Forest festival 2019!, so you gone see him there for sure! He was also made a great show and started a party in polish Silver Lake festival 2018, or the same this year on SunRice festival. Normally, he played mostly on parties in Brno like PsYachTrance or else. Cicko is without doubts a night monster and his dominant style is forest, but he can also play in his sets twilight or night full-on, or even dark psy. You should definitely not lose his forest set!
♪♫♪♫♪♫♪♫♪♫♪♪♫♪♫ Chill out stage ♪♫♪♫♫♪♫♪♫♪♫♪♫♪♫
.٠••●♪♫Juju Planet Dub♫♪●••٠.
Jozef Hnidzik known by artistic name JUJU PLANET DUB originally comes from Slovakian city Piestany. He is a music producer and at the same time a musician. His music career goes back to 2000 when he started playing at psychedelic trance parties in chill out stages in Slovakia. Later on from the year 2004 he began to create his own music under the name JUJU PLANET DUB. In 2007 he produced TIP TOP UNDERGROUND SOUND which is a mixture of diverse ethno folklore and electro dub. In TIP TOP UNDERGROUND SOUND different musicians perform however some of the instruments are recorded by Jozef himself. At the moment JUJU PLANET DUB with the project TIP TOP UNDERGROUND SOUND are expanding on music production and exploring unique music instruments such as sitar. Jozefs music is defined as a great adventure around the world which is full of diverse folklore rhythm with oriental tunes that are colored by psychedelic dub sounds. It is a mixture of Dub and ethno dance rhythms full of energy, life and revolutionary thoughts.
~ૐ~~ૐ~~ૐ~~ૐ~~ૐ~~ૐ~~ૐ~~ૐ~~ૐ~~ૐ~~ૐ~~ૐ~~ૐ~
~~~~~~~~~~~~~~~DECORATIONS~~~~~~~~~~~~~~~
~ૐ~~ૐ~~ૐ~~ૐ~~ૐ~~ૐ~~ૐ~~ૐ~~ૐ~~ૐ~~ૐ~~ૐ~~ૐ~
Decorations will be by: Psytronic squad, Psyalaska crew and Shivadeco !
Shivadeco:
-==
[facebook.com]
==-
PsYachTronic squad:
-==
[facebook.com]
==-
ૐ~~ૐ~~ૐ~~ૐ~~ૐ~~ૐ~~ૐ~~ૐ~~ૐ~~ૐ~~ૐ~~ૐ~~ૐ
~~~~~~~~~~~~~~Psyalaska tribe ~~~~~~~~~~~~~~~~~~~
ૐ~~ૐ~~ૐ~~ૐ~~ૐ~~ૐ~~ૐ~~ૐ~~ૐ~~ૐ~~ૐ~~ૐ~~ૐ
Psyalaska is the community of people, who love Psytrance family around the world ,who respect The mother Earth, with love peace and natural thinking of life. Party organizers ,DJS, Producers and Deco team founded in 2001. (official text)
One of the biggest and the best psytrance crew from Slovakia, which is also the longest continuing working crew in this country! This guys started making psytrance scene, when most of the people was watching or listening to Deca & Eso(which is really old czecho-slovakia TV programs). People from this crew dont only organization party, they have also there own decoration team, and you can find psytrance art from them all arround the world, even on the legendary web site Space Tribe!. They are also behind the festival called Chvátimech. About this festival you can here talking legends to this times. The people in crew not only DJ-ing, but they are also producing there own music, and also making CD compilations from different Slovak psytrance artist, not only from they crew. They are the only people who doing this in Slovakia. Some years the are making a great indoors parties called Crystal Code and We are in Space. Both of this parties are situated in beautiful middle-Slovakia mountain nature. And they have also a blasting international line up! Like I say, they have a really beautifull decorations, witch which they are going often behind the borders of Slovakia, classical to Poland, Hungary and Czech Republic. You can expect a really beautifull decorations and Yach will be like never before !!
-==
[facebook.com]
==-
-==
[bandcamp.com]
==-
-==
[ektoplazm.com]
==-
-==
[spacetribe.com]
==-
Info
ૐ~~ૐ~~ૐ~~ૐ~~ૐ~~ૐ~~ૐ~~ૐ~~ૐ~~ૐ~~ૐ~~ૐ~~ૐ~
~~~~~~~~~~~~OTHER SHIPMENT INFO~~~~~~~~~~~~~~~
~ૐ~~ૐ~~ૐ~~ૐ~~ૐ~~ૐ~~ૐ~~ૐ~~ૐ~~ૐ~~ૐ~~ૐ~~ૐ~


Upstairs on chillout stage will be not only a tea shop with cold tea and some food also, but you can expect a mattress where you can rest and chill after a long space journey! The chillout stage will be opened to 12 hours in Sunday!
All food will be without meat!


You can also expect a kitchen on Yacht, where you can buy classical inn food like pickled Hermelin cheese, pickled sausage and propably something more and in front of the club will be avaliable a grill with meat and vegan food! We will publish the offer in time! :)


+++++++++++++++++++++++++++++++++++++++++++++++++
CLOAK ROOM WILL BE AVAILABLE FOR FREE
+++++++++++++++++++++++++++++++++++++++++++++++++
YOU WILL FIND IT NEAR THE ENTRY!
+++++++++++++++++++++++++++++++++++++++++++++++++


**********************************************************
Attention! Dogs on your own responsibility and following past experience NOT recommended!
**********************************************************
GUNS ARE PROHIBITED
**********************************************************


+++++++++++++++++++++++++++++++++++++++++++++++++++++
Yacht has limited capacity. For this reason we prefer to buy tickets in pre-sale. We hope that it will be a place for everyone.
+++++++++++++++++++++++++++++++++++++++++++++++++++++
Location
►►► Don´t know where is yacht? ◄◄◄
Here you get the fb fan page!
[facebook.com]
and here is the club on map, for sure! ;)
[goo.gl]
And here is the way ho to get from Main Station in Brno
[dopice.sk]
or
[dopice.sk]
and go to Kolejni 6 by walk what is 10 minutes
►►►◄◄◄►►►◄◄◄►►►◄◄◄►►►◄◄◄►►►◄◄◄
Don't be afraid of traveling!
►Vienna – Brno◄ cca 130 KM :
By car cca 1:39
By train cca 1:26 straight or with one transfer
By bus cca 2:20 - cca 16e
►Bratislava – Brno◄ cca 140 KM :
By car cca 1:20
By train cca 1:26 Straight cca 10e
By bus cca 2:00 - cca 6e
►Praha – Brno◄ cca 200 KM :
By car cca 1:50
By train cca 2:30 Straight cca
By bus cca 2:30 - cca 8e
.٠••●♪♫You are all wellcome!♫♪●••٠
Entry fee
~ૐ~~ૐ~~ૐ~~ૐ~~ૐ~~ૐ~~ૐ~~ૐ~~ૐ~~ૐ~~ૐ~~ૐ~~ૐ~
~~~~~~~~~~~~~~~~SHIPPING TICKETS~~~~~~~~~~~~~~~~
~ૐ~~ૐ~~ૐ~~ૐ~~ૐ~~ૐ~~ૐ~~ૐ~~ૐ~~ૐ~~ૐ~~ૐ~~ૐ~
Entry on the spaceship will be:
Presale === 200cz/8e
Ticket on the spot === 250cz/10e
Presale:
Send 200cz/8e to :
Account: 2132956193/0800
IBAN: CZ82 0800 0000 0021 3295 6193
Variable symbol: 7755
Note for recipient: Your email
After received payment we send to you a confirmation email.
At the Entrance tell your email.
For questions, claims or other issues:
psytronicsquad@gmail.com
Added

4y 2m

· Update

4y 1m

·