Psy Palace - Crispy Himmelfahrt ••• C³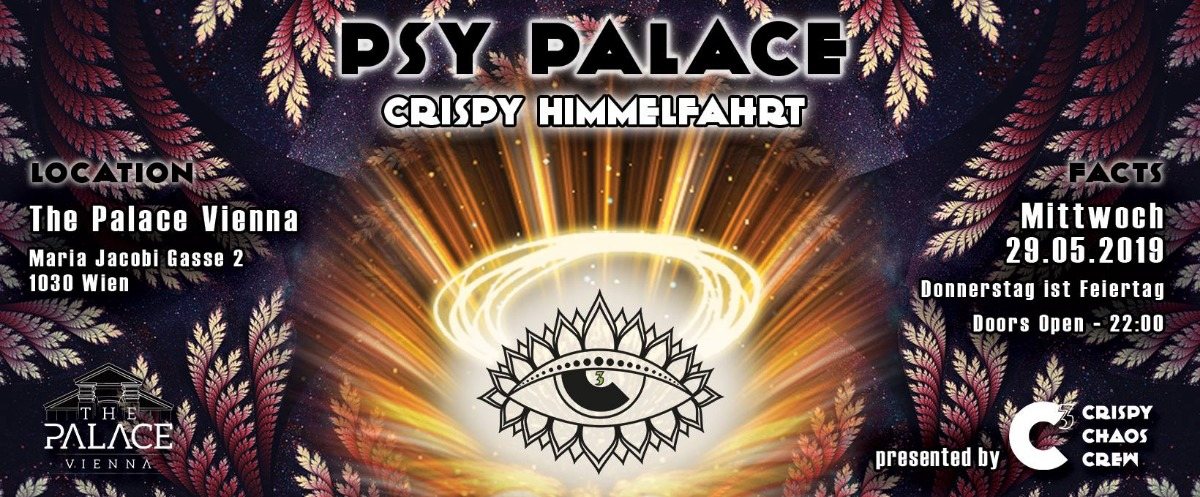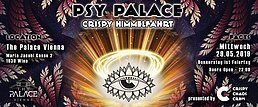 Info
Ƹ̴Ӂ̴Ʒ Psy Palace - Crispy Himmelfahrt ••• C³ Ƹ̴Ӂ̴Ʒ
✮ DONNERSTAG ist FEIERTAG ✮ KAJOLA ✮ TAPANOV ✮ CHARIS ✮ AKASHA NASHA ✮ LENYA ✮ ARSENIC ✮ UFONYCA ✮ DECO by CALAQUENDI ✮ VISUALS by SPIRIT SOCIETY ✮ MASSIVE LAMBDA LABS SOUNDSYSTEM by LEIHWAND ✮ ART GALLERY ✮ ABENDKASSE 13€ all night long ✮
Sound: Progressive / Psytrance / Nightpsy / Psychedelic / Forest
▬▬▬▬▬▬▬▬▬▬▬▬▬▬▬▬▬▬▬▬▬▬▬▬▬
Ƹ̴Ӂ̴Ʒ AFTERMOVIE Ƹ̴Ӂ̴Ʒ
"Psy Palace – 3 YEARS Crispy Chaos Crew" - 11.1.19 - The Palace Vienna":
[facebook.com]
▬▬▬▬▬▬▬▬▬▬▬▬▬▬▬▬▬▬▬▬▬▬▬▬▬
Hey Hey liebe Crispys!
Am 29. Mai feiern wir wieder die alljährliche "Crispy Himmelfahrt" Bereits die letzten Jahre war dieser Anlass ein knuspriges Spektakel, zuerst in der Sargfabrik, danach in The Palace Vienna! Wer schon einmal dabei war, weiß was ihn erwartet!
Da am Donnerstag, dem 30. Mai Feiertag (Christi Himmelfahrt) ist, laden wir euch herzlichst dazu ein an diesem besonderen Abend eure irdischen Fesseln zu lösen und mit uns gemeinsam in luftig-leichter Atmosphäre durch das Psytrance-Multiversum zu schweben. Vergessen wir einen Moment lang alles Belastende und Negative auf der Welt und feiern wir das Dasein auf der Erde und das, was uns danach erwartet... was auch immer das sein mag. Denn Leben endet nie, es transformiert sich nur!
Ƹ̴Ӂ̴Ʒ DER ENGELS-CHOR Ƹ̴Ӂ̴Ʒ
Wir haben einen Chor an talentierten Apostel-Acts versammelt, die diese Nacht gebührend mit psychedelischer Musik begleiten werden. Haltet euch bereit für eine Vielfalt an Subgenres wie Progressive, FullOn, Psytrance, Psychedelic & Forest.
Crispy Neuzugang Ufonyca präsentiert ein Opener Set, mit dem wir sanft empor steigen. Dj Tapanovs treibender Psy wird uns weiter in die Höhe schicken. Dort angelangt werden uns die knackigen Sets von Kajola und Arsenic wieder zurück auf die Erde blasten.
DJane Lenya ist ebenfalls wieder mit am Start und wird dieses Mal mit euch von funky Psytrance zu Psychedelic Sounds galoppieren!
Zum Abschluss gibt es ein besonderes Schmankerl, wenn Charis b2b Akasha Nasha (a.k.a Dezibel Music) euch auf eine Reise durch die düsteren Sphären des Psychedelic-Cosmos schicken und die Hallen zum Beben bringen werden.
Ƹ̴Ӂ̴Ʒ DIE MULTIDIMENSIONALE ERLEUCHTUNG Ƹ̴Ӂ̴Ʒ
Wir freuen uns sehr, dieses Mal Calaquendi Art & Decorations mit an Bord zu haben, der zusammen mit den Visuals von Spirit Society für den perfekten optischen Feinschliff sorgen und der Location einen himmlisch-psychedelischen Hauch einflößen wird! Die bewegende und animierende Kunst wird die Hallen des Palastes in neuem Glanz erstrahlen lassen, dessen Anblick unsere Synapsen neu verdrahten wird!
Ƹ̴Ӂ̴Ʒ ÜBERIRDISCHE HANDWERKSKÜNSTE Ƹ̴Ӂ̴Ʒ
Die perfekte Ausstattung für den anstehenden psychedelischen Festival-Sommer könnt ihr bei unseren Shops ergattern!
Unsere Dani bringt mit ihrem Bandha-Shop Ravebags, kleine Festival-Geldbörsen und weitere nützliche handgefertigte Schätze mit.
Phantasievoller Makramee-Schmuck kommt von Chakanay, die mit den Einnahmen ein Sozialprojekt in Peru unterstützen.
Ƹ̴Ӂ̴Ʒ DER PALAST Ƹ̴Ӂ̴Ʒ
Nach ein paar Schönheitskorrekturen wurde The Palace Vienna gegenüber der Marx Halle im 3. Bezirk im Jahr 2016 nach und nach aufgewertet. Die Location ist für seine Einzigartigkeit und gute Lage bekannt. Es bietet außerdem genügend Platz um Tanzen und Austoben. Außerdem gibt es wieder eine erstklassige Lambda Labs-Soundanlage by Leihwand.
Wir freuen uns schon sehr auf euch!
Weitere Infos folgen…
See Free & Stay Crispy!
C³ - Crispy Chaos Crew
▬▬▬▬▬▬▬▬▬▬▬▬▬▬▬▬▬▬▬▬▬▬▬▬▬
Ƹ̴Ӂ̴Ʒ SOUNDSYSTEM Ƹ̴Ӂ̴Ʒ
🔊 LAMBDA LABS 🔈
20kw Setup hosted by Leihwand
▬▬▬▬▬▬▬▬▬▬▬▬▬▬▬▬▬▬▬▬▬▬▬▬▬
👁💝🤝 CRISPY CHARITY 🤝 💝👁
PLUR: Peace, Love, Unity, Respect!
Das soll nicht nur eine leere Phrase in der Goaszene sein, wir wollen das in die Tat umsetzen!
Vor kurzem haben wir von Georg Jachan und seinem "Hilfsprojekt für vergessene Menschen" erfahren. Georg sammelt vor allem für Kinder und Familien, also für die, die es am meisten benötigen – und fährt regelmäßig in Gebiete (derzeit verstärkt nach Rumänien), die von anderen Hilfsorganisationen leider kaum aufgesucht werden.
All weiteren Infos hier:
[facebook.com]
▬▬▬▬▬▬▬▬▬▬▬▬▬▬▬▬▬▬▬▬▬▬▬▬▬
Ƹ̴Ӂ̴Ʒ SHOPS Ƹ̴Ӂ̴Ʒ
🎒 Bandha 🎒
Ravebags mit Geheimfach, Festival-Geldbörsen und fescher Schmuck. bandha turns waste into treasures!
[facebook.com]
💍 Chakanay 💍
Phantasievolle Makramee-Schmuckstücke. Die Einnahmen fließen direkt in das Sozialprojekt MUSUQ PACHA in Oxapampa-Peru
[facebook.com]
▬▬▬▬▬▬▬▬▬▬▬▬▬▬▬▬▬▬▬▬▬▬▬▬▬
Ƹ̴Ӂ̴Ʒ ART GALLERY Ƹ̴Ӂ̴Ʒ
Die junge, talentierte Künstlerin Franziska Theresa wird ihre verrückten Bilder zur Schau stellen! :)
▬▬▬▬▬▬▬▬▬▬▬▬▬▬▬▬▬▬▬▬▬▬▬▬▬
Location
▬▬▬▬▬▬▬▬▬▬▬▬▬▬▬▬▬▬▬▬▬▬▬▬▬

The Palace Vienna
Maria-Jacobi-Gasse 2, 1030 Wien

▬▬▬▬▬▬▬▬▬▬▬▬▬▬▬▬▬▬▬▬▬▬▬▬▬

Ƹ̴Ӂ̴Ʒ ANREISE Ƹ̴Ӂ̴Ʒ

✮ PKW: A23-Abfahrt St. Marx (Zufahrt über Litfaßstraße)
Parkplatz direkt im Marx vorhanden.

Öffentliche Verkehrsmittel:

✮ U-Bahn U3 Station Schlachthausgasse
✮ Schnellbahn S7 sowie diversen Regionalzüge über den Schnellbahnhof Sankt Marx-Vienna Bio C
Entry
Ƹ̴Ӂ̴Ʒ TICKETS Ƹ̴Ӂ̴Ʒ

✮ AK ✮
€ 13,00 ALL NIGHT LONG!

Geburtstagskinder vom 29. & 30. Mai haben GRATIS Eintritt! Ausweis nicht vergessen! ;-)

Eintritt ab 18 Jahren!

▬▬▬▬▬▬▬▬▬▬▬▬▬▬▬▬▬▬▬▬▬▬▬▬▬
Organizer
Organizer
C³ - Crispy Chaos Crew