Psy Jelly 1 Year Anniversary: Triplicity Downtempo Warm-up Party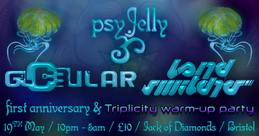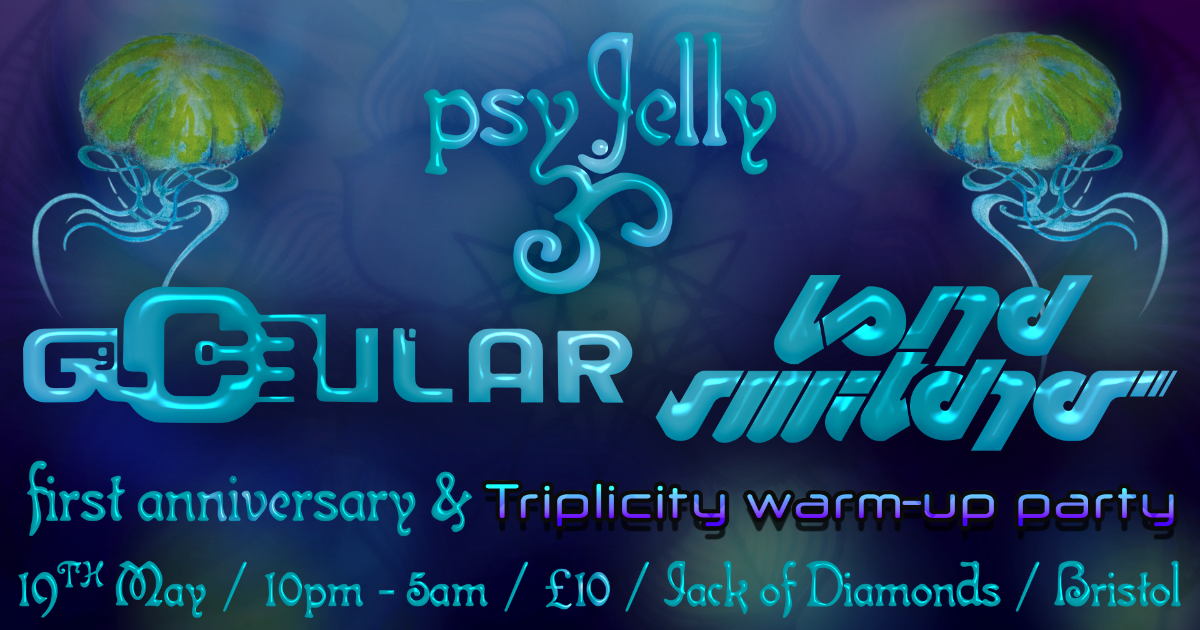 Line Up
Once again we return to The Jack Of Diamonds for our one year anniversary with another international line-up! We are also providing the official warm-up party for Triplicity Festival's downtempo area. Triplicity is, in our opinion, the best festival in the country for downtempo psychedelic music!
Line-up:
Globular [Shanti Planti, Sofa Beats] UK
soundcloud
A psychedelic dub producer from the South West UK. His music is a bubbling mass of virtual sounds designed to stimulate the ears, tickle the brain and move the body. Deep dubbed-out bass lines provide the bedrock for the harmonic intricacies and grooving melodies that typify the Globular sound.
Land Switcher [Shanti Planti] France
soundcloud
These two talented producers meld Reggae influences and organic samples with the futuristic intensity of Psytrance and the massive bass roars of Dubstep. Liquid, mutating beasts squish, swoop and stomp over driving percussion, conjuring radioactive swamplands filled with suspense, mystery and adventure. It is a meeting of ancient and future, of organic and synthetic, of peace and brutality, evoking the spectrum of emotions between
Nimi [Visionary Shamanics] UK
soundcloud
"In terms of style, Nimi's music falls anywhere on the melodic psychedelic spectrum, taking influences from the psy-dub, psybreaks and progressive psytrance genres."
Geoglyph [Visionary Shamanics] UK
soundcloud
"Geoglyph is a psydub and psybient project from Bristol. For those who like: Shpongle, The Mystery of the Yeti, Globular, Ott, Solar Fields, CBL, etc."
Fractal Forest [Visionary Shamanics] UK
soundcloud
Co-Founder of Psychedelic Jelly accompanied by live saxophone
If you don't know Triplicity already, check it out here:
[facebook.com]
Location
Jack of Diamonds, Old Market, Bristol, BS2 0BH
Organizer
Organizer
Psychedelic Jelly