Backend
Psy-Incarnation Vol. V Deeper Sound Exploration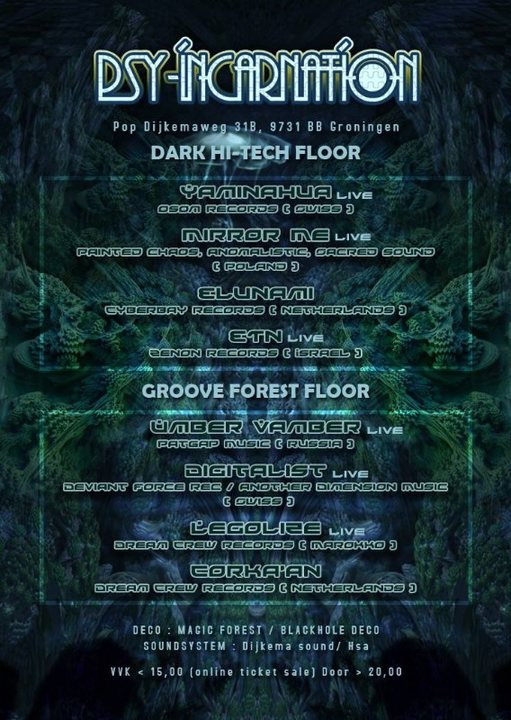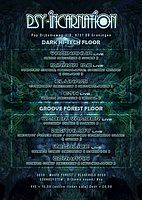 Line Up
■■■■■■■■■■■■■■■■■■■■■■■■■■■■
____--Dark hi-tech Floor--____
■■■■■■■■■■■■■■■■■■■■■■■■■■■■
Yaminahua
Osom Records (Swiss)
soundcloud
Mirror Me
Painted chaos, anomalistic, Sacred sound, (Poland)
soundcloud
Elunami
Cyberbay Records (Netherlands)
soundcloud
ETN
Zenon Records (Israel)
soundcloud
■■■■■■■■■■■■■■■■■■■■■■■■■■■■
____--Groove Forest Floor--____
■■■■■■■■■■■■■■■■■■■■■■■■■■■■
Umber Vamber
PatGap Music (Russia)
soundcloud
Digitalist
Deviant Force Rec / Another Dimension Music (Swiss)
soundcloud
Legolize
Dream Crew Records (Marokko)
soundcloud
Corka'an
Dream Crew Records (Netherlands)
soundcloud
■■■■■■■■■■■■■■■■■■■■■■■■■■■■
____--Chill-Out/mixed up room--____
■■■■■■■■■■■■■■■■■■■■■■■■■■■■
Sati
Status Aum ॐ / 3rd Bit
Kyborg
Psychedelic Rave
D-lerium
3rd-BIT
Maustrobic
Go-ahead
Line Up Closed!! No Booking Request
■■■■■■■■■■■■■■■■■■■■■■■■■■■■
____--Decoration--____
■■■■■■■■■■■■■■■■■■■■■■■■■■■■
Magic Forest
[facebook.com]
Blackhole Deco
■■■■■■■■■■■■■■■■■■■■■■■■■■■■
____--Soundsystem--____
■■■■■■■■■■■■■■■■■■■■■■■■■■■■
Dijkema sound
Hsa
■■■■■■■■■■■■■■■■■■■■■■■■■■■■
outdoor chill place/fire garden
cheap drinks
good atmosphere
respect eachother
coins 3 for 5€, 7 for 10€ and 15 for 20€.
drinks: n2o, water, beer and wine for 1 coin, cocktail's for 3coins.
No atm availeble in or around the location.. only cash!!
■■■■■■■■■■■■■■■■■■■■■■■■■■■■
Info
Info
It's time for a new edition of Psy-Incarnation!

After 4 successful editions, we are looking forward to doing one more and enter the galaxy of sound this time a little more special. Like the previous years, this time the 3 areas are also divided into several musical styles. We will let you all be amazed by a full-on, forest, dark and hi-tech/psycore combi with national and mostly international acts. Of course there is no good party without fat sound and cool deco; We also thought about that again. There will be reinforcement from multiple angles, so expect something new and unique.

No private party, but accessible to all. With a lineup that will spoil your ears.
Location
Pop Dijkemaweg 31B, 9731 BB Groningen
Entry
Entry
____--Entree--____
VVK < 15,00 (online ticket sale)
Door > 20,00
Organizer
Organizer
Underground Events