Psy Gaff #09 MERKABA & KALYA SCINTILLA with Eve Olution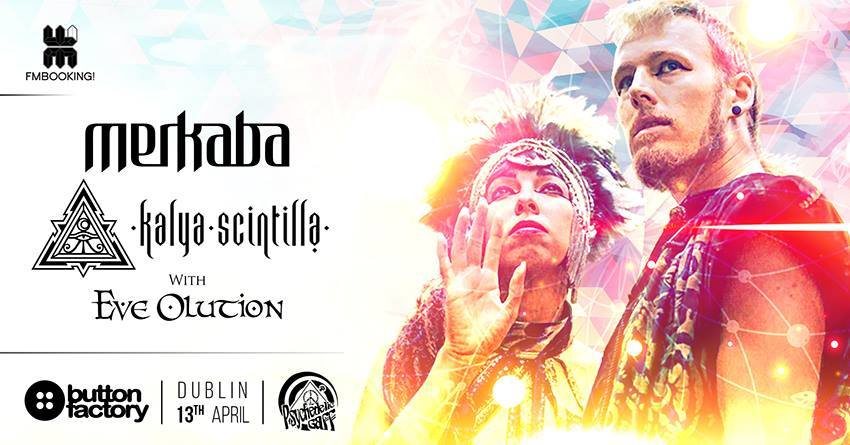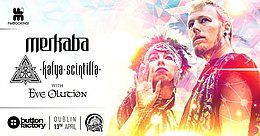 Line Up
Psychedelic Gaff is bringing for the first time to Ireland MERKABA & KALYA SCINTILLA with Eve Olution!
Celebrating 10 years of MerKaBa with a year long international world tour. Visiting as many countries and cultures as they can. Celebrating what happens when we come together and dance as one people of this planet.
It will be a really special night, starting with the chill out vibes and going through the mythic expression of Kalya Scintilla and the unique and organic sounds of Merkaba.
★★★★ LINE UP ★★★★
◾ KALYA SCINTILLA with Eve Olution *live (Merkaba Music) - AUS/USA
soundcloud
◾ MERKABA *live (Merkaba Music) - AUS
soundcloud
◾ Meerkat *live (Jaira Records) - IRL
soundcloud
______________________________________________________
★ LOCATION
Button Factory
★ PRE-SALES TICKETS
Link:
[residentadvisor.net]
Super Early Birds Tickets: 10€ + Ticket fee (SOLD OUT)
Early Birds Tickets: 12€ + Ticket fee (SOLD OUT)
1° Release Tickets: 15€ + Ticket fee (SOLD OUT)
2° Release Tickets: 18€ + Ticket fee
At the door: 20€ all night long
★ DECORATION by Fractal SOUL Décor
★ UV FACE PAINTING
★ PSYCHEDELIC SHOP
➸ Espaço Libellula Jewelry & Accessories (Instagram: @espacolibellula)
* Contact us if you want to be part of our Psychedelic Shop
★ DIGITAL ART/DESIGN by DP - Graphic Designer & Guitarist
★ PHOTO/VIDEO by Victorino Films
______________________________________________________
More about Kalya Scintilla
*First time in Ireland!
This incredible duo set the stage for an intentional future ancient ritual through mythic expression creating a kinesthetic tapestry to scintillate your being awake. World fusion beats manifest into visceral living archetypes, pulsing vibrations cascade infinite ripples of geometric harmonies throughout the dance floor, and together we are invited into the nectar of celebrating life. In the sacred union of both orgasmic musical frequencies of crystalline sound architecture and full embodied evocative evocational performance, Kalya Scintilla & Eve Olution invite your soul into an alchemical experience of divine art devoted to the heart.
[merkabamusic.com]
[bandcamp.com]
[facebook.com]
[instagram.com]
[twitter.com]
__________
More about MerKaBa
*First time in Ireland!
Bridging Earth with the cosmos and the ancient past with the present future Merkaba delivers a fresh and balanced energy to the realm of trance. He guides the dance floor on a journey through shadow and light, mind and emotion, intention and direction, reflecting our empowered and divine nature to us through alchemical audio. Incarnated into human form in Australia and now a world citizen he draws deep creative influence from the beauty of Earth and her nature. Being deeply interested in the ever expanding spirals of consciousness he encodes his music with intention, evolutionary concepts and esoteric themes.
Merkaba's unique and organic sound challenges us to awaken to the forgotten ancient tribal spirit hidden in our cellular memory and to the infinite power in all of us.
[merkabamusic.com]
[bandcamp.com]
[facebook.com]
[twitter.com]
__________
More about Meerkat
Meerkat is the solo project of Mark Ahessy, who was born and raised in Southern Ireland. Mark began his contribution to the Irish Psychedelic scene through promoting events across the country. It wasn't long before his passion for the music evolved into a more hands on approach and the Meerkat initiative was born. Initially a DJ project, the production bug soon bit and Mark started producing his own brand of psychedelia. Meerkat has released a number of well received EP's and is constantly striving to push the boundaries with his sonic palette.
[bandcamp.com]
[facebook.com]
[bandcamp.com]
______________________________________________________
About Psychedelic Gaff:
"Gaff" is an irish slang word for "house", its also used across Scotland and parts of England and Wales.
Psychedelic Gaff was born in order to bring the best producers and djs of psytrance world to Dublin, creating a unique atmosphere!
We believe that with a good dose of psychedelia, power sound system and good vibes we will make a unique experience for everyone to enjoy!
Location
Location
Button Factory
19 Temple Lane South, Dublin 2
Dublin - Ireland
Entry
★ PRE-SALES TICKETS
Link:
[residentadvisor.net]
Super Early Birds Tickets: 10€ + Ticket fee (SOLD OUT)
Early Birds Tickets: 12€ + Ticket fee (SOLD OUT)
1° Release Tickets: 15€ + Ticket fee (SOLD OUT)
2° Release Tickets: 18€ + Ticket fee
At the door: 20€ all night long