PSY FLY :: Special ladies edition :: OPEN AIR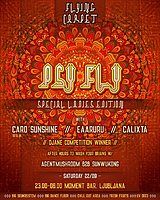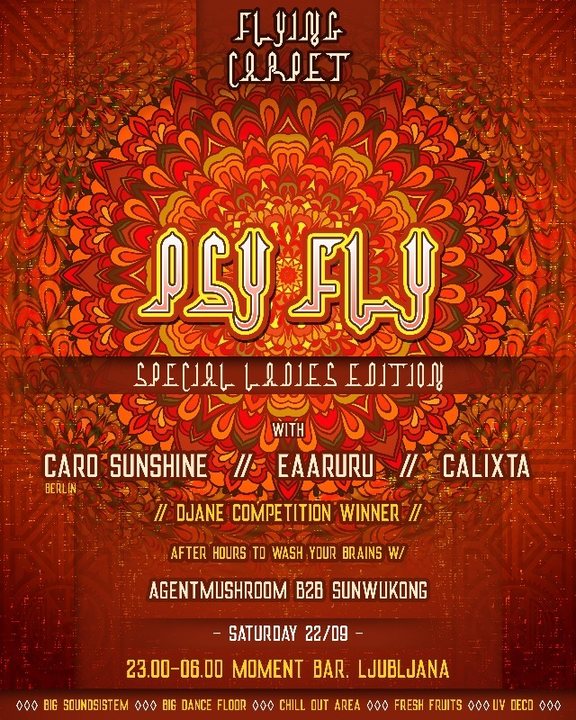 Info
Info
Dear party people, as you might have noticed, summer is coming to an end and with it a start of a new and exciting club season. In order to make the beginning of the indoor season even more memorable, we are preparing a very special evening dedicated to female disc – jockeys. To make the experience even more intense, we have chosen a special date for our gathering. On the 22nd of September we celebrate the autumn equinox, the day will be as long as the night and the earth will be placed exactly above the equator. At first, the trees will colour their leaves in joyous colours and then shed them. A time in which darkness is prevalent will come. Like the trees, we can also shed the unnecessary baggage that we carry with us and dive into the darkness, trough witch finally rays of light can emerge. Without darkness, there is no light. Without accepting both sides, equilibrium is not possible and we will seek the same equilibrium on our stage. We will send a powerful stream of fertile feminine energy into a mostly male-dominated world of electronic music and with it try to find the balance. In a musical sense, the storyline will flow accordingly. At first, we will meet the power of light with Calixta, an internationally known psy-trance and progressive djane, that never leaves the crowd in an indifferent state. In her long career, she mastered the communication with the dancefloor but also never fails to present her own special contribution. Together with the crowd, she creates unique experiences, that will prepare us for the transition. Our Guest from Germany, Caro Sunshine will make sure, that the transition from light into darkness will run as smoothly as possible. While the darkness is slowly approaching we will not forget about the fruits of our efforts. We will gather the seeds of our work and save them for they will help us live through the winter. We will conclude our journey in the dark. Native EaAruru will gently wrap you up with a black veil through which we will look deep inside ourselves. We will face our demons without fear and befriend them. Furthermore, to make the event even more interesting, we prepared a special competition. We are inviting all the interested ladies to send their sets to our organiser. One lucky girl will get the chance to share her ability and love for music with us on stage as the opening act. The only condition is that your music belongs to the light spectrum (eg. Psy-trance, progressive, "light" zenonesque) because that is the manner by which we will enter the night.
If that will not meet your expectation or if you will miss men on stage, we also kindly invite you to the after party with Agent Mushroom and Sun-Wu Kong.
So beloved ladies, gather your courage and send us your dj-sets, we are already looking forward to hearing them!
Location
Litostrojska Cesta 44e, 1000 Ljubljana