ProgVisions ★ DIRTY DANCING X ★w/ All In One, Oxidaksi, Babalos, Lsdirty, Jilax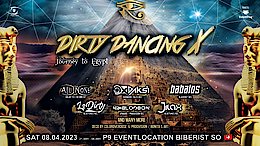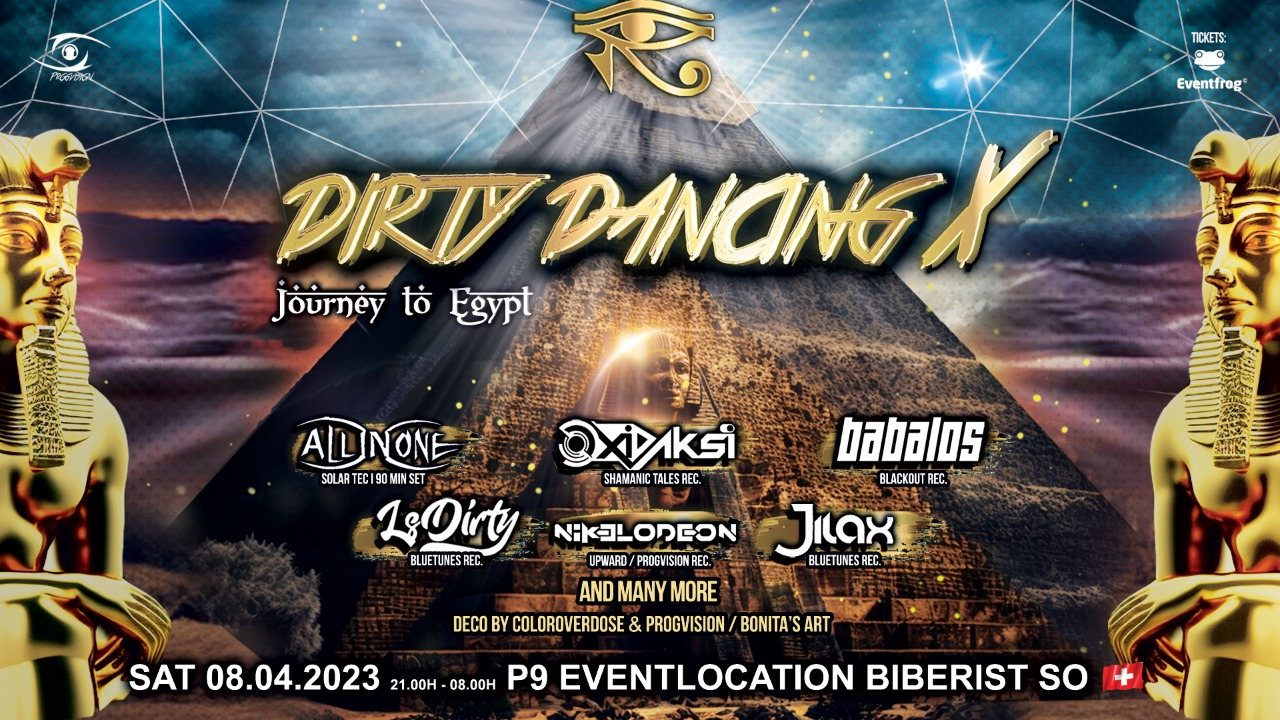 Line Up
🔻🔺🔻 💠 ➰ LINE UP MAINFLOOR ➰💠🔻🔺 🔻
► 🎵 🌞👁‍🗨 ALL IN ONE 👁‍🗨🌞 (Solar Tec.) 90Min (Yanir the old guy is coming)
soundcloud
► 🎵 🌞👁‍🗨 OXIDAKSI 👁‍🗨🌞 (Shamanic Tales Rec.)
soundcloud
► 🎵 🌞👁‍🗨 BABALOS 👁‍🗨🌞 (Blackout Rec.)
soundcloud
► 🎵 🌞👁‍🗨 NIKELODEON 👁‍🗨🌞 (Upward/ProgVision Rec.)
soundcloud
► 🎵 🌞👁‍🗨 LSDIRTY 👁‍🗨🌞 (Bluetunes)
soundcloud
► 🎵 🌞👁‍🗨 JILAX 👁‍🗨🌞 (Bluetunes)
soundcloud
► 🎵 🌞👁‍🗨 SI-MOON 👁‍🗨🌞 (Spintwist)
soundcloud
► 🎵 🌞👁‍🗨 D-NATION 👁‍🗨 🌞 (ProgVision Rec.)
soundcloud
► 🎵 🌞👁‍🗨 PREDATOR 👁‍🗨🌞 (ProgVision Rec.)
soundcloud
► 🎵 🌞👁‍🗨 REFLECT 👁‍🗨🌞 (ProgVision Rec.)
soundcloud
🔻🔺🔻 💠 ➰ LINE UP SIDEFLOOR ➰💠🔻🔺 🔻
(Psytrance)
► 🎵 🌞👁‍🗨 ACHELOOS 👁‍🗨🌞 (Kellogs Rec.)
[facebook.com]
► 🎵 🌞👁‍🗨 AFTERNOW 👁‍🗨🌞 (Dacru Rec.)
soundcloud
► 🎵 🌞👁‍🗨 SIMPLY SIMON vs. MARK MAIN 👁‍🗨🌞 (ProgVision Rec.)
soundcloud
soundcloud
► 🎵 🌞👁‍🗨 MB-FUTURE 👁‍🗨🌞 (Traumtanz)
soundcloud
► 🎵 🌞👁‍🗨 MERLIN vs. SOULBEAT 👁‍🗨🌞 (Pandora Production)
soundcloud
► 🎵 🌞👁‍🗨 PROX 👁‍🗨🌞 (Sahasrara Rec.)
soundcloud
► 🎵 🌞👁‍🗨 QUINZESSENCE 👁‍🗨🌞 (Cosmic Lama Crew)
soundcloud
► 🎵 🌞👁‍🗨 TOM 👁‍🗨🌞 (Virus/Iboga)
[facebook.com]
Info
PROGVISION PRESENTS THE NEXT CHAPTER OF OUR BIGGEST PROGRESSIVE TRANCE EVENT SERIE!
🔺🔻WELCOME TO DIRTY DANCING X🔻🔺
🔥𓂀 JOURNEY TO EGYPT 𓂀🔥
Finally its time for the long awaited DIRTY DANCING X!
DIRTY DANCING ist nicht einfach irgendein weiteres Event einer langen Partyreihe, sonder erschafft jedes mal einen Ort grosser Zusammenkunft, an dem unser treues & familiäres Volk sich auf dem Floor versammelt, um gemeinsam in andere Welten einzutauchen, zu tanzen und feiern♥️
Das nächste Kapitel von Dirty Dancing steht diesmal im Zeichen der Komplexität.🔺💠 Wir präsentieren euch wieder verschiedenste Künstler der Eliteklasse aus aller Welt und verwandeln die Location komplett in eine neue Traumwelt unter dem Motto- 𓂀🔺JOURNEY TO EGYPT🔺𓂀
Aus der Schweiz wird COLOR OVERDOSE die Location mit seiner speziellen LED Technik in einen Pyramiden komplex verwandeln. Dazu werden wir von ProgVision Deco passend zum Thema viele neue Sachen entwerfen und mitdekorieren.
[facebook.com]
Das ganze Spektakel wird in der P9 Eventlocation stattfinden. Eine absolute top location die viel platz bietet und mit modernster technik ausgestattet ist sowie auch einem brachialen Soundsystem auf Zwei Dancefloors.
ITS TIME TO GET DIRTY!
Alle bereits gekauften Dirty Dancing tickets behalten ihre Gültikeit.
Future, Offbeat, Dirty, PsyProg, Hitech, Psy. All in one night! 12H Escalation pure🙏💥
💥LETS START THE NEXT BLAST OF THE ULTIMATE PARTY EXPERIENCE!💥
🌞🔥🏺🐫🐪🐍🌴🌅⚖️📜🌪👁‍🗨
🌟🌟🌟🌟🌟🌟🌟🌟🌟🌟🌟🌟
🔺AMAZING BIG LOCATION WITH 2 FLOORS
🔺KEINE SPERRSTUNDE
🔺MASSIVE SOUNDSYSTEM
🔺SPECTACULAR LIGHT SHOW & ALOT OTHER SPECIAL EFFECTS
🔺SPECIAL DECO BY COLORE OVERDOSE PROGVISION & BONITA'S ART
🔺VISUALS
🔺BODYPAINTING & JACKYS ART & JESSIES ART
🔺BIG OUTDOOR AREA
🔺FRIENDLY SECURITY
🌟🌟🌟🌟🌟🌟🌟🌟🌟🌟🌟🌟
🔖🔖🔖 TICKETS 🔖🔖🔖
Der Ticket Vorverkauf ist aktiviert bei eventfrog und wird empfohlen um sicheren Einlass zu garantieren!
Alle bereits gekauften Dirty Dancing tickets behalten ihre gültikeit.
All Dirty Dancing tickets already purchased remain valid.
Earlybird Tickets: 35.-
Normal Tickets: 45.-
Ab 18
Location
P9 Eventlocation
fabrikstrasse 34
4562 Biberist
Entry fee
Entry fee
Alle bereits gekauften Dirty Dancing tickets behalten ihre gültikeit.
All Dirty Dancing tickets already purchased remain valid.

Earlybird Tickets: 35.-
Normal Tickets: 45.-
Organizer
Organizer
ProgVision Records
Added

3m 27d

· Update

1m 23d

·