Backend
ProgVisions BACK 2 LIFE DAYDANCE W/ FABIO FUSCO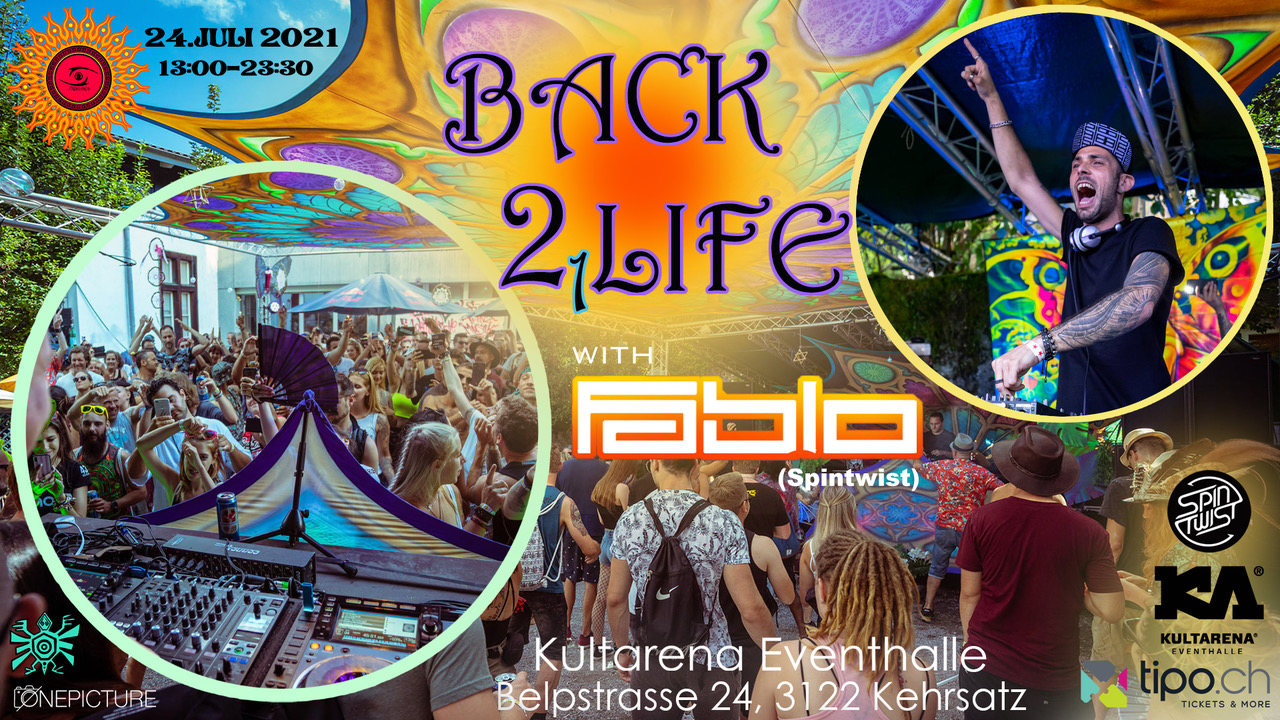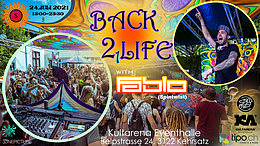 Line Up
☀️☀️☀️ LINE UP ☀️☀️☀️

🌟💥🌟 FABIO FUSCO 🌟💥🌟 (Spin Twist) 90Min!
🔥💥 SYNTHEX 💥 Live
🔥💥 JUMPIX 💥 Live
🔥💥 MYSTETIX 💥 Live
🔥💥 AUDIOSOURCE 💥 Live
🔥💥 MB FUTURE💥 Dj
🔥💥 SIMPLY SIMON 💥 Dj
🔥💥 CAPTAIN JACK 💥 Dj
🔥💥 SOULBEAT 💥 Dj
🔥💥 CHERRY B 💥 Dj
(line up full)
Info
BACK 2 LIFE! BACK 2 PARTY!💥❤️
THE NEXT ROUND IS COMING
Auf diesen Traum start folgt sogleich die nächste bombe!
And this time with the one and only master of disaster!!😈😈
🙏💥 THE KING OF OFFBEAT 💥🙏
Für eine perfekte Beschallung sorgt wieder das Team von LightArt🔊
ProgVision Print Design, Jessys Art, und Jackys Art sind auch wieder am start👕
Wir freuen uns so auf euch und endlich wieder all die lachenden Gesichter und die Energien und goodvibes auf dem Floor zu sehen😍😍🙏🌟🔥❤️
Bei schlechtem Wetter wird alles bedeckt!
Liebe Gäste es ist also leider wirklich so beschlossen worden vom Bund
Jeder Gast muss ein gültiges Covid-Zertifikat auf dem Handy oder Papier beim Eingang vorlegen. Sonst gibt es keinen Einlass und das ticket wird nicht RüCKERSTATTET!
! Negativ Getestet (Antigen test nicht älter als 48H. Oder PCR test nicht älter als 72h) / Genesen / oder Geimpft !
Antigentests sollten in der Regel 1x In der Woche vom Bund bezahlt werden! (48h Gültigkeit)
(Informiert euch in Apotheken , Testzentren , Hausärtze etc ..)
Das Covid-Zertifikat wird von folgenden Stellen ausgestellt:
Impfzentren
Arztpraxen
Krankenhäusern
Apotheken
Testzentren
Labore
Kantonale Behörden
INFOSEITE:
[bag-coronavirus.ch]
Each guest must present a valid Covid certificate on the mobile phone or on paper at the entrance. Otherwise there will be no admission and the ticket will not be refunded!
! Negatively tested (antigen test not older than 48H. Or PCR test not older than 72h) / recovered / or vaccinated!
As a rule, antigen tests should be paid for by the federal government once a week! (48h validity)
(Find out more in pharmacies, test centers, general practitioners, etc.)
The Covid certificate is issued by the
following bodies:
Vaccination centers
Doctor's offices
Hospitals
Pharmacies
Test centers
Laboratories
Cantonal authorities
INFO PAGE:
[bag-coronavirus.ch]
Chers invités, c'est malheureusement vraiment décidé par le gouvernement fédéral
Chaque invité doit présenter un certificat Covid en cours de validité sur son téléphone portable ou sur papier à l'entrée. Sinon il n'y a pas d'entrée et le billet ne sera pas REMBOURSÉ !
! Testé négativement (test d'antigène pas plus ancien que 48H. Ou test PCR pas plus ancien que 72h) / récupéré / ou vacciné !
En règle générale, les tests d'antigène devraient être payés par le gouvernement fédéral une fois par semaine ! (validité 48h)
(En savoir plus en pharmacies, centres d'examens, médecins généralistes, etc.)
Le certificat Covid est délivré par les organismes suivants :
Centres de vaccination
Cabinets de médecins
Hôpitaux
Pharmacies
Centres d'essais
Laboratoires
Autorités cantonales
PAGE D'INFOS :
[bag-coronavirus.ch]
Location
Kultarena Kehrsatz Bern
Belpstrasse 24
3122 Kehrsatz
Entry
Entry
Tickets by tipo.ch
[tipo.ch]
Ticket Phase 1 Early Bird. 35 .- (Inkl. Gebühren)
And then Ticket Phase 2.
Tickets maybe also available at the gate
Ab 18 Jahren