Backend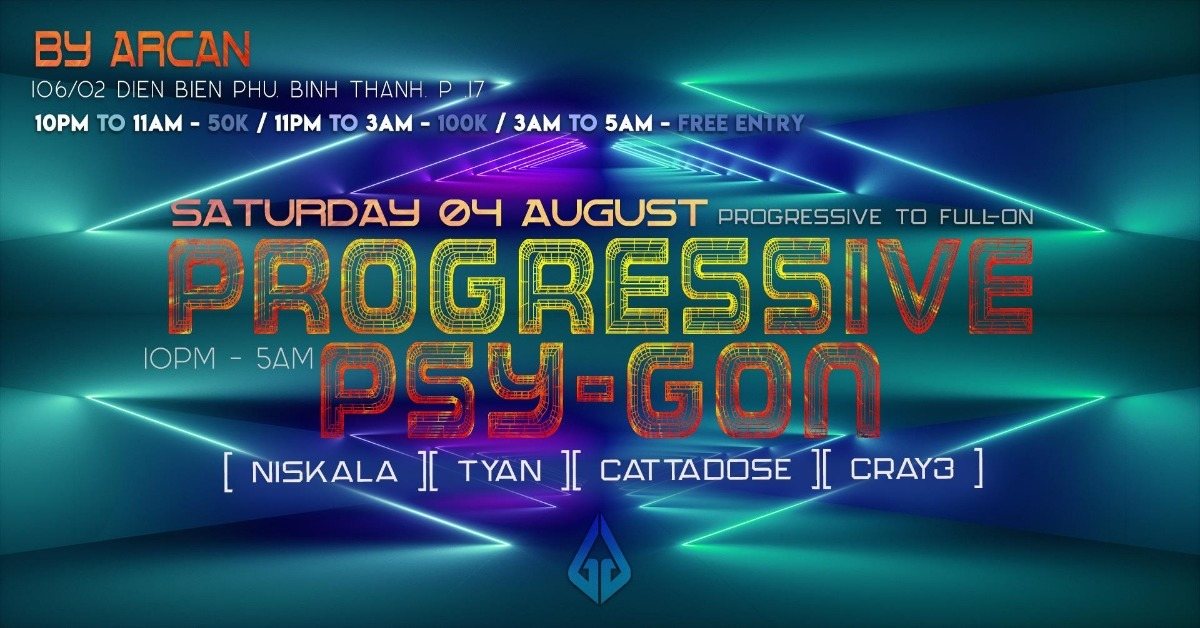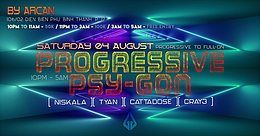 Deco
▬▬▬▬▬▬▬ ॐ ॐ DÉCO ॐ ॐ ▬▬▬▬▬▬▬
ARCAN & HADRA FRANCE 💪
Info
·•● PROGRESSIVE PSY-GON ●•··
Arcan Club in SAIGON
Progressive Psy-Gon is the new event series at Arcan for all lovers of the melodic side of Psytrance...big drops combined with catchy hooklines and driving basses will make your mind spin and your feet stomp. Every first Weekend of the Month, our DJs are keen to present you a wide selection of progressive Psytrance and melodic full on and goa trance. If you like artists like Vini Vici, Neelix, Infected Mushrooms, Montti or Talamasca etc., come over and let your mind and body get lost in Psy Gon.
This time we welcome as special guest DJ Tyan from the Vietnam Trance Lovers. His experience in different fields of electronic music made him play a lot of gigs in Vietnam, Thailand etc already. We are proud to have him playing with us this time and are keen to hear his set of fresh tunes.
Progressive Psy-Gon là một lượt sự kiện mới ở Arcan danh cho những tín đồ âm nhạc và giai điệu Psy-trance...những dòng bass mạnh mẽ và ấn tượng sẽ làm đôi chân của bạn quay theo nhạc. Cứ mỗi tuần đầu tiên của mỗi tháng, các DJ's của Arcan hân hạnh đem
tới cho các bạn một danh sách rộng lớn về Psytrance hoà lẫn với giai điệu Full on và Goa Trance.
Nếu bạn biết hoặc thích những nghệ sỹ như Vini Vici, Neelix, Infected Mushrooms, Montti or Talamasca...vv và vv.
Hãy đến với chúng tôi, Arcan, và quay cuồng theo Psy-Gon.
Lần này, chúng tôi có khách mời đặt biệt, là một trong những DJ Trance được hâm mộ trong lòng người việt, DJ TYGA, trải qua nhiều dòng nhạc khác nhau giúp anh đi diễn ở nhiều nơi ở Việt Nam, Thailand, vv và vv. Arcan rất hân hạnh được có TYGA lần này và chúng tôi rất mong được nghe những bài nhạc mà anh chuẩn bị.
▬▬▬▬▬▬▬ ॐ ॐ LINE UP ॐ ॐ ▬▬▬▬▬▬
· • ● ► DJ SET ► CATTADOSE (Arcan) - VIETNAM
[facebook.com]
· • ● ► DJ SET ► CRAY3 (Arcan) - INDIA
[schizoid.in]
· • ● ► DJ SET ► NISKALA - SWITZERLAND
[facebook.com]
· • ● ► DJ SET ► Tyan - Vietnam
[click here]
▬▬▬▬▬▬▬ ॐ ॐ DÉCO ॐ ॐ ▬▬▬▬▬▬▬
ARCAN & HADRA FRANCE 💪
▬▬▬▬▬▬▬ ॐ ॐ INFOS ॐ ॐ ▬▬▬▬▬▬▬
- 11 pm to 12am = 50K
- 12am to 4am = 100k
- 4am to 6am = FREE ENTRY
- 106/02 Điện Biên Phủ, Phường 17, Bình Thạnh, Hồ Chí Minh, Vietnam
SEE YOU THERE !!!
Location
Arcan,
236/43/21 Dien Bien Phu, Binh Thanh District, P.17
Entry
Entry
- 11 pm to 12am = 50K
- 12am to 4am = 100k
- 4am to 6am = FREE ENTRY