Progressive Psy-Gon Vol. 2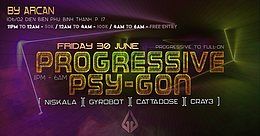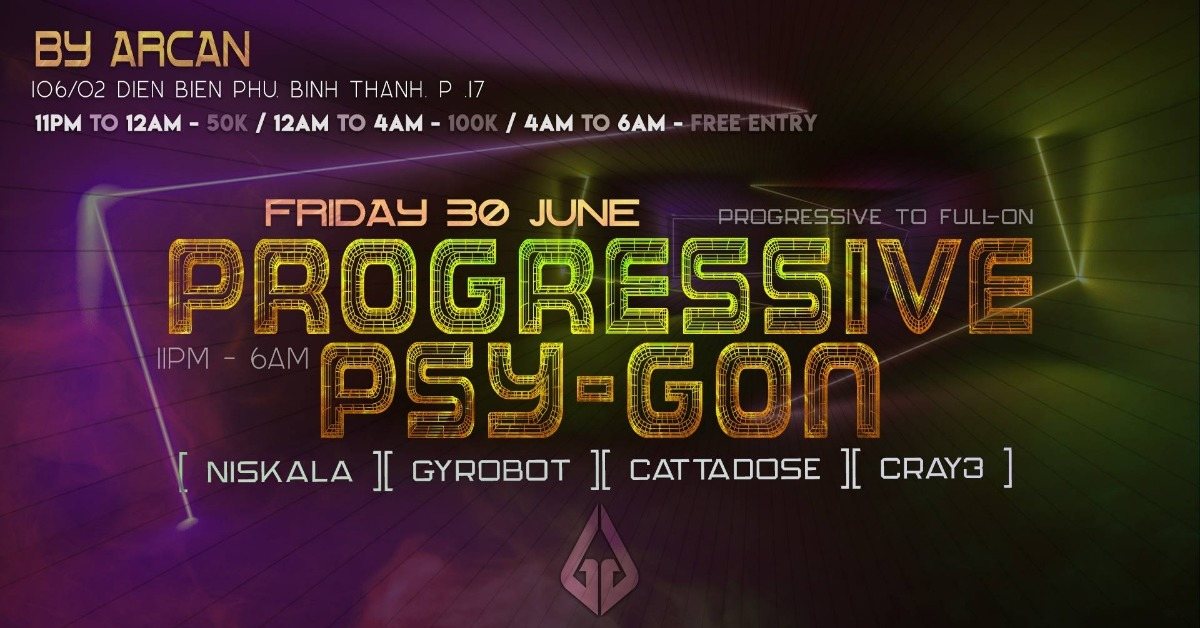 Deco
▬▬▬▬▬▬▬ ॐ ॐ DÉCO ॐ ॐ ▬▬▬▬▬▬▬
ARCAN & HADRA FRANCE
Info
··•● PROGRESSIVE PSY-GON ●•··
Arcan Club in SAIGON
Progressive Psy-Gon is the new event series at Arcan for all lovers of the melodic side of Psytrance...big drops combined with catchy hooklines and driving basses will make your mind spin and your feet stomp. Every first Weekend of the Month, our DJs are keen to present you a wide selection of progressive Psytrance and melodic full on and goa trance. If you like artists like Vini Vici, Neelix, Infected Mushrooms, Montti or Talamasca etc., come over and let your mind and body get lost in Psy Gon.
This time we welcome as special guest DJ Gyrobot from Hanoi, the founder of Liquid Hive Hanoi, our psytrance brothers and sister in the north.
He will deliver fresh progressive and full-on sounds for us, so let's gather and show the northern people how Psy-Gon can party!
▬▬▬▬▬▬▬ ॐ ॐ LINE UP ॐ ॐ ▬▬▬▬▬▬
· • ● ► DJ SET ► CATTADOSE (Arcan) - VIETNAM
[facebook.com]
· • ● ► DJ SET ► CRAY3 (Arcan) - INDIA
[schizoid.in]
· • ● ► DJ SET ► NISKALA - SWITZERLAND
[facebook.com]
· • ● ► DJ SET ► GYROBOT (Spectrum) - SOUTH AFRICA
[facebook.com]
[facebook.com]
▬▬▬▬▬▬▬ ॐ ॐ DÉCO ॐ ॐ ▬▬▬▬▬▬▬
ARCAN & HADRA FRANCE
Location
Arcan,
236/43/21 Dien Bien Phu, Binh Thanh District, P.17
Entry fee
Entry fee
- 11 pm to 12am = 50K
- 12am to 4am = 100k
- 4am to 6am = FREE ENTRY