Proggie Oster Special mit 8th Sin / Hanzo at Stairs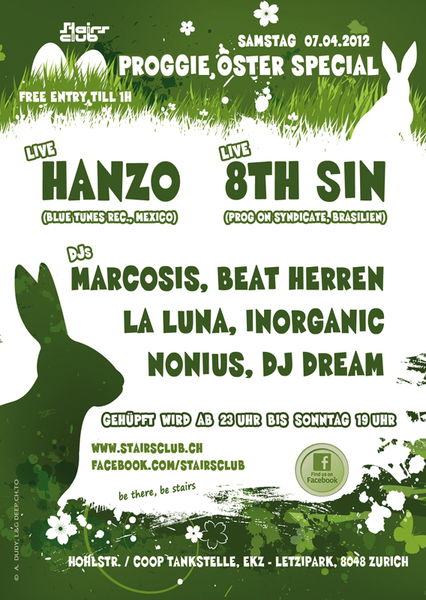 Live
Line Up
Hanzo (Blue Tunes Rec., MEX, live)
DJs
8th Sin (Prog On Syndicate, BRA)
La Luna
Marcosis
Beat Herren
Nonius
DJ Dream
Inorganic
Info
Info
Osterüberdosis?
Irgendwann ist es genug mit bunten Eiern, Nestersuchen und überdrehten Verwandten in Festtagslaune. Irgendwann will man einfach noch weg, an einen Ort, wo Gleichgesinnte sind, um wirklich zu feiern und um all die überschüssigen Schokohasen-Kalorien wegzutanzen.
Gut gibt es das Stairs, den garantiert unostrigen Club oben an der Treppe.
Das Proggie Oster Special bietet alles, was der Proggiefanatiker von Welt braucht um glücklich zu sein. Und das ist in erster Linie Sound aus global renommierten Händen: 8th Sin ist beim global aktiven und hoch angesehenen Label Prog On Syndicate unter Vertrag und zählt zu den Federführern innerhalb der boomenden Szenerie Brasiliens (aus Lateinamerika stammen zurzeit ja gleich haufenweise stilbildende Artisten). Mit Hanzo von Blue Tunes Rec. spielt in dieser Nacht gleich noch eine zweite Proggie-Galionsfigur von jenseits des Atlantiks. Der Mann steht für tonnenschwere Grooves garniert mit erstklassigen Synth-Samples und einen hypnotischen Sound, der jeden in seinen Bann zieht, der sich in seinen Wirkungskreis begibt – bestens geeignet für ellenlange Clubnächte oder Sonnenuntergänge am Strand.
Selbstverständlich fällt aber auch der Schweizer Teil des Line Ups üppig aus, denn immerhin gibt´s hier satte 20 Stunden zu füllen: La Luna, Marcosis, Beat Herren, Nonius, DJ Dream und Inorganic at the decks and at your service.
Location
Location
Stairs Club
Baslerstrasse 50
8048 Zürich

Club Eingang:
Hohlstr./Shell Tankstelle
Organizer
Organizer
Stairs Club
Baslerstrasse 50
8048 Zürich

Club Eingang:
Hohlstr./Shell Tankstelle