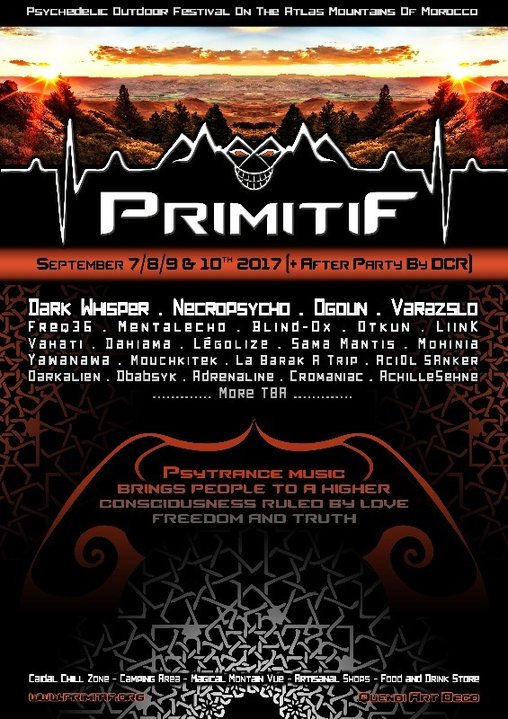 Line Up
///SPIRIT STAGE///
Big Sound System
Decoration by Quendi Art -Slovakia-
(
[facebook.com]
Visual Projection by Kalamour -Morocco-
______LIVE______
- Dark Whisper [Alice-D Rec] /// ITALIE /// 5 Hours ritual live Ceremony
soundcloud
- Nechropsycho [Popol Vuh Rec] /// BRESIL /// 8 Hours ritual ceremony
soundcloud
- Ogoun [Alice-D Rec] /// ITALIE-BRESIL /// 3 Hours ritual ceremony
soundcloud
- Varázsló [Quantum Digits Rec] /// HONGRIE /// DarkPsy
soundcloud
- Freq36 [Fantazy Rec/STZ Rec] /// SLOVAQUIE-MAROC /// Darkpsy/HiTech
soundcloud
- Mentalecho [Electricmoon Rec] /// PORTUGAL /// HiTech
soundcloud
- Blind-Ox [Horrordelic Rec] /// MAROC /// PsyCore
soundcloud
- Otkun [Voodoo Hoodoo Rec] /// CANADA-MAROC /// DarkPsy
soundcloud
- LiinK [Ovni Rec] /// FRANCE-MAROC /// Hitech
soundcloud
- Yawanawa [Voodoo Hoodoo Rec] /// AUSTRIA /// DarkPsy
soundcloud
- Vahati [Ovni Shamans Rec] /// FRANCE /// Forest
soundcloud
- Dahiama [Voodoo Hoodoo Rec] /// FRANCE /// Psychedelic
soundcloud
- Légolize [Voodoo Hoodoo Rec] /// FRANCE-MAROC /// Psychedelic
soundcloud
- Sama Mantis [Dream Crew Rec] /// FRANCE-MAROC /// HiTech
soundcloud
- Mouchkitek [Dream Crew Recs] /// FRANCE - MAROC /// NightPsy
soundcloud
- La Barak A Trip /// FRANCE /// Acid
soundcloud
- AciDl SAnker /// FRANCE /// Acid
soundcloud
______DJSET______
- AchilleSehne [Visionary Shamanic Rec] /// MAROC /// Forest
soundcloud
- Adrenaline /// MAROC /// Forest
soundcloud
- Cromaniac [Bijah Rec] /// MAROC /// Twilight
soundcloud
- Dbabsyk [25 Bike-Ride Rec] /// MAROC /// DarkPsy
soundcloud
- Darkalien [Quantum Digit Rec] /// MAROC /// Psychedelic
soundcloud
- Mohinia [Voodoo Hoodoo Rec] /// CANADA /// DarkPsy
soundcloud
- MORE TBA (Dont't miss our challenge to win 1h30 Set on the mainstage !)
[facebook.com]
///CHILL ZONE///
Caidale Tent & Sound Powered By Dream Crew Records
- Line up TBA (Only slow BPM)
Deco
Deco
Decoration by Quendi Art -Slovakia-
(
[facebook.com]
Visual Projection by Kalamour -Morocco-
Info
The adventure continue with the 2017 edition of Primitif Festival (3rd Edition) !
Info Line : 00212 6 61 21 03 23 / 00212 6 63 18 46 30
____About____
A long time ago in a galaxy far away, the primitive civilization was living in harmony with the cosmos and the elements of nature. Over time, on this small blue planet, the wisdom of the Golden Age was slowly lost. But the primitive archetypes are still here and we will let them out once more through us.
Primitive friends, be ready to join the next celebration. Come vibe to a tribal rhythm in resonance with the Earth. Let's enter this transcendent pure light and access a higher consciousness ruled by love, freedom, and truth.
International music shamans, famous for their spiritual impact, will be there to take us into a trance. The magic will come from a Big soundsystem (Spirit Stage), in the middle of a plateau 2000m high with an exceptional view of the Atlas mountains.
A chill Zone with Slow Bpm will be powered By Dream Crew Records.
____Date____
September 7th-10th (72 hours)
+ After Party By Dream Crew Records (
[facebook.com]
____Site____
Atlas mountains near Marrakech
____Activities____
///PRIMITIF CAMPING///
A camping arena with free water and sustainable toilets.
///PRIMTIF SHOP///
- Local Artisana
- Local meals
Website (Under Construction) :
[primitif.org]
Location
Location
Near From Marrakech
Entry fee
____Price____
-Phase 1 (Limit Date end of March): 50€ / 500MAD (100 tickets)
-Phase 2 (Limit Date end of Mai): 70€ / 700MAD (200 tickets)
-Phase 3 (Limit Date end of August): 90€ / 900MAD
International Online Tickets Shop :
[hadra.net]
Morocco Pre Sale :
Casablanca : 0661210323
Marrakech : 0661257011
Rabat-Salé : 0610265200
Rest Of Morocco (Wafacash) : 0663184630
No Ticket Selling At Door
Organizer
Organizer
Association "Les Primitifs"