Backend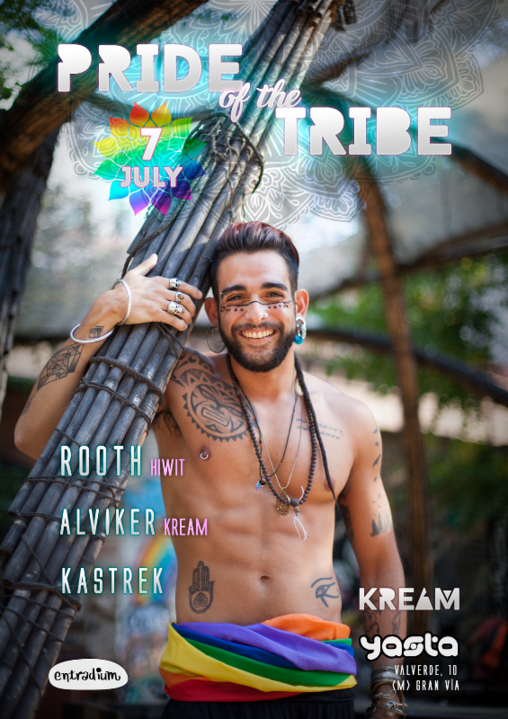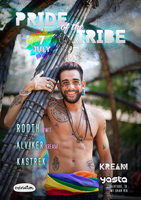 Line Up
¡Hola tribu! El Sábado 7 de Julio se celebra el Orgullo Gay 2018 en Madrid, y hemos preparado una noche increíble para celebrarlo.
Desde KREAM queremos celebrar y apoyar el Orgullo LGTBIQ+ y para ello os presentamos Pride of the Tribe, donde nos juntaremos todas y todos para celebrar que la música y el buen rollo nos une.
Será en nuestro templo Ya'sta Club donde nos juntaremos para reivindicar la tolerancia en uno de los días más importantes.
٠٠•● LINE UP ●•٠٠
Para celebrar este día tan especial, contamos con varios artistas que nos deleitarán con su música durante toda la noche.
00:00 ✺ Kastrek
Debutará como DJ en club con nosotros, y no dejará indiferente a nadie. Es una joven promesa del mundo de la electrónica que nos deleitará con una mezcla perfecta entre #techno y #trance.
02:00 ✺ ROOTH (Hiwit)
Lleva más de 20 años en la escena. Su nombre resuena por todos los clubs de la capital, siendo una referente del techno. Su música no te hará no parar de bailar, jugando con ritmos ochenteros y siempre con mucho brillo en sus mezclas.
>> ESÚCHALO EN:
[click here]
04:00 ✺ Alviker (KREAM)
Conocido como miembro de #Kreaminals su #psytrance ya es conocido por todos. Pondrá la guinda del pastel para que todos saltemos bien alto con su música.
✺✺✺ ENTRADAS ANTICIPADAS* ✺✺✺
>> CONSÍGUE TU ENTRADA AQUÍ:
[entradium.com]
• 10€ con 1 COPA
*Accesso directo sin hacer la cola general.
✺✺✺ PUERTA - Precios CON LISTA** ✺✺✺
>> De 00h a 02h
• 12€ con 1 COPA o 2 CERVEZAS/refrescos
• 15€ con 2 COPAS
✺✺✺ LISTAS ✺✺✺
**PIDE YA TU LISTA (nombre + nº de acompañantes) EN ESTE EVENTO, POR MENSAJE PRIVADO Ó ESCRIBIENDO UN EMAIL A
kream.madrid@gmail.com
LAS SOLICITUD DE LISTAS TERMINA A LAS 22:30H DEL DÍA DEL EVENTO.
Precio SIN LISTA 15€ con 1 copa o 2 cervezas/refrescos.
٠٠•● LOCALIZACIÓN ●•٠٠
Ya'sta Club
Calle Valverde, 10
Madrid <M> Gran Vía
¡ÚNETE A LA TRIBU! ;)
Location
Ya'sta Club
Calle Valverde 10
28004 Madrid