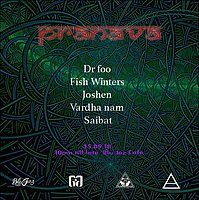 Line Up
Line Up
•2100-2300 Dr Foo

•2300-0000 Fish Winters

•0000-0100 Joshen

•0100-0200 Vardha Nam

•0200-0300 Saibat
Info
Info
Pranava means "Cosmic Sound" - Om - the sound that everything in the entire of existence makes if one hears it all in totality.

Bringing back the sound of psychedelic trance to the heart of Singapore's trance community, Pranava nights will provide all who comes a taste of what psytrance is all about. Delivering Psychill to Forest and everything in-between, this series promises to showcase all the energy and spiritedness that complement the sounds of Psychedelica.

And we are back again, and this time we are going back to progressive and full on. Part 1 of 2 in this year's Pranava series, get ready for a really good time and this time we bring you 5 talented acts that will deliver killer beats starting with ambient and chill out and slowly progressing to full on sounds. So mark your dates and bring your dancing shoes because this is going to be uber fun.
Location
Location
Blu Jaz Cafe, Level 3
11 Bali Lane, Singapore 189848
Entry
Entry
Door cover: $15
RSVP your name by clicking the link under the 'tickets available' tab and pay only $10 for the cover charge.
[eventbrite.sg]
Organizer
Organizer
Mint Collective