Backend
Prakrti Shakti & Dionysia Summer Gathering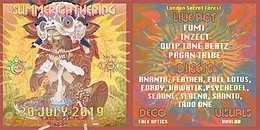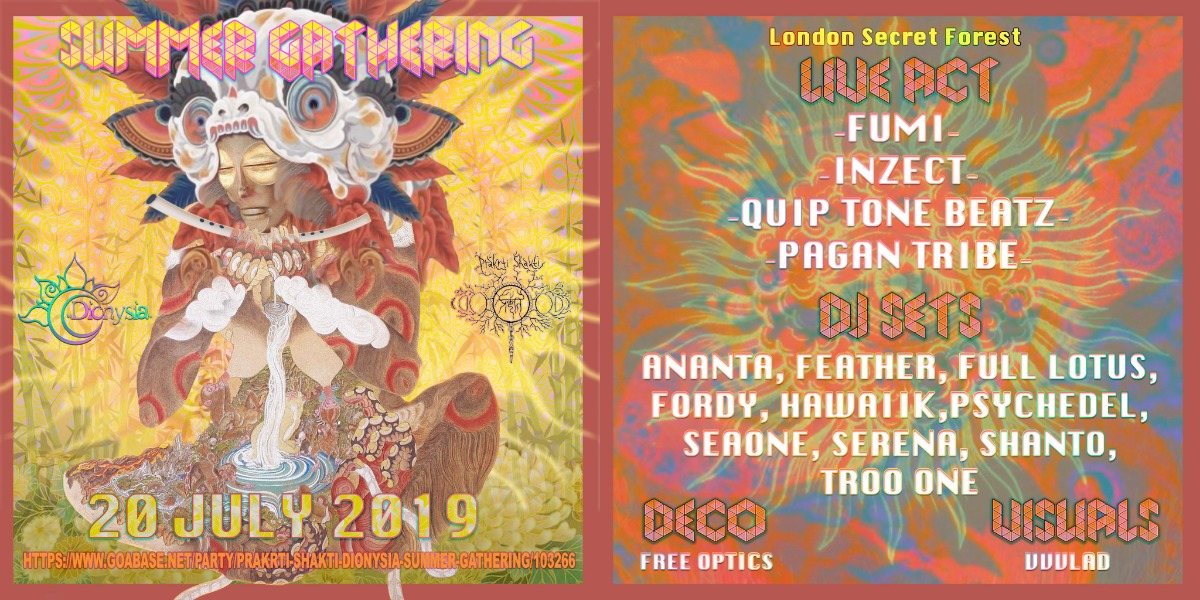 Line Up
Welcome to Dionysia & Prakrti Shakti Summer Gathering. We are aiming to provide a lovely underground event with amazing musicians and mindblowing deco and visuals in a beautiful London forest. For any enquiries, please email to
dionysialondon@gmail.com
*** Live Acts ***
* FUMI - Temple Twisters Records / Prakrti Shakti / BrainBusters (Japan)
soundcloud
* INZECT - Sanaton Records (Sweden)
soundcloud
* QUIP TONE BEATZ - Mental Sauce / Pukkawallah Records / Digital Shiva Power / Prakrti Shakti (Japan)
soundcloud
soundcloud
* PAGAN TRIBE - Organic Live Band with didgeridoo, synth, tribal percussion and powerful voice
[facebook.com]
*** Dj Sets ***
* ANANTA - Kids of Life (Lithuania)
[click here]
* FEATHER - Prakrti Shakti (USA)
soundcloud
* FORDY - Blue Hour Sounds (UK)
soundcloud
* FULL LOTUS - Peaking Duck Collective (UK)
soundcloud
* HAWAIIK - Lost Theory Records (Lithuania)
soundcloud
* PSYCHEDEL - Dionysia (UK)
soundcloud
* SEAONE - Prakrti Shakti (Lithuania / Ukraine)
[click here]
* SERENA - Urban Antidote Records (Italy)
soundcloud
* SHANTO - CLH Records (Bangladesh)
soundcloud
* TROO ONE - Babylon Escape (Ukraine)
soundcloud
more to be confirmed...
Info
Visuals & Mapping:
VVVLAD (Wallachia)
[co.uk]
[co.uk]
Gallery:
ALICE KERVELI (Greece)
[facebook.com]
3D Video / Photographs:
Dimona Dougherty (UK)
[facebook.com]
organic band, crystal clear sound, chill / healing area, led/fire performance, face painting, camping area, fully stocked bar, chai/food stall, bbq stall, jewelry/crafts/clothing stalls, professional security, camping toilets, etc.
Things to bring: ticket, torch, cash, and anything keeps you comfortable in outdoor environment
Things not to bring: sharp items, glass bottles, bad attitude
Enjoy responsibly, respect the nature and local community, watch your personal belongings, and look after your friends.
More info to be added...
Entry fee
Entry fee
£15 at the gate.
Added

3y 8m

· Update

3y 4m

·