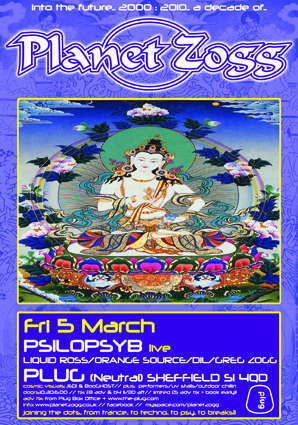 DJs
LIQUID ROSS (Liquid Records)
ORANGE SOURCE (Karma)
DIL (Planet Zogg/Karma)
GREG ZOGG (Planet Zogg/Ripsnorter)
Deco
Deco
Cosmic visuals by JEDI & BooGHOST
Info
[facebook.com]
This month we've got a line up madder than a march hare with PSILOPSYB making his Zogg debut live and direct on stage with some high energy techie psy..
[myspace.com]
LIQUID ROSS - the man behind Liquid Records, Liquid Connective, the Liquid stage at the Glade & lots of other liquid locations - makes a welcome return to Zogg to get the dance floor moving and grooving in a funky fun full on sort of way..
[liquid-records.com]
And keeping things orange hued will be mr ORANGE SOURCE himself, plus DIL & GREG ZOGG complete the line up with their hip shaking, body rocking breaksy psychedelic tech trance (its 'aving it in an interesting way in non geek speak!)
There will, of course, be performers, visitations, uv stalls, the Cush-Tea Crew, outdoor chilling and who knows what else!!
RESISTANCE IS FUTILE!!
Location
Location
Plug (Neutral), Sheffield S1 4QD
Entry fee
Entry fee
£5 very ltd adv then £8 adv & b4 11 & £10 aft
FROM: Plug Box Office &
[the-plug.com]
Hotline
+44 (0) 7809 736131