Backend
PISCES 2019 with special guests TRANSWAVE, SILENT SPHERE, & DEEDRAH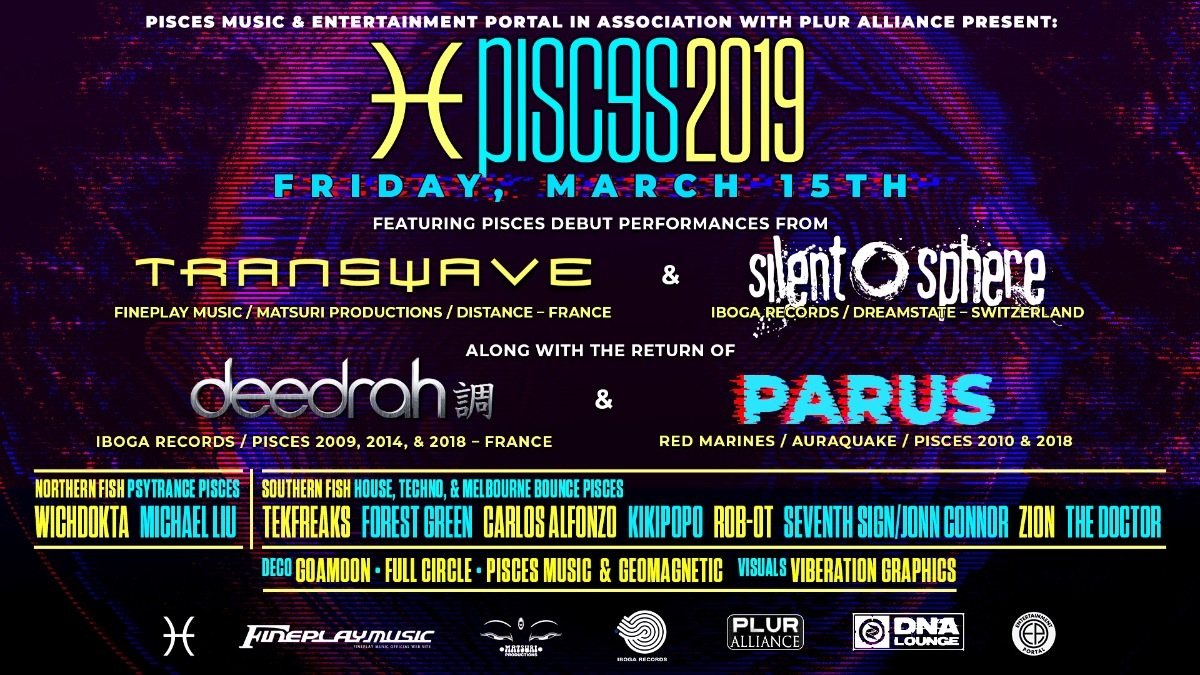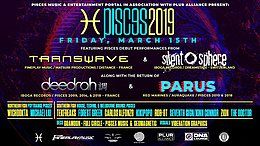 Line Up
♓️🎵🐠 The annual Pisces party returns to San Francisco! 🐟🎶♓️
Brought to you by your friends at Pisces Music and Entertainment Portal in association with PLUR Alliance

Have you found your pisces energy?

Featured Pisces 2019 guests:
♓️ TRANSWAVE - Fineplay Music/Matsuri Productions/Distance - France 🇫🇷
🐠 facebook.com/Transwave.OfficialPage
🔊 soundcloud.com/transwaveofficial

♓️ SILENT SPHERE - Iboga Records/Dreamstate Records - Switzerland 🇨🇭
🐡 facebook.com/SilentSphereMusic
🔊 soundcloud.com/silentsphere

♓️ DEEDRAH - Iboga Records/United Beats Records - France 🇫🇷
🐟 facebook.com/deedrahofficial
🔊 soundcloud.com/syntheticdado

♓️ PARUS - Red Marines/AuraQuake
🔊 soundcloud.com/parusmusic


Pisces 2019 DJs:

>> Psytrance / Progressive <<

♓️ WICHDOKTA ♓️
🐠 facebook.com/wich.dokta.7
🔊 soundcloud.com/wichdokta-1

♓️ ROB-OT ♓️
🐡 facebook.com/rob.watson.104
🔊 soundcloud.com/robwatsonrobot

♓️ MICHAEL LIU ♓️
🐟 facebook.com/michael.liu.902
🔊 soundcloud.com/michael-liu-1

<< House / Techno / Melbourne Bounce >>

♓️ TEKFREAKS ♓️
🐠 tekfreaks.com
🐡 facebook.com/TekFreaks-224398680150
🔊 soundcloud.com/tekfreaks

♓️ FOREST GREEN ♓️
🐟 facebook.com/forestgreen.cutefang
🔊 soundcloud.com/forestgreen

♓️ CARLOS ALFONZO ♓️
🐠 facebook.com/carlos.alfonzo.31924
🔊 mixcloud.com/carlosalfonzo31924

♓️ KIKIPOPO ♓️
🐡 facebook.com/noah.thompson.963

♓️ ZION ♓️
🐠 davidanthonydiaz00.wixsite.com/djzion
🔊 soundcloud.com/303djzion/tracks

♓️ SEVENTH SIGN v JONN CONNOR ♓️
🐡 facebook.com/seventhsignofficial
🐟 facebook.com/jonnconnorofficial
🔊 soundcloud.com/seventhsignofficial
🔊 soundcloud.com/jonnconnor

♓️ THE DOCTOR ♓️
🐠 facebook.com/RomanMRobb
🔊 mixcloud.com/thedoctor415
Deco
Visuals by VIBERATION GRAPHICS
Deco by GOAMOON, FULL CIRCLE, PISCES MUSIC & GEOMAGNETIC DECO
Info
Info
For the first time ever this legendary event will be happening in the main two rooms of DNA Lounge!

All Ages | Full Stocked Bars for 21+ with valid ID
All Night Pizza | Unlimited In & Outs
LOCATED: DNA Lounge, 375 Eleventh St, San Francisco
Capacity is limited. Presale tickets are highly recommended.
Location
DNA Lounge, 375 11th St, San Francisco CA 94103
Organizer
Organizer
Pisces Music and Entertainment Portal in association with PLUR Alliance