Phreakwaves_UNLIMITED 33f X 37A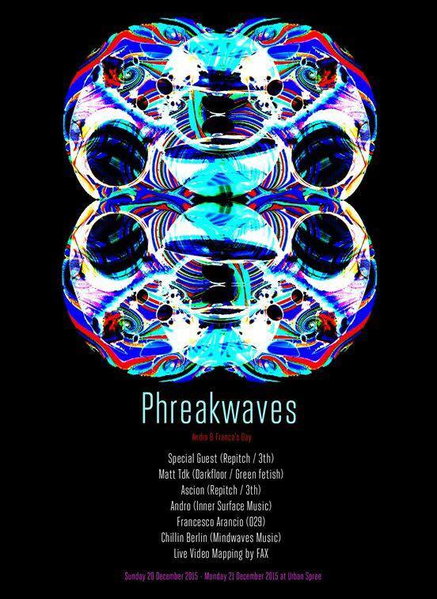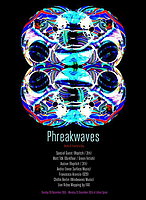 Line Up
20.12......
like every year we celebrate Francesco & Andro`s birthday!!
we choose Urban Spree
//main stage _:
subversive /experimental/ industrial / Acid Techno
-SECRET GUEST / Repitch / 3th records
-Matt TDK _ Green Fetisch , darkfloor Rotterdam
-Ascion _ Repitch / 3TH records , Berlin
-Andro_ Inner Surface Music (soloset) , Manchester
-Francesco Arancio_ zero2nine.net , Berlin
-ChillinBerlin- Mindwaves-Music ( special extended Techno experimental set )
// 2nd Floor_psychedelic Vault
dark Prog - forest - depp monday morning Acid!
two our most beloved Berlin Locals ... showing their huge spectrum of music ...
both normally play under another synonym... but most of you already know who they are ,,,,
- dj ANT ( mindexpansion records / psycrowdelica )
_ AlienLifeform_ Berlin (dj set )
_ Robert _ AmnesieTheater Crew, Berlin (djset )
optix:
one of our most favourite Visual Artists and also close friend
Andrea Fax Familari ...
about FAX :
Italian artist, born in 1987, lives and works in Berlin, Germany.
His works encompass from Vjiing, Audio/Visual Interactions, Mapping, Interactive installations to Scenic-design and investigate mostly on the decomposition of micro/macro cosmos.
[famifax.com]
Location
Location
revaler straße 99
Added

5y 10m

· Update

5y 10m

· 1