Phase 2 - Awakening AudioVisual Experience Legal Eagle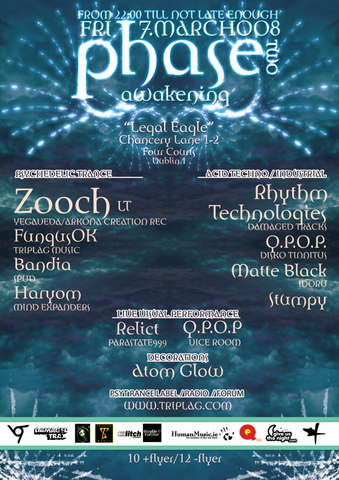 Live
Line Up
Qpop
<DTR>
Rhythm Technologies
<Damaged Traxx>
Zooch (Lithuania)
<Yagaveda/Arkona Records>
FungusOK (Russia)
<Triplag web radio>
Bandia(Ireland)
<Spud>
Haryom
<Mind Expanders>

Matte Black
<Idoru>
Deco
Deco
VJs:
Relict (Parastate999)
Q.P.O.P(vICEROOM)
Info
Following on from the first Phase, the journey through
inner consciousness continues. The worlds of Sound and
Vision collide in a night that will truely leave you feeling that
you left yourself behind when you step through the doorway
of space and time.
Phase 2 - Awakening is a trip through the air that will
raise your spirits into the night sky.
We have a very special guest, Zooch from Lithuania.
He is part of Yagaveda, who organise a yearly gathering
deep in the forests of Lithuania. He is also part of
Arkona creation records.
Also playing live we have Rhythm Technologies, Dublin
based techno producer who runs the damaged traxx label.
FungusOK from Triplag Web radio will also pilot you through
the night sky.
Beautifull and tripy deco by Atom Glow.
Resident VJs Relict ( Parastate999) and Qpop will mix
visuals in real time and add to a night you will remember.
Come with us into the night
and channel in to a new sight.
Let go and release yourself.
Peace.
[myspace.com]
[myspace.com]
[myspace.com]
[myspace.com]
[myspace.com]
[myspace.com]
[myspace.com]
[myspace.com]
[myspace.com]
[myspace.com]
Location
Location
Legal Eagle
1-2 Chancery Lane
Four Courts
Dublin 1
Ireland
Entry
Entry
10 with flyer 12 without
Organizer
Organizer
Qpop Produktions and Parastate999