Backend
♃ Perpetual Illumination IIl ♃ DoHm live ♃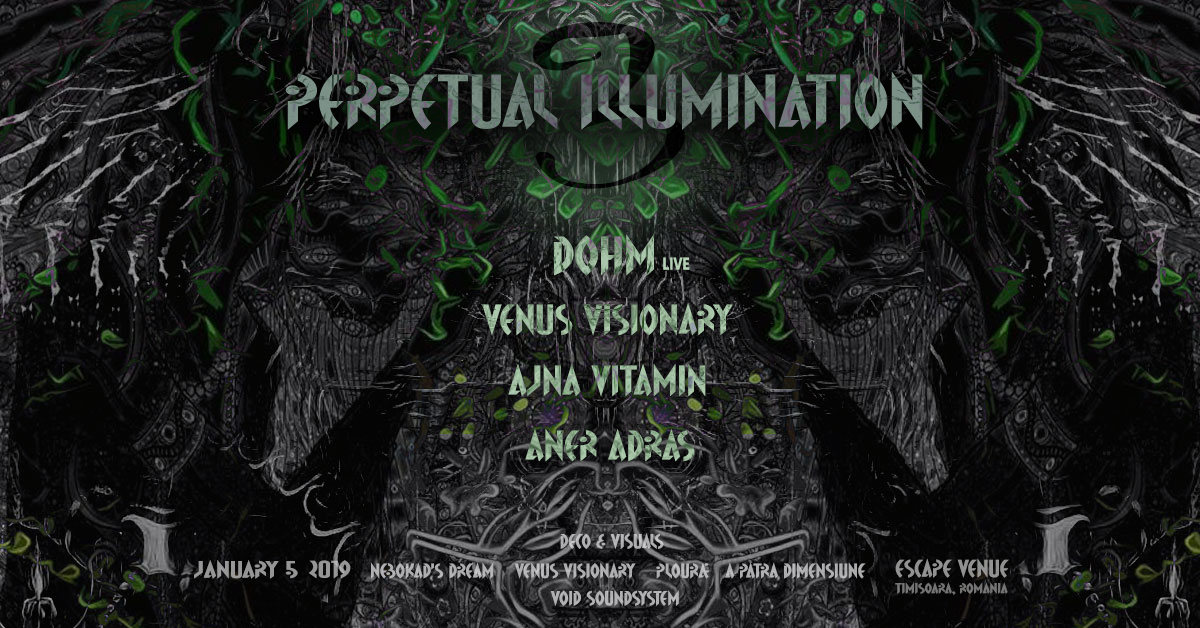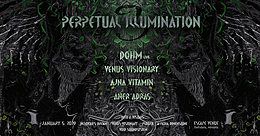 Line Up
आ/कार · आ/कार · Line:up · आ/कार ·आ/कार


♃ DoHm Live• Forest Freaks records• Lithuania
• soundcloud.com/dohm
• forest-freaks.com
• Dohm



♃ Ajna Vitamin • JFFR records • Bucharest
• jffr.bandcamp.com
• soundcloud.com/ajna-vitamin
• Ajna Vitamin



♃ Aner Adras • REC24 • Bucharest
• mixcloud.com/AnerAdras/
• aneradras.bandcamp.com
• REC24



♃ Psy Color • Venus Visionary collective • Albania
• soundcloud.com/psy-color
• Venus Visionary
आ/कार · आ/कार · De:co & Vis:ual arts · आ/कार ·आ/कार


♃ Nebokad's Dream • Austria

• twitter.com/NebokadsDream
• ॐ Nebokad's Dream ॐ


♃ A Patra Dimensiune/ dimension_4 • Bucuresti

• A Patra Dimensiune

♃ Venus Visionary collective decorations • Albania

• Venus Visionary

♃ Plouræ audiovisual • Bucharest

• plouræ


♃ Artwork by REC24 ♃

आ/कार · आ/कार ·Location:Sound:Date· आ/कार ·आ/कार

♃ 5 January 2018
♃ Void Sound Provided by VOID Cronosphere
♃ Our host for the ritual is Escape Venue
♃ Fee 30 <00> 40
♃ Your vibe attracts your tribe !
♃ Please don't come earlier , we already have all the help needed!!
♃ We ask you to leave the space as you found it, don't steal or destroy the
decorations.
♃ We also ask you to rave consciously and not to get into any kind of fight or
argument. We all come here because we love peace and understanding between us,
don't ruin that for other people :)

♃ Om shreem maha Lakshmiyei namaha ♃
Info
माडयउपनषदमाडय PERPETUAL ILLUMINATION lll उपनषदमाडयउप



Ready for a trip straight from the deepest forest to the esoteric cosmos?


We start our journey with Venus Visionary , one kind of a special beeing, that has the ability to move the frequencies into forest shaped sounds. We set and vooom, we are in the infinte Cosmos.

By The Way, space is not always a safe place and what you will see is a bombardment of synths and atmospheric melodies coming from the fleet commander, DoHm. Let him take you to misterious interplanetary systems full of fractal nebulas and lost falling stars. To move forward, you must solve the psychedelic dilemma, after being abducted by the hypnotic sound of the mistycal labyrinth shaped Forest he'll led you into.

If you are lucky enough, you will arrive in the house of the sun, at Orion's Triangle, the land of celestial beings and unknown life forms, owners of the universal knowledge. Everything becomes chaotic when an extraterrestrial entity from the ancient times brings dark and powerful sounds..... is's Ajna , the alchemist who will take you to the portals of Andromeda's Galaxy.

In the last breath of life that still remains ... there's a new hope with the explosion of renewed life. The soul's and consciousness magic vibes will be further on carried by Aner Adras, the magician at the end of night that will rise vibrations so we can figure out the origin of life itself when......Boom, ......was that a dream?
Location
Escape Venue
Gheorghe Lazar 26
300081 Timisoara
Organizer
Organizer
A Patra Dimensiune / dimension__4