PASSAGEM DE ANO com a Familia NOSTRADAMUS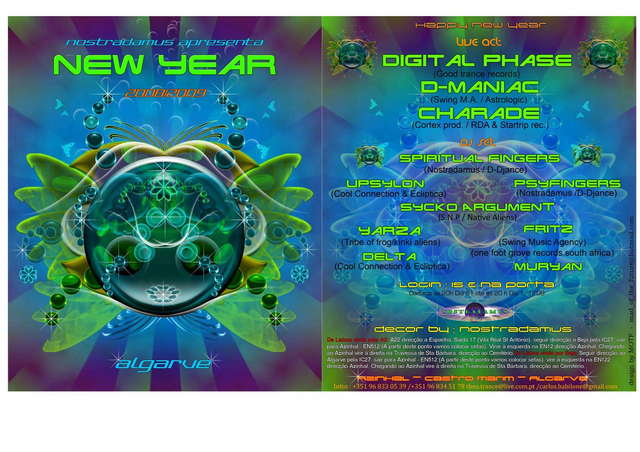 Live
Line Up
D_Maniac ( Swing M.A. /Astrologic ) (
[myspace.com]
)
Digital Phase ( Good Trance Records ) (
[myspace.com]
)
Charade
VisualCreative (Bionicle Tribe Label Rec./ Namaha Records / Mandala agency/Carpe Diem.org)
Info
Tenda grande

PA 24 Mil Watts



In this party we are going to cross different states of spirit with the help of colors, light and movement of the bodies.
It will happen in a proper place in the Algarve forest.
The decoration is all hand-made by Nostradamus family with fabrics and psychedelic and cosmic structures.
The main characteristic of this party is that it's based not only in the music, but also encloses other elements of the planet, creating in that form a cultural movement and an atmosphere of tolerance and acceptation.
The organization wants to make of this party a ritual, where each person is an element and in that way give harmony to the people.
Let's make of this party a living being, in complete harmony with Gaia – our Mother
Earth.




WE ALSO WANT TO SAY THAT WE MAKE THIS PARTY TO ALLOW A REUNION OF FRIENDS AND IDEAS, WITHOUT BENEFITS.


Camping Free


There will be a Big camping zone where you can create your own area with your friends and also showers
. Please keep it as clean as possible your area, the party belongs to everyone. . Follow directions when arriving.


* This will be an Open Air party. Please try to leave your dog at home, we have realized that for their benefit, they are much better there. People, loud music, and the presence of wild animals could end up in fights and finally the dog tied up. This situation ends with dog´s freedom and it is not fair for them.


* Please try to keep the area clean from rubbish, we must love Nature and respect it.


*If you smoke, assure you to drop out the end of your cigarette in ashtrays, which will be around the area.


* If you don't know the person behind you, introduce yourself! The relationships among people create nets of exchange in the community and we will be like a big family.


* You will get a program with detailed information about the party and these advices. Now just take into account this little list:

Sleeping Bag
Torch
Rubbish bags
Enough clothes to change
Warm clothes for the night
Portable ashtrays
Drinkable Water
Happiness


P.L.U.R

P(eace). The inner peace that is in each one of us, though we are not always capable of finding it. When we hold it, we send out calm and serenity to everything and everyone around us.

L(ove). The unconditional feeling of affection that we feel for something of someone. By the universal law of action-reaction, all love that you give to someone will be returned to you somehow. Remind you that the two first letters of PLUR represent the spirit of the ideal hippies (Peace and Love)

U(nion). Beside all differences, we all share a common set of characteristics: we are human, imperfect and depending on each other for surviving. With peace and love, union allow us to communicate with other people, THOUGH all differences, and even enhance us with the exchange of experiences.

R(espect). Where we have to recognize and accept that we are different, beside our common set of characteristics. We need to respect others, ourselves (taking care of our body and mind) and the environment around us. Who respects is tolerant, helps others and concerns with the space around.
Location
Azinhal - Castro Marim _Algarve

Latitude 37°17'0.29"N

Longitude 7°27'12.35"W

De Lisboa vindo pela A2: A22 direcção a Espanha, Saída 17 (Vila Real St António), seguir direcção a Beja pela IC27, sair para Azinhal - EN512 (A partir deste ponto vamos colocar setas), Virar à esquerda na EN122 direcção Azinhal, Chegando ao Azinhal vire à direita na Travessa de Sta Bárbara, direcção ao Cemitério.


De Lisboa vindo por Beja: Seguir direcção ao Algarve pela IC27, sair para Azinhal - EN512 (A partir deste ponto vamos colocar setas), vire à esquerda na EN122 direcção Azinhal,Chegando ao Azinhal vire à direita na Travessa de Sta Bárbara, direcção ao Cemitério.
Hotline
+351 96 833 05 39 +351 96 834 51 78